Sonic the Hedgehog 2
Page 1 of 5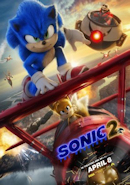 Basic Information
Current Status
In Development
US Release
April 8th 2022
DVD Release
2022
Official Sites
[US] [UK] more »
Genre
Animation / Action / Adventure
Running time
-
Credits
Ben Schwartz ... Sonic (voice)
James Marsden ... Tom Wachowski
Jim Carrey ... Dr. Robotnik
more »
Story Line
Sonic the Hedgehog 2 centers on Sonic (Ben Schwartz) and his friends, such as Tails and Knuckles, who run around collecting items and points as they attempt to foil the global domination plans of Dr. Robotnik (Jim Carrey). more »
Discussion
see our forum
Multimedia
Trailer, Pictures,
Related News
23 Nov 2020

Sonic the Hedgehog 2 Production Start in March

Our fast and fury, favorite blue hedgehog is back! "Sonic the Hedgehog" was a box office success after a rough start, with the premiere changed to early February after the character had to go through some design changes. After the movie left the theaters, there were talks of a sequel that later b...

Read more

24 Jul 2020

Paramount sets a date for "Sonic the Hedgehog 2"

Off the back of the success of the film "Sonic the Hedgehog", Paramount have just announced their plan to bring "Sonic the Hedgehog 2" to the big screen on April 8th 2022. The first film was one of the few box office success stories of 2020 and received strong reviews from critics and fans alike. A ...

Read more

22 Jun 2020

Possible Sonic the Hedgehog 2 Release Date

As you know, there will be a sequel to "Sonic the Hedgehog" movie and we couldn't be more thrilled about it. The movie was a box office success and it's still in Top 2 for its DVD sales! Due to the Covid-19 pandemic, is still too early to know for sure when things will get back to normal, especia...

Read moreRelated headlines

06/01/2020

Sequel to Sonic the Hedeghog in the Works!
1
|
2
|
3
|
4
|
5
|
Next »