NEWS
Sonic 2 - Lee Majdoub Interview
28 May 2022
By Eva Araújo
(Web correspondent)
Any amazing actor will tell you that as much talent you may have or how good you are, you need a partner in a scene to help bring the performance to the best it get achieve.
Lee Majdoub is a Lebanese-Canadian actor with already a few roles on his belt. But now, he has become known as Agente Stone, the faithful and loyal, sidekick, Dr. Robotnik fan and we will assume expert barista, in both "
Sonic the Hedgehog
" movies.
Recently in an interview he talked about making the movie and working with both director Jeff Fowler and Jim Carrey.
About the success of Sonic 2:
"I don't think I've processed it. You can see the numbers, you can hear about it, and read about it, and it's still so cool. I don't quite know how to take it in, what we've been able to achieve. To be a part of a franchise that is doing such a good job with these characters and telling lovely stories, and an incredible team… that's what it's all about."
He shared he played the games when he was young to for him being part of the movie franchise is amazing: "I've really got a soft spot for Sonic and still love playing it, and looking back on it really fondly. To be a part of it years and years later, it's wild."
About Jeff Fowler:
"I can't even put into words the amount of responsibility he has. The amount of stuff that must be going through his mind as far as the CGI elements, the live-action elements, and all of it is pre-figured out with storyboards so he knows where Sonic is going to be, where Knuckles and Tails are, what they're going to do, where the explosions are going to go… So, there's a lot of trust coming in. He's the captain of the ship and I don't think these movies would be what they are without him… He's a huge fan of the material, and you can see that his love for it is there. So, it's coming in knowing that I'm working with someone that's going to guide me and I trust it, and we're going to knock it out of the park for staying true to the material and caring for these characters."
Agent Stone and Dr. Robotnik: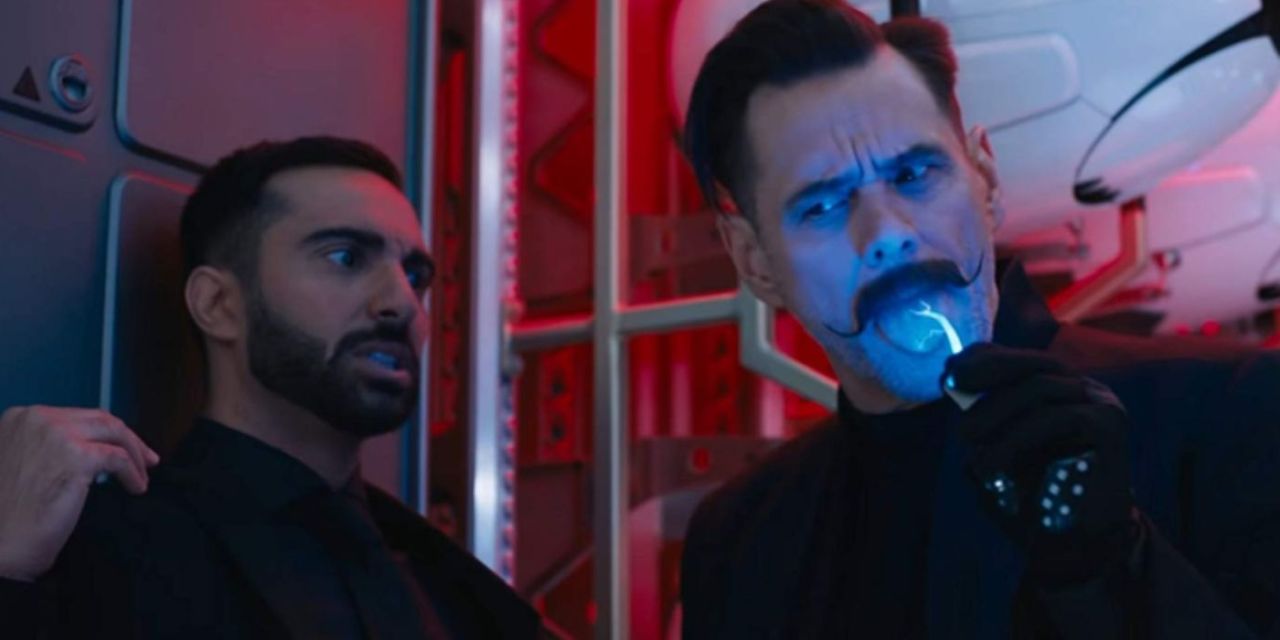 "Agent Stone is the loyal, right-hand man to Dr. Robotnik. A big admirer and fan of his. He's willing to go to any lengths to help the doctor out. I think they identify with each other on a level that not many people understand, whether it's that Stone sees something in the doctor that he sees in himself, or that Stone is really the only character that Robotnik gives any responsibility or trust to. Working with Jim was surreal… it's a continual learning experience. I got to learn so much from seeing him do his thing. When you're there in person and see his process and see how focused he is on the detail, and how important the story and character are to him, and the specificity and collaboration that he wants to have. He's really gracious and generous to us. He always wants to give you everything, so you can also give him everything. It's the best-case scenario working with him as a scene partner."
We love the chemistry between Lee and Jim we do wish to see more of it!
We at JCO will keep you updated as more news come.
-- Click to
comment this article
.
» Send to friend
---
« Newer article
|
Overview
|
Older article »