You are here:
Home > About Jim Carrey Online
About Jim Carrey Online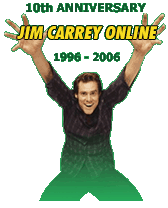 Jim Carrey Online started under a different name as a personal fan page in 1996. Soon other fans joined the project of creating a comprehensive resource about Jim Carrey. The site grew very fast. New content like news, pictures, sound clips and video clips were added constantly. Thanks to a group people who were keeping the site up to date over the years, JCO had its 20th anniversary in 2016.

After all this site is made by fans for fans. So anyone can help JCO by sending in new material like photos, scans of magazine articles, stories of encounters with Jim and anything else related to Jim. Any support is appreciated.

For all of you interested about the past of JCO, check out the old layout versions of Jim Carrey Online at the bottom of this page.
The Crew
Creator / Site design
Lars Bräuer
INTRO
Editor-in-Chief
Tommy Noel Pihl (TNPihl)
INTRO
Reporter (L.A.)
Heather Wadowski Turk
INTRO
Web Correspondents
(in alphabetical order)
Eva Ara˙jo
INTRO
Lucas Allen
INTRO
Nicola Fraser
INTRO
Serap Erts
INTRO
Stats & Contacts
Official start
June 8, 1996
Latest layout
November, 2006
Pages
uncountable
Video clips
400 +
Sound clips
650 +
Pictures
40.000 +
E-mail (Administrator)
admin@jimcarreyonline.com
E-mail (Jim Carrey)
We don't know it and we wouldn't tell
if we knew, so please don't ask!
Become a Crew member
Do you want to be a part of the Jim Carrey Online crew? Writing news stories or moderate some of our forums. Write an email to the
webmasters
and tell us why you are interested, and what you have to offer. ;)
Of course, there are no obligations. So just contribute as much time as you can and want to.
Legal Notice
Jim Carrey Online is a noncommercial, unofficial fansite and has no affiliation with Mr. Carrey or any of his representatives.
All written information (if not particularly indicated otherwise) is under copyright of Jim Carrey Online. This kind of information may not be used in any other form without express permission of the
webmasters
of JCO.
The multimedia files are under the copyright of film companies, other public media outlets, or individuals, and are being used with the owner's permission or in accordance with the fair-use provisions of U.S. copyright law.
History
Here comes some (internet) history. Click on the images to see a full screenshot of the layouts.
Jim Carrey Online Version 1
The first version of the site as of 1996.
Yes, the name was not Jim Carrey Online, but
it's the site that has become Jim Carrey Online.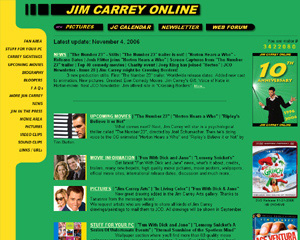 Jim Carrey Online Version 2
This is the second version, it was made
in 1997 and active until November 2006.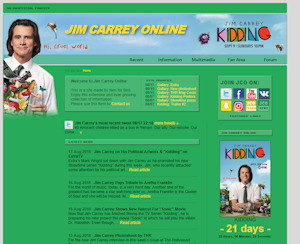 Jim Carrey Online Version 3
This is the current and third version most people know.
Launched as part of celebration of
JCO's 10th anniversary November 2006.