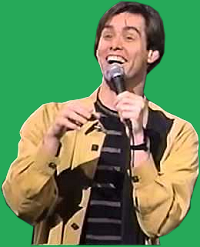 Stand-up comedy
Jim Carrey started his carreer in stand-up comedy. What many may not know is that Jim's father, Mr. Percy Carrey was the one who encourage his son to get into stand up, after realizing how funny his son was. Jim Carrey started by doing impressions and got to be known for being extremely good at it.
He has mentioned that when he started back in the 1970's he was able to make impressions of 150 different people. After being signed by Rodney Dangerfield he one day in the early 1980's he wanted to stop doing impressions and start being himself onstage. In 1991 he had his own HBO special on TV called "The Unnatural Act".
In all Jim Carrey spent 15 years doing stand-up comedy and trying to make a name for himself.
Comedy Clubs
Comedy Tours
1981/1982 Rodney Dangerfield