Yes Man
Page 3 of 5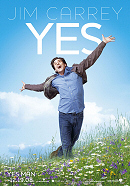 Production Notes
YEScapades
Carl Allen is in a rut. When he's not turning down loan applications at the bank where he works, he is turning down invitations from his friends, watching television alone on his couch. He's effectively become a "No Man."
"I've been that guy," says Jim Carrey, who stars as Carl. "I know a lot of people who are in that situation where they just avoid life. I live in the United States of Avoidance. To me, this is a movie about choosing to join life, and that's what drew me to it. Sometimes saying no is saying yes to something else, to something greater that will come your way. And sometimes saying no to an invitation is saying yes to a couch and some potato chips. Just do what's right for you," advises Carrey. "But it's usually not the things we say yes to that we regret; it's when we say no that we look back and think, 'Ah, I could have lived a little bit more.'"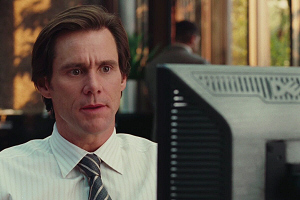 © Warner Bros. Pictures/Melissa Moseley
Carl's life takes an unexpected and radical turn when he grudgingly attends a self-help seminar led by a "Yes" guru who urges his devotees to say yes more and transform their lives. The initially skeptical Carl agrees to try spontaneity by saying yes… to everything. "In the movie, Carl is a normal guy who just needs a jump start, and the Yes seminar provides that," notes director Peyton Reed. "It throws him off course at first, but then it really gets him to take stock of himself and to invest in life again."
Reed was immediately attracted to the story after reading the script based on the best-selling memoir by Danny Wallace. "I dug into the script and subsequently into Danny's book, and I was really struck by the fact that Danny actually did embrace this philosophy for a period of time," states Reed.
When Wallace was dumped by his girlfriend years ago, he decided he needed some time to "just sit around and be a boy and play video games, and not really do anything," he recalls. "My mates were a little bit worried about me. They kept phoning up, leaving messages and texting me with various opportunities and invitations. And I was always saying 'no.'"
A chance conversation on a London bus turned things around for Wallace and inspired his book. "Someone happened to mention to me, 'You should say yes more.' It was probably just a casual remark, but I thought that it was the best advice—like every self-help book in the world distilled into three words. And that launched my 'yes-capades!' I bought a car off a bloke at a party just because he said, 'I don't suppose you're interested in buying a car, are you?' I went to see a band called General Onion and His Shocking Castanets. Thanks to a cleverly-worded advertisement, I flew to Singapore for the weekend. Not really a weekend destination, you know?" he laughs, "but I had a great time. The way I see it, you're as likely to meet the love of your life at a bad party as at a good one, but if you've said no, you'll never know."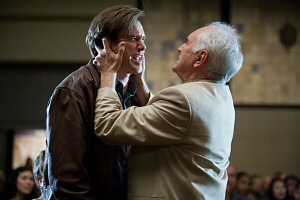 © Warner Bros. Pictures/Melissa Moseley
"I definitely liked the very positive spirit of the material," Reed enthuses, "and the basic idea of someone really taking on life, but in our case, in a very random way. A guy like Carl getting into these situations is funny, and I knew that with Jim Carrey playing Carl the comic possibilities were endless. Jim's physicality and delivery just take what's funny to a whole different level."
"I thought the concept was really cool," says Carrey. "To sit back and imagine all the things you can get into if you say yes, is pretty fertile territory."
Producer David Heyman, who discovered Wallace's book and brought it to the studio, had become a big fan of the author after reading his first book, Join Me. Heyman's take on Yes Man was no different. "The generosity of spirit that informs Danny and his work is something that really appeals to me," the producer notes. "When I read Yes Man, I loved it. The idea that if you say yes—if you're open to the possibilities that life throws before you—then great things will happen, was very intriguing."
Immersed in the latest "Harry Potter" film at the time, Heyman contacted Richard Zanuck, hoping to interest the veteran filmmaker in joining forces to produce "
Yes Man
".
Zanuck had no hesitation about joining the project, and thought "casting Jim Carrey in this role couldn't be better. There's no one else who could really perform it like he does," smiles Zanuck. "I said 'yes' to everything—the script, the cast. I just liked everything about it. It was fresh, it was new. It was life-affirming and funny."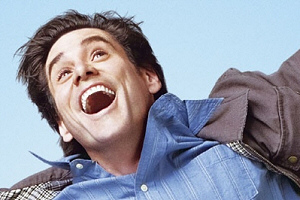 © Warner Bros. Pictures
He met with Reed and the two hit it off right away. "Dick Zanuck is responsible for so many of the movies that I watched as a kid, and which made me want to make movies," says Reed. "From the original 'Planet of the Apes,' which he greenlit when he was running Fox, to 'The Sting' and 'Jaws,' both of which he produced, he's just the man!"
"We had a wonderful meeting," remembers Zanuck. "I admire his films, and he's such a personable, talented guy. I think he has a very strong future ahead of him."
Reed collaborated with screenwriters Nicholas Stoller, Jarrad Paul and Andrew Mogel and spent time with Jim Carrey during preproduction, fine-tuning the spirit of Wallace's very British memoir into an American story set in Los Angeles. "I really wanted to create a tone in the film which was somewhere between what Jim does comedically and in his more serious work," explains the director. "A tone that would allow his character to go on comic flights of fancy as only Jim can, but that's a little more grounded, too."
The Scottish-born author, humorist and television personality Danny Wallace had trouble keeping his feet on the ground when he was approached by the filmmakers about transforming his memoir into a film starring Jim Carrey. "I was thrilled when I received a phone call regarding turning my book into a Hollywood film. Clearly I was going to say 'yes!'" Wallace grins. "I had been a fan of Jim Carrey's work since 'In Living Color.' They all did a brilliant job of 'Americanizing' the story to bring it to a wider audience; the spirit has remained exactly intact."
"What can you say?" offers Carrey. "There would be no 'Yes Man' without him. The man came up with a concept that's right up my alley. I'm always looking for something that can be really hilarious but also has some aspect that you can chew on afterward. After seeing 'Yes Man,' the audience can go home and wonder, 'How much do I say no? Should I say yes a little bit more?'"
Both Carrey and Reed say they are glad they said yes this time.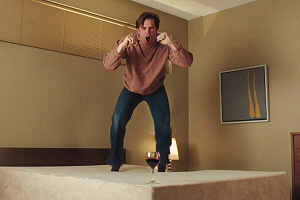 © Warner Bros. Pictures
"I had a blast working with Jim," says Reed. "I'd never met him before but I really felt like we were two peas in a pod; our senses of humor are very similar. And because we spent time together during preproduction, by the time we began shooting, Jim and I really had a shorthand and a very clear idea of what we were after for the film, and of who the character of Carl was."
Carrey concurs. "I know Peyton comes from an improv background, but still, literally, this was the first movie where I sat back on the set and let somebody make me laugh all the time. He just made me howl. There are certain things an actor's gotta do at least once, and I think working with Peyton Reed is definitely one of them."
"Oh. Hi. Did you just take my picture?"
Carl's journey off the couch and into life may start when he steps out of the Yes seminar, but he begins to really appreciate the possibilities when he encounters Allison, an intriguing woman who comes upon him late at night as he's filling up a gas can and facing a long walk back to his empty car. She offers him a ride; he, of course, says 'yes.'
"Allison is a free-spirited girl," offers actress Zooey Deschanel, who plays the role. "She is cool. She's in a band, she paints and she takes photographs… she's very creative and spontaneous. She's sort of naturally the way that Carl is striving to be."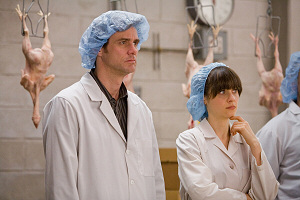 © Warner Bros. Pictures/Melissa Moseley
Carrey describes love interest Allison as "quite a conundrum. Inside an enigma. Wrapped in an odyssey. The romantic element to the movie is so important, because one of the greatest things in life you can say yes to is love, so you want that chemistry to work. Zooey has such a wonderful, sweet, human quality, and at the same time she's quirky and original."
"Zooey is a terrific actress, and she has this very eccentric quality," comments Reed. "She has a whole different energy from Jim, and it's a nice chemistry they have on screen. She also has great musical talent, and that really lent authenticity to Allison, a character who sings with a band."
Also saying yes to "
Yes Man
" was Bradley Cooper as Carl's best friend, Peter, who is repeatedly frustrated by Carl's refusals to take part in life more than two years after his divorce.
"I wanted to have that feeling that these two guys have been friends for a long time," says Cooper. "And like any best friend, you go through the travails with the people that you love. In the film, Peter is not only his friend, but also sort of the audience's eyes, watching and enjoying this really out-of-the-ordinary behavior come about in Carl."
"Bradley has a great energy, and he brought that to every scene," says Reed. "You watch Jim and Bradley together and you really believe that they have been longtime friends."

© Warner Bros. Pictures/Melissa Moseley
Carl's change of heart was initially jump-started when he ran into a former colleague, Nick, played by character actor John Michael Higgins. Nick introduces Carl to the Yes way of life after ambushing him outside the bank.
"Nick adores the seminar guru Terrence; he's a total acolyte," explains Higgins. "He says yes to everything in life. Carl doesn't see it early on, but if you really say yes to everything, you will probably end up something like Nick, which is not entirely sane," jokes the actor.
"Nick is a pretty strange character," furthers Reed. "There's something a little off about him. He's incredibly enthusiastic—he has seen the light, he has discovered this thing called The Power of Yes. He gives Carl this pamphlet and says, 'I just see by the look in your eyes, this is something that you need.' Michael is really great at playing these extreme, unhinged characters, but giving them a real kind of grounding and sense of humanity. It was fun seeing him in those scenes with Jim, with Jim essentially being the straight guy and Higgins being the guy who is a little nuts."
No one is happier than Nick to discover Carl at the seminar, and he is quick to draw the spotlight, and the attention of the Power of Yes creator Terrence Bundley, to the dubious newcomer. Terence Stamp portrays the pivotal role.
"My character is on what's laughingly called the guru circuit, you know?" smiles Stamp. "He's figured out a new angle where people will pay him to inspire them."
"Terence Stamp is a very charismatic guy, you know? He's Terence Stamp," admires Reed. "He's got an amazing, deep, resonant voice, and that's half of it right there because he's very seductive. So when his character, Terrence Bundley, tells Carl everything that is wrong in his life, Carl is left to wonder, 'Wow, does this guy have some sort of power?' It's extremely disconcerting, and that obviously gets through to Carl."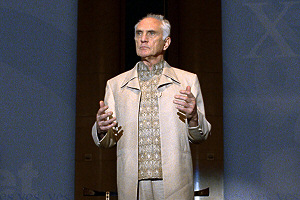 © Warner Bros. Pictures/Melissa Moseley
Carrey was especially eager to work alongside the veteran actor. "Terence is the consummate actor, classical, with incredible depth and history. He's just going to lift everything to another level."
One of the first to benefit from Carl's newfound positivism is his boss at the bank, Norm, who is delighted when Carl seemingly shows a greater interest not only in his work, but in Norm's frequent party invitations. New Zealand actor/comedian Rhys Darby makes his film debut as Carl's nerdy boss.
"Rhys was my first and only choice to play Norm," says Reed. "He's just hilarious!"
Carrey adds, "He's one to watch. He's so committed and he's got the lunacy behind his eyes that Peter Sellers had, and it just leaps out of the movie."
Darby's character hosts what turned out to be an especially memorable party for longtime "Harry Potter" producer Heyman. "Obviously, for personal reasons the 'Harry Potter' sequence was one that I took particular pleasure in. The approach to it was full of heart; it wasn't just a gimmick. And seeing it in the dailies just made me laugh a lot."
Carrey found the Harry Potter costume party an opportunity to laugh at himself as well: "I looked like David Letterman at Hogwarts."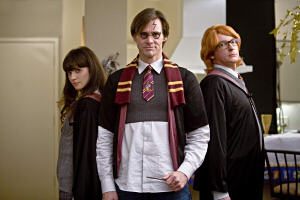 © Warner Bros. Pictures/Melissa Moseley
The "
Yes Man
" ensemble also includes Danny Masterson as Rooney, Carl's slacker pal who takes advantage of his 'yes' directive, going so far as to become his freeloading roommate; Molly Sims as Carl's ex, Stephanie, who begins to see Carl in a new light once he's turned over a new leaf; and Fionnula Flanagan as Carl's rather randy neighbor, Tillie.
"The cast was great fun to be around," offers Zanuck. "There was an esprit de corps on set that I found very refreshing and I'm glad I said 'yes' and became a member of the Yes Man club."
Reed echoes the sentiment. "What a terrific experience it was working with all of these amazing actors. They all brought such a spark of believability and humor to Carl's world."
"Go jump off a bridge!"
As part of taking on the "
Yes Man
" role, Jim Carrey had to perfect a variety of new skills he would need for Carl to take the leap of faith into the world of "yes." Though he had dabbled in guitar before, now Carrey spent hours rehearsing the song he would eventually play during his scenes with a character who is attempting a different sort of leap. As for Carrey's musical gifts? "My guitar teacher was very encouraging. He said, 'You have good rhythm, you have an ear, you should really stick with this.' But the actor knows his limits. "Never touched a guitar after we wrapped. Why touch it when there are people like Eric Clapton in the world?"
Carrey also studied Korean with dialect coach John Song in order to portray Carl's mastery of the language. "When I got it down, people were really impressed, but it took me a good ten weeks. It was one of the hardest things I've ever had to do."
The director has a different take. "Working with Jim every day is an adventure, because the story requires him to do so many different things: he rides a motorcycle, he learns Korean, plays guitar, plays 'Dance Dance Revolution,' he 'roller-luges' and he bungee jumps off a bridge! Jim just dug in, and he was so prepared on this film. It made my job much easier."
Carrey had previously demonstrated his motorcycle riding ability in films, most memorably in "Dumb and Dumber." In "Yes Man" he displayed his two-wheel skills on a Ducati motorcycle… wearing a hospital gown.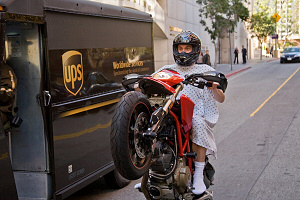 © Warner Bros. Pictures/Melissa Moseley
"Eat your heart out, Peter Fonda," laughed Carrey as he jumped on a Ducati for scenes shot in downtown Los Angeles. "It's a new motorcycle movie for a new generation: Ducati!"
Special effects technicians developed custom rigs for the sequence, in which Carl borrows a Ducati from a friend and races through traffic to find Zooey Deschanel's character, Allison. The rigs allowed Carrey to ride behind the camera car and emulate wheelies and other stunts, all carefully controlled for maximum safety.
"In the film, this is the first time Carl has ever been on a Ducati motorcycle—1100ccs, tons of torque, this bike's a monster," says Ernie Vigil, who performed some of the stunt riding for the film. "It was cool to see Jim on these rigs, but I didn't know if he could ride a motorcycle. Then he got on the Ducati, took off and was weaving in and out of traffic like a pro. He was great!"
Another action sequence in the movie, featuring the lesser-known sport of body blading, was inspired by an online video the director received. "A friend sent me this clip and said, 'This looks fun—check it out!' It was a Frenchman, Jean Yves Blondeau, in this insane 'roller buggy suit' covered in inline skate wheels, which he had designed," recalls Reed. "It looked like a suit of armor combined with a 'Star Wars' stormtrooper outfit! I showed it to Jim and the writers and we all became obsessed with it. It seemed really fun and kinetic."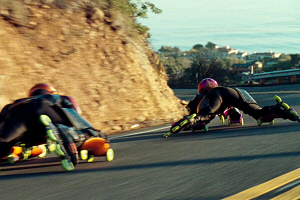 © Warner Bros. Pictures
In the clip, Blondeau moved from a standing position to a prone position, racing through the streets at up to 60 miles per hour. The filmmakers contacted the bladesman, who came over from France to consult on the movie and to double for Jim Carrey in portions of a scene where Carl and Allison try out the sport.
"It's unbelievable to see in real life how fast he goes," says Reed. "And then to try to figure out how to cover him with the cameras, because he's so fast, he's in and out of frame in two seconds!"
When they filmed the scene in Decker Canyon in Malibu, stunt coordinator Gary Hymes and Blondeau worked very closely with the stars to ensure their safety, though Deschanel was perhaps a bit less enthusiastic than the guys when it came to the stunt.
"Zooey—beautiful, talented, bit of a coward when it comes to the rollerblading suit," teases Carrey. "Understandably, you know, the girl doesn't want to go off the canyon. It's probably reasonable."
"That's an extreme sport," remarks the actress. "You have to practice for a very long time to learn how to do that. It's all my stunt double did for many, many weeks and she's a professional!"
The filmmakers designed a treadmill-like rigging in order to safely film the actors in action. "It's really fun, like a ride," says Deschanel.
"I think Zooey's a different person now," comments Reed. "She conquered a lot of fears on this film."
Speaking of going to extremes, at one point in the story Allison becomes annoyed with Carl and tosses off a veiled reprimand to him: "Go jump off a bridge." Propelled by the power of suggestion, Carl bungee jumps off of the Colorado Street Bridge in Pasadena.
Throughout production, Carrey had been lobbying the studio for approval to do the stunt himself. "I wanted to do the bungee jump myself because I wanted to transcend the movie," he states. "I wanted the audience to know that Jim Carrey really did this bungee jump and really went for it!"
"From the get-go, Jim was really hyped to do it," says Reed. "It was something he wanted to check off his list of things to do in life. Understandably, we had a few reservations about our lead actor doing a bungee jump… at least in the middle of filming," he jests.
Ultimately, the filmmakers gave the thumbs up for Carrey to do the jump himself—on his final day of shooting.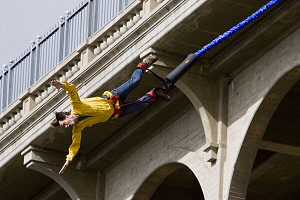 © Warner Bros. Pictures
"It was all done very safely, in coordination with our stunt coordinator and Bungee America, but I can't tell you I wasn't nervous on the shoot day," notes Reed. "With all of the precautions, you're still sending Jim Carrey off of a bridge. And we were only going to have one chance to catch the jump with our cameras, so it had to go off without a hitch."
The filmmakers used six cameras to capture the one-time-only jump. They employed a high-speed winch set-up—a computerized rig with a camera on a Libra head, a three-axis digitally stabilized camera mount—as the main camera angle, following the jump as Carrey descended. A second Libra head held a second camera placed over the side of the bridge, along with four additional cameras in various positions. With the filmmakers and crew sequestered behind video monitors, Carrey performed a swan dive off of the bridge.
"That was incredible, that was wild! I loved it!" Carrey declared after his jump. "When I saw the bridge this morning, I thought, 'What am I doing, this is absolutely insane.' It didn't really hit me until I was standing on the platform, just before the jump."
"Not only did Jim do the jump perfectly, but he pulled out his prop phone and did his lines hanging upside down, suspended from the bridge, right on cue," laughs Reed. "To have the presence of mind to be able to do that is pretty amazing! It was such an adrenaline rush! For Jim, it was the best possible way to end his work on "
Yes Man
"—how could you end it on a higher note?"
"Just a little further, man. Up in the hills there."
Director Peyton Reed envisioned an area of Los Angeles as the film's main setting within the sprawling city, "a very specific part of L.A. that has little to do with the film and TV business," he explains. "We set the film in and around Silverlake, Los Feliz and Echo Park, which have a nice mix of artists, young urban professionals. It's an area I frequent a lot. I wanted to shoot on location as much as possible, and I'm very happy with the results."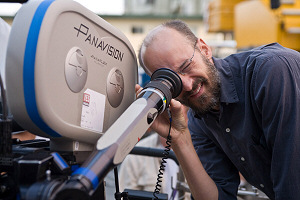 © Warner Bros. Pictures/Melissa Moseley
Production designer Andrew Laws was intrigued by Reed's take on the movie's version of Los Angeles. "It is truly an L.A. story—but an everyman's L.A., rather than creating some fantasy world within the city," furthers Laws. "Peyton wanted to use the setting as a way of grounding the characters and telling a story that speaks to the city and the people who live there."
One of Laws' favorite locations was the Bigfoot Lodge, "an actual bar and a very cool place. We all thought it would be a perfect place for these guys to hang out in." Reed had been there over the years, and enjoyed featuring it in "Yes Man."
In addition to establishing shots of the bar's actual exterior, Laws and his team recreated the Bigfoot Lodge on Stage 23 on the Warner Bros. lot. "We were going to spend a lot of time shooting in that bar and we knew it would be very difficult to shoot all of our scenes in the venue, or to shut it down for an extended period of time," says Laws. "So, we basically rebuilt the entire entrance and interior onstage, with the addition of a slightly expanded back area. When the guys from the Bigfoot came down to visit us, it was very surreal for them to walk into basically their own bar!"
Reed's affection for the Los Feliz/Silverlake area of Los Angeles prompted other location choices, including the longtime Silverlake live music venue Spaceland. Reed, a musician himself, had performed with bands there and had also gone to see many music acts there over the years. In the film, Allison and her band, Munchausen By Proxy, perform at Spaceland while a bemused Carl watches from the bar.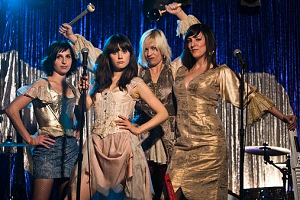 © Warner Bros. Pictures
"I like the personal connection I had to several of the locations, and I also appreciated that we could explore and present some of the less photographed areas of Los Angeles," says Reed, who blended the lesser-known locations with iconic sites such as the Hollywood Bowl and Griffith Park Observatory.
"The Bowl is just fantastic and one of the most romantic places in L.A.," observes Reed, who, along with Carrey, Deschanel and the film crew, spent two nights shooting at the historic venue. "This fantasy of being able to sneak into the empty Hollywood Bowl at night was something I couldn't resist."
As it turns out, the scene was suggested by Carrey, who admits, "I used to sneak into the Hollywood Bowl all the time, when I was 21 or something, playing at the Comedy Store. I snuck in there with a girl one night, so it was inspired by that. I loved reliving it."
"It was so exciting to be on the stage at the Hollywood Bowl, when it was completely empty," Deschanel reminisces. "It was a whole new experience for me, and something that most people will never have a chance to do."
The Griffith Park Observatory was employed by the production for scenes involving Allison's early morning exercise/photography class, held in the shadow of the Observatory's familiar dome, in which she and the other joggers attempt to capture the scenery on the run. In one key scene, Carl arrives to meet Allison after an all-nighter with the boys. Hopped up on Red Bull, Carl bounds up to her, chattering away at a rapid fire pace, to the amusement of Allison and her students.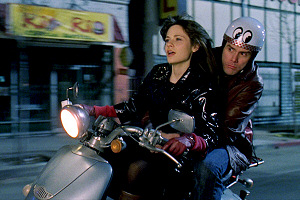 © Warner Bros. Pictures
A large ballroom at the Renaissance Hotel, near Hollywood Boulevard and Highland Avenue, was transformed into the self-help convention where Terrence Bundley presides, mesmerizing Carl, Nick and over 800 background artists, whipping them up into a frenzied chorus of "Yes!"
And that's not the only crowd scene. At one point in the film, Carl and Allison travel to Nebraska, where they end up at a University of Nebraska football game. The "
Yes Man
" scenes were shot at University of Nebraska-Lincoln's Memorial Stadium, before a crowd of more than 84,000 Nebraska fans. Back in Los Angeles, the company shot corresponding portions of the scene with Carrey, Deschanel and over 700 extras at L.A.'s Memorial Coliseum. Cast and crew were awed as they entered the historic, cavernous arena, and many could not resist throwing a football around on the fabled field, including Carrey, dressed as a Cornhusker, who attempted a few punts as well.
"Wanna rock out tonight?"
Music plays a key role in "
Yes Man
," as it has in all of Peyton Reed's films. "I'm a huge music fan, and I've done a lot of movies with music at their core. After I completed 'Bring It On' and 'Down With Love,' people mentioned that they're both, in weird ways, musicals without being musicals," Reed cites. "With this film there are a lot of musical threads, from Jim Carrey's character learning to play guitar to Allison's band. The premise of this movie allowed me to explore some different musical ideas, which is always fun for me."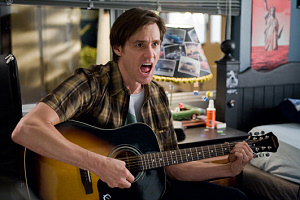 © Warner Bros. Pictures/Melissa Moseley
Zooey Deschanel is an accomplished singer/songwriter. She happily joined forces with the San Francisco-based band Von Iva, chosen for the movie by music supervisor Jonathan Karp. "I happened to see Von Iva's CD and discovered they were a terrific and talented band," offers Karp. "They were enthusiastic about joining our film, so we brought Zooey and the girls of Von Iva—Becky, Kelly and Jillian—together for a week of rehearsals, followed by time in the recording studio. During this process, they really bonded and became this tight little band for the film."
Deschanel collaborated on the lyrics for the band's songs with the members of Von Iva and director Peyton Reed and Karp. In the story, Allison's personal dramas are poured into the songs she performs with the uniquely named Munchausen By Proxy. "During rehearsals, we wrote all the music and lyrics and we had a great time bonding," remembers Deschanel. "It was fun to have the chance to become part of that creative process, and when we shot the performance scenes, it was very cool to see the crew humming along to our songs."
"We were so lucky that Zooey plays Allison in the film, because she brought so much to it," notes Karp. "She's a wonderful and experienced singer, and a great lyricist. She really deserves a lot of credit for these funny lyrics."
The score was equally important to Reed. "I'm a huge fan of the band Eels. And the leader of Eels is this guy named E. We all thought it might be difficult to convince him to do it, but he saw the movie, and I think he primarily liked two things about it: it takes place in his neighborhood, and it's about a guy who is very closed off and kind of depressed, whose world is opened up. And that's really what every song he's ever written is about. So he really connected with the story and agreed to do the score."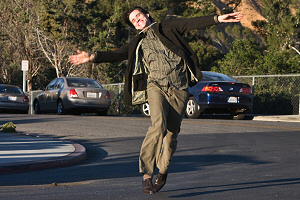 © Warner Bros. Pictures/Melissa Moseley
E, whose real name is Mark Oliver Everett, worked with composer Lyle Workman to create the score. The director continues: "E and Lyle used some of the instrumental tracks of the Eels' existing stuff. Then they composed new stuff to fit in with that as well. I think overall the music really adds to the film's emotion as well as the flavor of that part of Los Angeles."
"I'm having a little get-together at my place – it's a Funny Hat and/or Wig Party."
Designing the outlandish costumes for Allison's band was one of many creative challenges for costume designer Mark Bridges, who worked with Zooey Deschanel to create the uniquely eye-catching outfits Munchausen By Proxy wears in the film.
"I went to watch Zooey and Von Iva during rehearsals, and I thought their style and the way they moved called for sexy but offbeat period clothes, like something that hasn't been done in about 20 years, so it was kind of light 80's punk meets 18th century," laughs Bridges. "We threw on pieces as if they had a showbiz trunk and were pulling things out for each of their songs, depending on the theme."
Bridges also had fun designing for Carl's boss Norm's themed costume parties. "One of the most interesting things was designing the wardrobe for Norm's parties." For the Harry Potter party, Bridges details, "We had to make sure the pieces looked amateurish, like people who are really into the films might put together. So we only used clothing from thrift stores that looked real, looked used. We used graduation robes and some licensed pieces, the oddball eye patch and other things distinct for each character."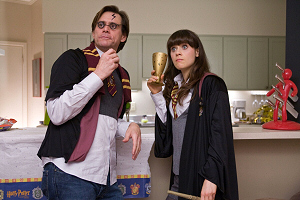 © Warner Bros. Pictures/Melissa Moseley
For Norm's "300" party, Bridges and his team also ensured the costumes looked homemade. "We tried to pick the iconic costumes from the film and duplicate them in the wackiest way," states Bridges. "For instance, one party guest that has a lot of piercings and is half-naked—we used a Slinky around his neck and glue-on earrings on his nose."
Yes is the new No
The heart and humor of "
Yes Man
" lie in watching the journey of Carl, an everyman in a rut, who opens his life up to possibilities when he begins to say yes.
"The world is full of 'no men,' unfortunately," remarks David Heyman. "However, I feel that life has been good to me by my being more of a 'yes man.' I wanted to be in the film business, so against conventional wisdom, I moved 3,000 miles to New York, then 3,000 more miles to London, which was insane. But it's worked out okay for me."
"The underlying story here is that one has to take chances with one's life. And the chances don't come when you say no to everything, when you close doors," says Zanuck. "I hope audiences will take that away with them, along with their enjoyment of a really funny movie."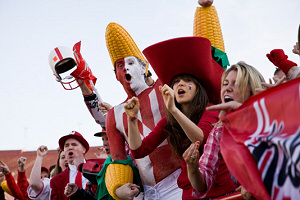 © Warner Bros. Pictures/Melissa Moseley
"At various times in preproduction and writing, we would have these days where we would literally say, 'We are going to say yes to everything,'" director Peyton Reed reflects. "And really, when you start being open to things more, it is a weird, wonderful feeling. I don't want to sound like some oddball guy who is living the movie, but it really did affect, I think, the way that we all approached things. It's just about being more open to experiences."
"I have had some 'yes' moments," declares Carrey. "And there have been many times that I've thought, 'What possessed me to say yes to this or that?' But at the end of the day, you go, 'That's living, man.'"
« Previous
|
1
|
2
|
3
|
4
|
5
|
Next »