How the Grinch Stole Christmas
Page 3 of 6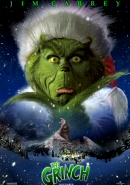 Production Notes
Introduction
Since its first publication in 1957, Dr. Seuss' classic tale How The Grinch Stole Christmas has captivated readers young and old alike with its delightful story, endearing characters, witty humor and timeless message. For decades, Hollywood filmmakers have tried in vain to secure the motion picture rights for a live-action production of one of Dr. Seuss' books, as Theodor S. Geisel (Dr. Seuss) had repeatedly turned down their requests. Until now.
Audrey Geisel, the widow of the late Dr. Suess, entrusted her husband's legacy to producer Brian Grazer who has mounted some of the most successful and distinguished films of the last decade, including Apollo 13, The Nutty Professor and Liar Liar. Grazer's long-time collaborator and partner at Imagine Entertainment, Ron Howard, who has brought audiences such films as Splash, Willow and Cocoon clearly was the perfect choice to direct.
And who better to embody the role of the Grinch— that nefarious, flagitious, mischievous, sly, nasty, troublesome, bad-tempered, unkind, intolerant, utterly irredeemable, foul-smelling and just plain not very nice Grinch—than the outrageously talented Jim Carrey?
The teaming of Jim Carrey with Ron Howard and Brian Grazer pairs one of the world's most versatile actors with a director and producer, whose string of box office and critical successes are rivaled by few others. And the filmmakers have gone to incredible lengths to ensure that the overall scope of the mammoth production remains faithful to the original spirit of Dr. Seuss, assembling the very best people working in movies today—in every field. From set design to costumes, from special effects to cinematography, from sound to music, Howard and Grazer have managed to transport the viewer to the incredible fantasy world that is Whoville, aided by a creative behind-the-scenes team, most of whom go back with the director for over 10 years.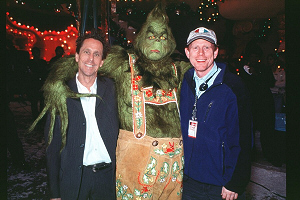 © Universal Pictures
With the key elements in place, the ball was set in motion for a truly unique cinematic achievement.
Universal Pictures and Imagine Entertainment present a Ron Howard film and a Brian Grazer production of a Dr. Seuss book, Dr. Seuss' How The Grinch Stole Christmas. In addition to comedic superstar Jim Carrey, the film also stars Jeffrey Tambor, Christine Baranski, Bill Irwin, Molly Shannon and Taylor Momsen, and is narrated by Oscar®-winning actor Anthony Hopkins.
The award-winning production team tasked with bringing the world of Whoville to life on the big screen include: director of photography Don Peterman (Splash, Cocoon, Gung Ho); production designer Michael Corenblith (Academy Award® nominee for Apollo 13); editors Dan Hanley and Michael Hill (Academy Award® winners for Apollo 13); costume designer Rita Ryack (Ransom, EDtv, Casino); special make-up effects by five-time Academy Award® winner Rick Baker (Nutty Professor II: The Klumps); composer James Homer (Titanic); sound mixer David MacMillian (Oscar® winner for Apollo 13); visual effects supervisor Kevin Mack (Academy Award® winner for What Dreams May Come); and executive producer and second unit director Todd Hallowell, whose association with Howard dates back to 1978's Grand Theft Auto.
Getting Started
Getting the movie off the ground might be the most amazing aspect to the whole production. Sought after by Hollywood for years, Theodor S. Geisel (Dr. Seuss) never considered having this book or any of his books turned into movies. He had an unhappy experience in the early 1950's with The 5,000 Fingers of Dr T (Geisel wrote the fantasy) and the 1966 animated version of How The Grinch Stole Christmas was something he was very satisfied with and didn't think it could be improved upon.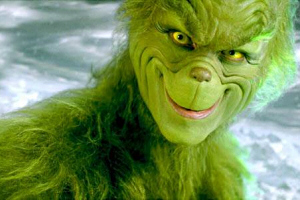 © Universal Pictures
After his death in 1991, his widow Audrey resisted all suitors but what changed her mind was that the exponential leap in computer technology meant that Seuss' unique vision could be realized and expanded beyond mere animation.
"I realized the potential to do it right was there and I really got interested in wanting to see the Grinch come alive" says Geisel.
It was then that her representatives sent word to the Hollywood community that offers to make the book into a movie would be entertained. It was organized so that all the major studios sent their top producers to make their pitch to Audrey Geisel in person.
"I went to her home in La Jolla (California) and pitched her our story idea and I could tell she was going south on it and I said, I can tell this isn't working for you and she said, it just doesn't seem right,"' recalls producer Brian Grazer. "I pleaded with her for one more chance before she made her decision, but she was sort of noncommittal.
'I spent the next week with Ron retooling the story and I kept begging her to let me have one more day in court with her and she finally agreed to the second meeting and it was enough for her to wipe all the other proposals off the table.
"Audrey is very passionate about protecting the spirit and integrity of her husband's work, but at the same time she wanted to be smart and business-like about it."
Jim Carrey had made it clear to the Hollywood community that he was interested in playing the Grinch. Fortunately, Grazer had a relationship with Carrey since he produced the movie Liar Liar which had a worldwide gross of $300 million.

© Universal Pictures
For Carrey, the chance to play the Grinch had a visceral effect on him. "It wasn't Christmas growing up without the reading of the book and watching the cartoon," recalls Carrey. "When the movie project came up, I realized that it was a dream come true even though I never had fantasized about it before."
"When we all realized we were chasing the same goal, we threw in together and unified," says Ron Howard. Initially, Howard was supporting Grazer's long quest (he first approached the agent for the Seuss estate in 1995) only as Grazer's partner in Imagine Entertainment. The more Howard started thinking about the uniqueness of the Grinch's character and the visual possibilities that the movie held, the more he started thinking he wanted this project not only for Imagine Entertainment but also for himself to direct.
"I always saw Jim as the Grinch because the Grinch has mythic size proportions who operates behaviorally out of power," says Grazer. "When he is proactive, when he animates and when power is central the character; that's when Jim is at his best. So the intersection of what the Grinch is about thematically and what Jim Carrey is as a performer is a perfect match."
Having a performer like Carrey in Howard's corner on such a film was quite a boon. "His incredible imagination, energy and physical talents made him the perfect, and only choice, to bring the Grinch to life," says Howard.
Carrey did have to make an audition of sorts, this for Dr. Seuss' widow, Audrey. She came to the set of Man on the Moon where Andy Kaufman did his impression of Jim Carrey doing the Grinch.
"It got a little complex," says Carrey with a laugh when recalling their meeting, "but it was there for her. I was still flabbergasted when she signed off on me doing the part because the Grinch was such an indelible part of my childhood."
For her part, Audrey Geisel recalls being "stunned" when Carrey (or Kaufman) did the Grinch for her. "Without make-up he simply became the Grinch before my eyes, recalls Geisel.
So they got the book and they got their star, but Howard and Grazer were faced with the daunting prospect of creating the wondrous, zany, archetypal world Seuss made his own in his 44 books.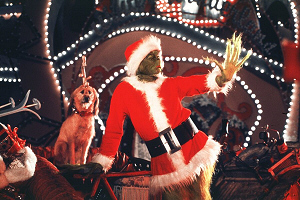 © Universal Pictures
"I wanted the design to be exciting and the color combinations to make something I really haven't seen before. I wanted the visual team to create an original and complex world but one which also has a level of irreverence and sophistication that would be cool for kids," says Grazer.
"It's a real world, it's just not our world," was the guiding principal Howard espoused to his creative team as they began work on creating such a world. Where every element of the movie had to be built from scratch, every actor had to go through an extensive make-up and hair application and, to truly embody the art of Dr. Seuss, extensive and innovative visual effects had to be executed. Nonetheless, these stylistic issues still had to take a backseat to Howard's desire to tell a genuine story with emotional resonance.
Locations
The Grinch was shot almost entirely at Universal Studios in Hollywood, on 11 of the soundstages, including stage 12 at 30,000 sq. ft., the largest of the lot and bursting at the seams with the massive Whoville set (the largest set ever built at the studio). A design of scientific ingenuity and dazzling imagination led by production designer Michael Corenblith, the production used 2 million linear feet of Styrofoam (with no straight lines in Seuss' world, there was little need for conventional construction methods) to build the various sets. Taking a cue from Seuss' books, Corenblith instilled Whoville with a series of archways, bridges, stairs and spirals that repeats itself to a lesser extent on the interior sets.
The village of Whoville was based on what Corenblith believed was Geisel's love of medieval architecture (evidenced in The Kings Stilts and the two Bartholomew books), even though in the Grinch book, Geisel depicted Whoville merely as a series of haystack houses. The Christmas tree is anchored in the middle of the village square with all the buildings radiating out like spikes from this 45-foot tall hub.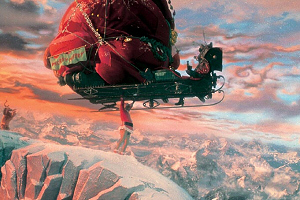 © Universal Pictures
Viewed from above, the bricks on the plaza all spiral away from the tree, suggesting a center of the universe feel to the village. The buildings were designed so that they convey a sense of the history of Whoville, like villages in Europe reflect centuries of inhabitancy.
"The idea of what I was trying not to do," says Corenblith, "was build something that looked like a Santa's village that was dropped into place." Hence, the variance of styles in Whoville reflecting changing tastes over the years. The set was adorned with 8,000 ornaments and five miles of electrical wire holding 52,000 Christmas lights.
In so many of the Dr. Seuss books, it's plainly evident that Geisel had an obvious fondness for the ingenious Spanish architect Antoni Gaudi but also was enamored of Moroccan and Islamic architecture. The set for Whoville thusly turned out to be a Who version of a World's Fair. The town hall is neo-classical Greek with the Seuss animals guarding the entrance (reminiscent of the New York Public Library).
Farfingles department store featured art nouveau shapes of an old Parisian storefront; the old biddies lived in a New Orleans French Ouarter apartment; the grocery store has an Islamic feel to it and the post office was pure Gaudi.
The interior of the Grinch's cave, while smaller in scale than the Whoville set, was no less inspired. The closest source material for the cave is probably Carlsbad Caverns in New Mexico, though the set (Universal's stages 28) was imbued with more of a cathedral space offset with the geometric stalagmites (growing from the floor) and stalactites (hanging from the ceiling).
The other architectural aspect that really tied into the Grinch's kinetic character (and more to the point, Jim Carrey's) was the spiral ramp (a La Frank Lloyd Wright's Guggenheim Museum in New York City) which allowed a lot of freedom and spontaneity for Carrey. To that point, the scene where Cindy invites the Grinch to the Whobilation incorporates nearly all of the set.
The exterior of the Who houses (or, suburbs) was constructed on the Universal backlot between the Psycho House and the laboratory from Jurassic Park.
Beyond the ingenuity of creating and then building the sets, the fact that every prop and set decoration had to be manufactured was somewhat daunting. The set decoration and props are Seussian inspired though it took a lot of trial and error to figure out what "Seussian" really meant and would it work in the movie. When discussing the movie early in pre production with friend George Lucas, Ron Howard was advised to try 1950s style appliances and props and tweak them to the desired look as opposed to creating from scratch (a technique Lucas used in Star Wars).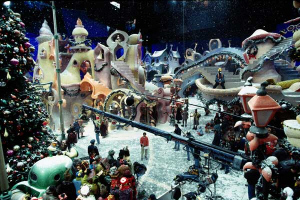 © Universal Pictures
For example, the Whoville kitchens feature Wedgewood stoves from the 1950's that have been colorfully painted with the prop shop creating new handles, dials and grills. Blenders, refrigerators, record players, tape records, and scores of other items were "kludged" together after being located at local flea markets, antique stores and garage sales.
Dr. Seuss (Ted Geisel) passed away in 1991, though his widow Audrey, was convinced her husband would have approved of the world the filmmakers created: "I really wish Ted could be here to see what has been created," she observed when visiting the shooting sets in October 1999. "The way everything is meticulously, lovingly Seuss; I don't think he would believe what has been done on these sets."
A second unit crew directed by Todd Hallowell, went to the Solitude Ski Resort near Salt Lake City in March 2000 after principal photography had wrapped to shoot the sequence of the Grinch, Cindy Lou and Max speeding down the slopes of Mt. Crumpit back to Whoville to return to the presents.
The close-up and medium shots on Mt. Crumpit were done by Ron Howard on stage 27 where a Styrofoam mountain was built in the pit on the stage which gave the set a total height of 56 feet. The sleigh ride sequence alone features over 150 visual effects shots to amplify the Seussian world where the laws of physics are just a bit different.
Make Up & Costumes
Five-time Academy Award® winner Rick Baker started working on his make-up designs for the Grinch in December 1998 with the input of Jim Carrey and Ron Howard. Baker and his company Cinovation Studios created 125 character make-ups for the movie.
During the scenes in the town square of Whoville, Baker and a staff of as many as 60 make-up artists applied as many as 110 make-ups daily. Made of rubber, the appliances (rubber pieces glued to the actor's face) can only be used for one day, so, at the end of production, 8,000 facial appliances and 3,500 ears were used. In addition, 300 wigs and 150 facial hairpieces were created by Cinovation and key hairstylist Gail Ryan.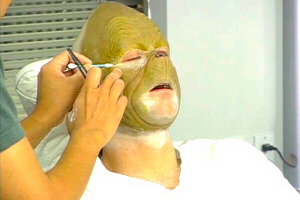 © Universal Pictures
Howard, Grazer and Baker were somewhat perplexed when they embarked upon the movie since Seuss' drawings were so simple yet exaggerated. Despite having 44 books in print (the first in 1937), no one had ever attempted a live action rendering of a Seuss book. Were the Whos monsters, animals or bugs? And of course, the issue of what the Grinch should look like and how to construct an appliance for Jim Carrey's very elastic face and a suit that withstands his unique physical comedy. "For me, the most important aspect to the Grinch's appearance was that it look authentic and be in the spirit of the book," says Carrey.
"I started out making some of the Who test make- ups a little too scary," says Baker. "Ron wanted me to hold back and make them more human so that people can relate to them and know that they have a heart. It took some time to get the balance between Seuss-like and human-like for the Whos."
For Grazer, the blend that Baker concocted hit the right note. "The Whos were different in that they looked like they were from a different world and that this world was governed by a different sensibility and their own philosophy. But at the same time they were human enough and cute enough to satisfy my aesthetic."
In December 1998, Baker first began experimenting with his designs for the Grinch. He started by doing a version of the make-up on himself, which he showed to Howard and Grazer. During the spring and summer of 1999, Baker had Jim Carrey sporadically as he was working back to back on Man on The Moon and Me, Myself and Irene. The design for the Grinch went through numerous incarnations and ironically ended up with basically what Baker first designed on himself in 1998.
"It was a lengthy process of elimination," says Carrey. "We went so far as to try just painting my face but I ended up looking like someone from the cast of Cats."
It works so well on Jim because he can really move his face around and he's not afraid to exaggerate the expressions to make them come through all that rubber," says Baker. "I knew where to make the rubber a little thinner, so that Jim could get the maximum expression."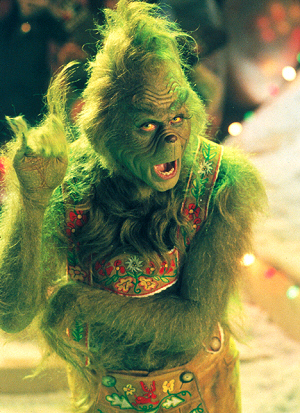 © Universal Pictures
Baker also created the Grinch's "hair" suit, which consists of individual yak hairs (dyed Grinch green) sewn on to a lycra spandex suit. Each hair was individually sewn on and tied twice, so to make a suit from scratch required four months time.
With the combination of the make-up (he couldn't breathe through his nose), contact lenses, false teeth and the suit, "it was like being buried alive on a daily basis," recalls Carrey. "I was really miserable but the minute Ron said "action" I lost all sense of discomfort."
The process took three hours every morning for Carrey. "I was always a little late each day because I really had to psyche myself up to get into the make up trailer."
Carrey kept telling Howard he should see what it was like for him, so one day Howard arrived at 4 am. and went through the Grinch make-up process and remained so (much to Carrey's delight and Howard's discomfort) for the day. "Ron never did the lenses, though," notes Carrey. "It covers your entire eyeball and that's what pushes you over Niagara; when that artificial snow gets in there; it's all over."
The false teeth Baker created for the Grinch were closer to a full denture so that Carrey had to talk a certain way to get around the teeth which gave certain words a Sean Connery quality to them."
The first question Ron Howard asked Christine Baranski when they initially met about the movie was not about her part but rather, "How do you feel about being in a make-up chair for three hours a day, because a lot of people can't tolerate it for that long."
For Brananski the make-up was liberating. "When you're covered it can release you physically. Your body gets freer and becomes more of a source of expression," she notes.
Underneath the Grinch suit as with all the Whos, padding was added to give all the characters their distinctly pear-shaped Seussian look.
Costume designer Rita Ryack was free to let her imagination run wild, since the characters in the movie (aside from the Grinch and Cindy) do not exist in the book. Though the mayor in Seuss' first book, And To Think I Saw It On Mulberry Street, was the source for Mayor May Who.

© Universal Pictures
Ryack and her crew created everything from the shoes up, beginning with the padding for all the actors. She began sketching designs in May for a movie that started shooting in September, so the work was fast and furious resulting in the creation of over 400 outfits.
Having started years ago as a cartoonist and animator, Ryack decided to begin her work by trying to draw like Seuss.
"I thought if I drew rather frenetically maybe I would channel the right style," Ryack says. And of course, there were the hats. Seuss loved hats and his books are filled with them."
Ryack came up with designs for nearly 300 hats, many which were inspired by 1950s cookbooks.
"I love the photos of 1950s food, " says Ryack. 'They're styled and arranged just right and the colors are wonderful. I saw lots of photos of hors d'oeuvres and so we took that and made head pieces based on a lot of this food."
Much of Ryack's 1950s-inspired hat line is on display in the movie during the Whobilation.
"I tried to use materials that would have been available when Dr. Seuss was writing the book (1957). The Lou Who family was sort of a cockeyed version of the perfect '50s TV family and Martha (Christine Baranski) was so much fun since she was sort of like a Barbie doll you dress up in various outfits."
She continues, "We used a lot of fashion puns throughout; there's a Prada Who a Chanel Who, not all of it will be easily discernable, but it was still fun to do."
Baranski and Ryack had worked together on several plays, so they shared a common language of what they wanted the costumes to accomplish.
"Christine is game for anything and really knows how to work a costume," adds Ryack.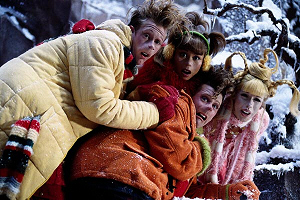 © Universal Pictures
"I have never worn clothes this dazzling because they're like couture clothes in extreme," notes Baranski. "Exaggeratedly beautiful and elegant."
Underneath the Grinch suit as with all the Whos, padding was added to give all the characters their distinctly pear-shaped Seussian look. The exception was Mayor May Who (played by Jeffrey Tambor) whose shape was reversed, so that he exuded power and looked more powerful in his clothing.
About The Production
Casting Cindy Lou Who was a difficult task because her character moves the story forward and so much of her screen time would be alone with the Grinch which was a large burden for a child that Howard wanted to be no older than six years of age. His longtime casting directors, Jane Jenkins and Janet Hirshenson, auditioned well over 200 children.
Ultimately, Howard selected Taylor Momsen from St. Louis, Missouri, who was still shy of her sixth birthday when she read for the part. Her experience was limited to commercials and one episode of The Cosby Show.
"Taylor has a simple kind of honesty and a wonderful spirit," says Howard. "She's the audience in the movie in that she's the closet thing to a regular, everyday person in the film. She's the voice of reason and the catalyst to moving the story forward that has a lot of impact on how the Grinch thinks and feels.
'She's got a wonderful spirit and a very simple kind of honesty that is truly a virtue in making a movie like this because her role is what's really original about the story, it's barely hinted at in the book."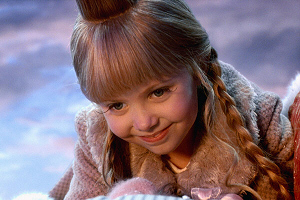 © Universal Pictures
The role that took even more searching was for Cindy's stunt double. Because Taylor Momsen, as a minor, could only work limited hours, it was necessary to find an adult who could double her. There was lots of stunt work for the character (in the post office, climbing the mountain, riding the sleigh) but finding someone Taylor's size (42 inches tall and 40 pounds) was difficult. After no luck locally, little people's organizations, the assorted circuses around the country, stunt coordinator Charlie Croughwell tracked down a circus in Russia where Oxana Nenakhova was a star performer. Nearly the exact size, her facial structure was similar and her athletic abilities were beyond question.
Finding the right dog to portray Max fell to veteran animal trainer Roger Schumacher (who trained the dog in As Good As It Gets). Schumacher made calls all over the country to obtain photos of all the possible candidates to play Max.
Naturally, the dog chosen came from no more than five miles from Universal Studios. One day the Glendale animal shelter called Schumacher about a dog (a mutt with a bit of terrier) that might fill the bill. The dog had run away from home and the shelter picked the dog up. The first time cost the owner $25 to get the dog back. By the fourth time the dog had run away from home the fee for the owner was $100 and the owner told the shelter to keep the dog.
'She was real hyper when I got her and didn't have a lot of training," notes Schumacher. But when I started looking at the animated version (the 1966 Chuck Jones cartoon) I noticed that there was similarity in the eyes and when Ron Howard saw her (Kelly) and 20 other dogs of all sizes and shapes, he saw it as well. Though he played around with the idea of using other dogs, he kept coming back to Kelly." Ultimately, he got five other dogs to back up Kelly.
Schumacher trained the dogs for 15 weeks before production began, though Kelly did nearly all the work. The other dogs were used for specialty gags or did something that was counter to what Kelly had to perform. The biggest challenge for Schumacher was getting the dogs together with Jim Carrey (he was working on another movie during most of prep) and getting the dogs to accept what Carrey did as the Grinch.
"If Jim did a scene and wanted to knock some thing off the table, I wanted to be sure that the dog had enough in him to think, 'this is all right; this doesn't bother me.' You can't plan every minute part of a scene ahead of time particularly with a talent like Jim. He and Ron would come up with stuff on the spot and sometimes you're not sure how it's going to work out," says Schumacher.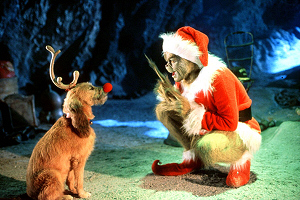 © Universal Pictures
Schumacher used a total of six dogs, all mutts, hair cut and dyed to match Kelly. All came from shelters and after the movie four of them found homes with Grinch crew members.
Part of creating the Whoville world was the physicality of the Whos. In Dr. Seuss' world, characters find themselves in situations that defy conventional physics. To your garden-variety mortal, everything looks skewed, but to a Who it's all absolutely square.
Prior to production, stunt coordinator Charlie Croughwell ran a "Who School" for three weeks for the actors and stunt performers to help develop a physical language for the Whos. How far can the Whos defy gravity? What can Whos do that normal people cannot?
"Sometimes Seuss would have it that the Whos defied the laws of physics so much that a Who could stand on their toe on the corner of a box, and the boxes are all balanced on their corners while playing badminton, yet sometimes they were like normal people," notes C roug hwell.
The goal was to find a way to set the Whos apart from a normal person, but not so that the viewer would get annoyed because the physicality became too gimmicky. The actors, extras and stunt people came and went during the three week rehearsal process on stage 18 where trampolines crash pads, and assorted stunt equipment was rehearsed with as well as simple walking.
Croughwell created a rig (using the base of a wheelchair that was extended) so that he could drive Jim Carrey, seated on the Tiny Who car, throughout Whoville. A flying rig, attached to the perms on stage 12, consisted of an l-beam which allowed Croughwell to spin the car around and around and then let Grinch stunt double Pat Banta travel 25 feet through the air and 10 feet off the ground. Throughout this car chase, the Grinch narrowly misses assorted Whos and sends them tumbling.
These stunt people, Sonny Tipton, Terry Notary, Greg Wise, Fricso Canyon, Richie Gaona, Stas Greiner, Svetla Krasteva and Pavel Soukharev came from the Las Vegas-based troupe of the "Mystere" show of Cirque du Soleil.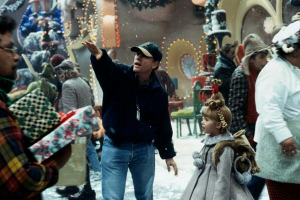 © Universal Pictures
"The Cirque performers have a strong per formance background doing odd characters in odd situations, so they were perfect for the movie," says Croughwell. "There's not too many stunt people I could find where I could go to them and ask them to climb up a pole upside down only with their hands. These guys give you a broad range of abilities that you normally don't get."
As drawn in the book, the village of Whoville was quaint and sparse, which served the book well, though, for a full-length movie was hardly adequate. Howard turned to the visual effects studio, Digital Domain, which served him so well on Apollo 13 (the movie was nominated for an Academy Award® for best visual effects and won the British Academy Award), to extend and enhance Whoville.
Anything seen through the camera lens is not visual effects. When that film frame is enhanced with anything else (except for miniatures), that is visual effects and in the movie there are well over 500 visual effects shots, the majority of them supervised by Academy Award®-winning visual effects supervisor Kevin Mack (What Dreams May Come).
Digital Domain approached the visual effects for the movie with the basic intent of creating complementary shots to the film's basic direction in production design, cinematography and makeup. The studio worked closely with those department heads, especially production designer Michael Corenblith, director of photography Don Peterman, and special makeup effects designer Rick Baker to create an integrated and seamless look.
To do so, Mack and his team of 70 artists focused their efforts in a number of key areas. Beginning with the film's opening credit sequence, the artists created a CC (computer generated) landscape for the story and the film's flying approach around Mt. Crumpet to Whoville.
The team extended key locations and sets constructed for principal photography in Whoville, adding architecture depth and complexity as well as heightened environmental conditions, like snowy weather, dreamy alpine vistas, animated clouds and interactive breath for principal characters. The studio also created an elaborate set of shots for the film's signature sleigh ride sequence.
A unique set of CG tools were created for the movie, including a computer program of computer generated, animated Who characters, called the Who "tool kit" which augmented the larger crowd sequences in Whoville.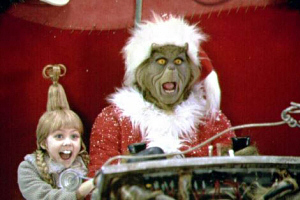 © Universal Pictures
Working with costume designer Rita Ryack, the effect's team scanned actual costumes to create a "virtual" wardrobe department for the CG Whos.
The artists also created various dedicated animated shots to embellish performances by Jim Carrey and other characters.
Creating The Music
Creating the score for the movie fell to James Howard (Academy Award® winner for Titanic) and with whom Howard collaborated on Apollo 13. Like his fellow creative partners on the production, he went through all the Dr. Seuss books to get inspiration and to try and figure out what sounds would possibly come out of some the strange looking instruments that were depicted in some of the books.
"We made about eight instruments out of all sorts of odd materials, including a garden hose and PVC pipe," recalls Homer, whose kludging is reminiscent of how some of the set decoration and props came to fruition.
"The sound I was looking for was sort of nasal- like and whistle-like qualities which I thought should personify the Whoville marching band."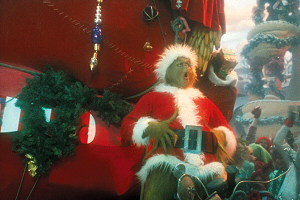 © Universal Pictures
Writing the score to the movie was far easier for Homer than coming up with the music to some of the movie's songs. His lyricist, Cynthia Weil (Academy Award® nominee in 1987 for Best Song from An American Tail), had an equal challenge in attempting to replicate the rhythm that Geisel perfected in his 44 books.
"I was not that familiar with his books, but after I immersed myself in them I realized how complex the language was and how truly unique his voice was" says Weil. "It was like learning another language. I had to learn to write in Seuss and make it seem natural."
Homer's main concern was that the score have a lot of heart, "because Cindy Lou had a lot of heart and she's the engine that drives the movie. I've always been attracted to stories where one character sees something that no one else sees, and she then has to convince everyone of her point of view," says Homer.
Jim Carrey—with no accompaniment or anything to alter his voice— sang the signature song of "You're A Mean One Mr. Grinch" which was written by Albert Hague and Theodor S. Geisel (Dr. Seuss) for the 1966 animated television program.
The songs heard in the movie were used as a counterpoint to the score with Howard's concern being that all the songs should be original because Whoville doesn't exist and he didn't want moviegoers to have a frame of reference for the music. Music supervisor Bonnie Greenberg started talking with artists, who like the movie, had offbeat and witty sensibilities. The exception to this would be "Where Are You Christmas" written by Homer, Will Jennings and Mariab Carrey (sung by Taylor Momsen in the movie and Faith Hill over the movie's end credits) which reflects the turmoil Cindy Lou Who is going through—the thematic heart of the movie.
The rest of the songs all have a retro feel to them, much like the look of the movie that was inspired by 1940's and 50s styles.

© Universal Pictures
"The music seemed like out of the 50s," says Greenberg, "though it's modernized so that it comes off as eccentric and off-beat."
Howard wanted Whoville to always have music emanating from some source much like Tokyo, Japan where one can always hear music.
« Previous
|
1
|
2
|
3
|
4
|
5
|
6
|
Next »