How the Grinch Stole Christmas
Page 2 of 6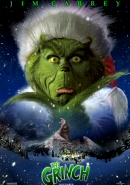 What's it about
The Whos of Whoville love Christmas more than any other holiday, but the Grinch (Jim Carrey), a hairy, green creature living just north of Whoville, hates Christmas.
The Grinch lives with just his dog, Max (Frank Welker), in a cave on Mt. Crumpit. He is haunted by unpleasant memories associated with the Christmas season, hence his having nothing to do with it. The Grinch is a childhood sweetheart of Martha May Whovier (Christine Baranski), but the mayor of Whoville, Augustus Maywho (Jeffrey Tambor), has always been in competition with the Grinch for Martha's affections.
As a baby, the Grinch was brought up with a love for Christmas. When he was eight years old, he made an angel ornament as a gift for Martha. He was also worried Martha would dislike his facial hair. He shaves, but ends up cutting himself in several places. At school the next day, he is ridiculed and even the teacher can't help but laugh. This is what drives him into a deep hatred of Christmas.
Cindy Lou Who (Taylor Momsen) is a young Who who feels the true meaning of Christmas is lost, as she is overwhelmed by all of the commercial and materialistic commotion. She is fascinated with the Grinch and wants nothing more than to get him into the Christmas spirit again. She convinces the Grinch to participate in the Whos' Christmas festivities, tempting him with the fact that Martha May will attend, but Maywho publicly humiliates the Grinch by giving him an electric razor and proposing to Martha May. Furiously haunted by the past, the Grinch becomes angry, calling the Whos' Christmas stupid and saying the holiday is about nothing but greed. He returns to Mt. Crumpit and the Whos commence with a Grinchless Christmas.

© Universal Pictures
On Christmas Eve, the Grinch plans to ruin the Whos' Christmas by means of burglary. To masquerade as Santa Claus, he fashions a rocket powered sleigh and a red and white hat and coat, using Max as his reindeer. He steals all of the Whos' Christmas presents and decorations. When he stumbles into Cindy Lou Who, she tells him (thinking he's Santa) to not forget the Grinch, as she thinks he's sweet. The Grinch is at first touched, but quickly refocuses on his plot. Once all of the houses are robbed, he has Max pull the sleigh up to the top of Mt. Crumpit, where he plans to dispose of all of the presents.
The Whos are at first miserable over what has happened, blaming Cindy Lou, but Cindy Lou's father (Bill Irwin) convinces them that Christmas isn't all about gifts after all, and that they still have the Christmas Spirit - the one thing that doesn't come from a store. They sing at the arrival of Christmas, and the Grinch hears them echoing over the mountain. He is convinced that Christmas is something that can't be stolen, and his heart swells and he feels Christmas spirit at last. He realizes his stolen load is about to tumble off the mountain peak. At first he is unable to muster the strength to pull it back, but when he sees that Cindy Lou has climbed onto the sleigh, his worry for her safety gives him the superhuman strength to lift the sleigh clear off the ground. He and Cindy Lou then bring the presents back to Whoville. Martha May gives Mayor Maywho his engagement ring back and tells him that she won't marry him because her heart belongs to The Grinch. The Grinch is accepted back into society and he himself carves the roast beast at Christmas dinner. Martha May stands beside him, while Cindy Lou sits nearby waiting for her portion of the roast beast.
Credits
Production Companies
Imagine Entertainment
LUNI Productions GmbH and Company KG
Distributor
Universal Pictures
Director
Ron Howard
Writers
Dr. Seuss (book)
Jeffrey Price
Peter S. Seaman
Producers
Brian Grazer
Ron Howard
Executive Producer
Todd Hallowell
Associate Producers
Linda Fields
Aldric La'Auli Porter
Louisa Velis
David Womark
Composer
James Horner
Cinematographer
Donald Peterman
Editors
Daniel P. Hanley
Mike Hill
Cast List
Jim Carrey
Taylor Momsen
Jeffrey Tambor
Christine Baranski
Bill Irwin
Molly Shannon
Clint Howard
Josh Ryan Evans
Mindy Sterling
Rachel Winfree
Rance Howard
Jeremy Howard
T.J. Thyne
Lacey Kohl
Nadja Pionilla
Jim Meskimen
Michael Dahlen
David Costabile
Mary Stein
James Ritz
Deep Roy
Jessica Sara
Mason Lucero
Ben Bookbinder
Michaela Gallo
Landry Allbright
Reid Kirchenbauer
Rebecca Chace
Suzanne Krull
Steve Kehela
Lillias White
Rain Pryor
John Alexander
Kevin Isola
Gavin Grazer
Walter Franks
Verne Troyer
Clayton Martinez
Q'Orianka Kilcher
Caroline Williams
John Short
Grainger Esch
Eva Burkley
Rick Baker
Bill Sturgeon
Mark Setrakian
Jurgen Heimann
Tim Blaney
Bryce Dallas Howard
Charles Croughwell
Frank Welker
Anthony Hopkins
..... Grinch
..... Cindy Lou Who
..... Mayor Augustus Maywho
..... Martha May Whovier
..... Lou Lou Who
..... Betty Lou Who
..... Whobris
..... 8-Year Old Grinch
..... Clarnella
..... Rose
..... Elderly Timekeeper
..... Drew Lou Who
..... Stu Lou Who
..... Christina Whoterberry
..... Junie
..... Officer Wholihan
..... Customer
..... Biker Who
..... Miss Rue Who
..... Crazy Mose
..... Post Office Clerk
..... Sophie
..... Who Boy
..... 8 Year Old May Who
..... School Girl
..... 8 Year Old Martha
..... 8 Year Old Whobris/Kid
..... Shopper
..... Shopper
..... Shopper
..... Shopper
..... Shopper
..... Shopper
..... Tree Trimmer
..... Yodeler
..... Clerk
..... Band Member
..... Cook
..... Little Choir Member
..... Tiny Who Woman
..... Tiny Who Man
..... Near Miss Who
..... Pudding Chef
..... Puppeteer
..... Pupeteer
..... Puppeteer
..... Puppeteer
..... Pupeteer
..... Surprised Who
..... Balloon Who
..... Max the Dog (voice)
..... The Narrator (voice)
Movie Quotes
| | |
| --- | --- |
| The Grinch: | Blast this Christmas music. It's joyful and triumphant.. |
| The Grinch: | Are you having a holly, jolly Christmas? |
| The Grinch: | I'm gonna die. I'm gonna throw up, then I'm gonna die. |
| The Grinch: | It's because I'm green isn't it? |
| The Grinch: | What's that stench? It's fantastic. |
| The Grinch: | It came without ribbons. It came without tags. It came without packages, boxes, or bags. |
| Cindy Lou Who: | Oh... your face is so... |
| The Grinch: | I know. Hairy. |
| Cindy Lou Who: | No. |
| The Grinch: | Stinky? Slimy? Do I have a zit? |
| Cindy Lou Who: | No. Warm. |
| The Grinch: | Am I just eating because I'm bored? |
Taglines
Inside a snowflake, like the one on your sleeve, there happened a story you must see to believe.
You're a mean one, Mr. Grinch!
He puts the mean in green.
You Better Watch Out!
All Whos beware: He's mean and green!
« Previous
|
1
|
2
|
3
|
4
|
5
|
6
|
Next »