The Majestic
Page 2 of 5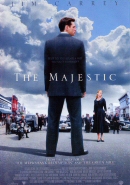 What's it about
By BCDavis
What is "HE B J U"? It's all that's left of a sign after many train rumblings and years of neglect. But it's also a portent of the magic found inside the movie theatres.
That's what "The Bijou" is partly about - the magic of film. The other part of the story deals with the Red scare and the Communist hunting and Hollywood blacklisting during the 1950s.
Peter Appleton is a script writer during this time. He is one of the many Hollywood film people suspected of being a Communist (which he is not). Along the way he gets into an accident and suffers amnesia, ending up in a small California town. There, he lives in a run down Bijou (hence, the name for this film) and learns about the magic of experiencing a movie in a movie theatre. Soon, the Communist hunters find him and call him to testify before a Senate hearing committee.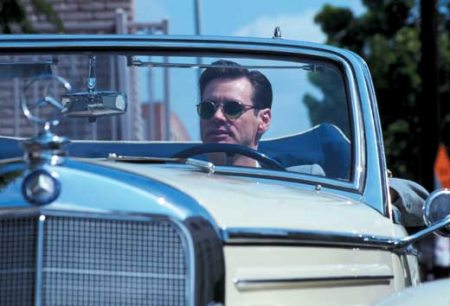 © Warner Bros.
Overall, this script is a great read and will be great on film. A drama with comedic moments, Jim Carrey will be wonderful in the role of Peter Appleton. Congratulate Jim on another fine pick.
By S.A._JCFan
I just finished reading "The Bijou" (As soon as I got the script, it took me 3 hours to finish) and let me just say that I understand why Harry and Moriarty from Aint-It-Cool considers this a beautiful script. It's just so moving. I found myself laughing and almost crying at a few parts. I can only imagine how Jim Carrey and Martin Landau will display the father-son relationship.
Jim made a great choice taking the role of Peter Appleton, who's a screenwriter. As soon as he's introduced, Peter's life and career changes when he's suspected of being a communist, which he is not. He is asked to name names, confess a few things, etc. With the burden of his problems on his mind, he goes out for a drink. He gets into his car determined to start over a new life and whaddaya know, Peter ends up in a car accident (Good reason not to drink and drive.) and gets amnesia. He is taken into another town, Lawson, for help and recovery. There, the townspeople mistake him for one of their dead soldiers, Luke Trumbo, especially the real Luke's father, Harry. Pete accepts his life as "Luke" and is actually happy there. He helps Harry on restoring their home and theater "THE BIJOU" and leaves an impression on the people of Lawson. But it all comes to an end when it all comes back - his former life and problems - to Peter, literally. Peter often gets emotional in a few scenes, so this should be interesting.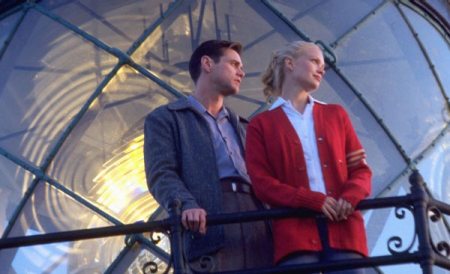 © Warner Bros.
This is very original to me. It's like a movie about the "magic" within movies. Michael Sloane's 110+ paged script is filled with beautifully descriptive scenes. The dialogue is diverse in moods and can be pretty humorous or logical at some points. The characters are unique and special and they continue to show that and more later in the film. Since filming begins next year, director Frank Darabont still has to fill in a few of the characters, especially the leading lady who Peter truly falls in love with. We're counting on ya, Darabont. Make us movie goers proud!
Credits
Production Companies
Darkwoods Productions
Castle Rock Entertainment
Village Roadshow Pictures
NPV Entertainment
Distributors
Warner Bros. (U.S.)
Universal Pictures (International)
Director
Frank Darabont
Writer
Michael Sloane
Producer
Frank Darabont
Executive Producer
Jim Behnke
Composers
Thomas Newman
Mark Isham
Cinematographer
David Tattersall
Editor
Jim Page
Cast List
Jim Carrey
Laurie Holden
Martin Landau
David Ogden Stiers
Jeffrey DeMunn
Catherine Dent
Susan Willis
Gerry Black
Brian Howe
Karl Bury
Allen Garfield
Bob Balaban
Ron Rifkin
Brent Briscoe
James Whitmore
Amanda Detmer
Shawn Doyle
Hal Holbrook
Chelcie Ross
Daniel von Bargen
Matt G. Wiens
Mario Roccuzzo
Frank Collison
Bill Gratton
Ginger Williams
Ken Magee
Csilla Horvath
April Ortiz
Larry Cox
Julie Richardson
Scotty Leavenworth
Grant Vaught
Bob Wells
Kevin DeMunn
Earl Boen
Bruce Campbell
Cliff Curtis
Michael Sloane
Garry Marshall
Paul Mazursky
Sydney Pollack
Carl Reiner
Rob Reiner
Matt Damon
..... Pete Appleton/Luke Trimble
..... Adele Stanton
..... Harry Trimble
..... Doc Ben Stanton
..... Mayor Ernie Cole
..... Mabel
..... Irene
..... Emmett
..... Carl Leffert
..... Bob Leffert
..... Leo Kubelsky
..... Elvin Clyde
..... Bannerman
..... Sheriff Cecil Coleman
..... Stan Keller
..... Sandra Sinclair
..... FBI Agent Saunders
..... T. Johnston Doyle
..... Avery Wyatt
..... FBI Agent Ellerby
..... Spencer Wyatt
..... Jerry the Bartender
..... Subpoena Server
..... Daley
..... Louise
..... Coastal Engineer
..... Nurse Muriel
..... Vera
..... Grauman's Usher
..... Grauman's Bon-Bon Girl
..... Joey
..... Boy on Beach
..... Reverend
..... Western Union Man
..... Newsreel Announcer (voice)
..... Roland the Intrepid Explorer
..... The Evil But Handsome Prince Khalid
..... Kindly Old Professor Meredith
..... Studio Executive (voice)
..... Studio Executive (voice)
..... Studio Executive (voice)
..... Studio Executive (voice)
..... Studio Executive (voice)
..... Luke Trimble (voice)
Movie Quotes
| | |
| --- | --- |
| Peter Appleton: | I can't stand the constant nagging. I'm leaving you, Jerry. I'm leaving you - and I'm taking the monkey with me. |
| Adele Stanton: | Do you remember me? |
| Peter Appleton: | No, but I'll sure try. |
| Elvin Clyde: | Who did you go as? |
| Peter Appleton: | A horny young man. |
| Emmett Smith: | You found me. |
| Peter Appleton: | Oh, sorry. I didn't know who was down here. |
| Emmett Smith: | Just me and the dog. |
| Peter Appleton: | What's his name? |
| Emmett Smith: | Dog. |
| Doc Stanton: | Your face really does seem... familiar. |
| Peter Appleton: | Wish I could say the same thing. |
| Emmett Smith: | I forget things sometimes, since the war. |
| Peter Appleton: | Yeah, me too. |
Taglines
Sometimes your life comes into focus one frame at a time.
« Previous
|
1
|
2
|
3
|
4
|
5
|
Next »