The Majestic
Page 3 of 5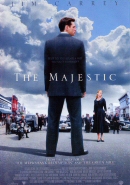 Production Notes
Written by Michael Sloane and revised by Frank Darabont, "The Majestic" (a.k.a. "The Bijou"), set in 1951, stars Jim Carrey as Peter Appleton, a blacklisted movie writer at HHS Studios who loses his memory after a car accident and finds a new home in the small town of Lawson, where he is mistaken for a local soldier who died during W.W.II. Darabont directs and Castle Rock Entertainment produces this $68 million project. Warner Bros. will handle domestic distribution while Universal Pictures takes overseas'. Jim Carrey's salary is his usual $20 million.
Martin Landau co-stars as Harry Trimble, father of Luke, the soldier Appleton is mistaken with, and Laurie Holden as Adele Stanton, Luke's love interest. Portraying "Doc" Stanton, Adele's father and town doctor, is David Ogden Stiers.
Jeffrey DeMunn (Mayor Cole), is the town mayor and druggist. Catherine Dent portrays Mabel, the owner of Lawson's diner. Susan Willis and Gerry Black are Irene and Emmett, the other half of the Majestic's staff. Brian Howe is Carl Leffert and Karl Bury plays his brother, Bob Leffert, a traumatized W.W.II veteran. Brent Briscoe is Sheriff Coleman, while James Whitmore plays Stan Keller, Lawson's pawnbroker and wise elder who finds Peter after his car accident in the town's surroundings.
Allen Garfield is Peter's Hollywood agent, and Bob Balaban (Elvin Clyde) heads the House on Un-American Activities Committee, investigating Communist influences in Hollywood. Ron Rifkin (Bannerman) portrays a HHS Studios lawyer.

"Sand Pirates Of The Sahara."
© Castle Rock Ent.
Making brief appearances will be Amanda Detmer, as Sandra Sinclair, Peter's Hollywood girlfriend and Bruce Campbell, as the star of Peter's movie titled "Sand Pirates Of The Sahara." Cliff Curtis plays the movie's villain, in a sword-fighting scene opposite Campbell. Writer Michael Sloane also makes an amusing cameo as "The Professor."
According to information supplied by Castle Rock, principal photography started March 5, and although the movie was said to begin filming at the Victorian Village of Ferndale (Humboldt County), the first days of production occurred in Los Angeles. Two of the locations used were the world-famous Grauman's Chinese Theater, and the Formosa Cafe. Interiors were shot at the Warner lot.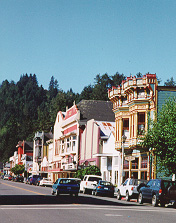 Ferndale's Main Street.
© Ellen Briggs.
Production then moved from L.A. to Humboldt County, on March 19. The first day on location was dedicated to filming part of a car crash scene at College Cove beach, Trinidad, with a Mercedes being sunk off shore. None of the main cast was involved.
Filming continued in Ferndale, March 20, where pre-production work had started on January 22nd. A Town Hall set, complete with park and gazebo, encased the local U.S. Bank and extended into its parking lot. Near, a Diner set was built in front of an old Service Station set, which had in turn been built for filming of "Outbreak." Erected at the city parking lot on Main Street was the Majestic, the run-down movie theater owned by Martin Landau's character. Some changes on the businesses near the sets were also made in order to achieve the required fifties storefront look.
Ferndale's cemetery equally underwent transformation as several military graves and a M.I.A. marker were added to a central area.
Interior scenes were shot at the nearby Ferndale Fairgrounds. The sets constructed there included the apartment above the Majestic, where Martin Landau's character lives, the theater's basement, the doctor's and sheriff's offices, and Town Hall's basement. Ferndale's Masonic Hall supplied the interior for Town Hall.
Besides Ferndale, some shooting also occurred at the neighboring Mendocino County, between April 30 and May 8. Locations used included the Skunk Train Depot in Fort Bragg, the interior of the train, the beach on the north side of Big River, where Carrey's character is found after his accident, bluff shots from the south side of Big River, and Point Cabrillo Lighthouse, where the exteriors of a big party scene were staged.
After returning to LA, filming continued on the 10th, at Walt Disney's Golden Oaks Ranch, for a series of night scenes which supposedly take place at the lighthouse's interior. Filming at the Ranch occurred for a week. The remaining interior scenes, including those at the Majestic auditorium and lobby, were done at the studio lot. The beautiful lobby was dismantled from the Majestic set in Ferndale and reassembled at the studio, where the auditorium was also built. Production wrapped June 29 and the movie is now in post-production.
The movie, rated PG, opens December 21 on U.S. theaters.
On a comment to Variety, Frank Darabont said that there will not be many special effects required, with exception of a few L.A. scenes, as one at Grauman's Chinese theater, whose marquee will advertise "The African Queen," and a short sequence of a film within the film, namely, "Sand Pirates Of The Sahara," the movie written by Jim Carrey's character. Bob Leffert, played by Karl Bury, will also require some CGI touches as the character is supposed to have lost one of his hands during W.W.II.
-- Ferndale picture courtesy
Ferndale's Chamber Of Commerce
. "Sand Pirates" poster courtesy
Castle Rock Entertainment
.
« Previous
|
1
|
2
|
3
|
4
|
5
|
Next »