Fun With Dick And Jane
Page 3 of 5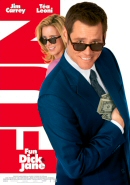 Production Notes
Love, Laughs and Larceny
Fun With Dick and Jane is a simple tale of two people who lose their minds while trying to hold on to the elusive American dream.
Life has never been better for Dick Harper (Jim Carrey) and his loving wife, Jane Jane (Téa Leoni) - a sure sign that things can only get worse.
Dick has waited patiently for almost 15 years to become a vice president at Globodyne. That day finally arrives. His boss, Jack McCallister (Alec Baldwin), finally gives him his promotion and his wife Jane (Téa Leoni) finally gets to quit her job at a travel agency.
But the celebration is short-lived. Globodyne and McCallister become embroiled in a giant corporate scandal. The company goes belly-up and Dick is left holding the bag, while his boss takes advantage of his solid gold parachute. For a time, he waits in vain for a rival company to snap him up. Faced with a mountain of debt and the threat of repossession, Dick tries to find a job, any job. The best position that's open is as a "greeter" at the local giant box store. Jane decides to go back to work as well. She bluffs her way into a gig as a Tae Bo instructor and then tries to earn some money as a guinea pig for a new Botox-like substance.

© Sony Pictures Digital Inc.
But they are clearly not cut out for these new jobs and, besides, they don't make much of a dent in their financial situation. So, one by one, they are forced to sell off their dream possessions, including their cherished plasma television.
At wit's end, Dick snaps, and in an effort to reclaim at least a part of his former life, steals chunks of sod from the neighbors' lawns to replenish his own balding backyard. Before long, he and Jane have embarked on a series of nighttime robberies, leaving their six-year-old son Billy in the care of their faithful housekeeper Blanca.
For a time, they are excited and invigorated by their new lives as a latter-day Bonnie and Clyde.
But they soon realize that there is stealing and there is stealing. And they discover that the way back to their lives - and their sanity - is to right the initial wrong done to Dick and his co-workers by their unscrupulous boss at Globodyne.
It's payback time.
See Dick and Jane Steal
Producer Brian Grazer has enjoyed enormous success in his collaborations with superstar Jim Carrey. Their films together, Liar Liar and How The Grinch Stole Christmas, were gigantic box office hits and they have been on the lookout ever since for another project on which to pair.
Carrey and his management team had been contemplating a remake of the 1977 comedy Fun With Dick and Jane starring Jane Fonda and George Segal, because they thought its themes had contemporary relevance - a family-oriented comedy that deals with the pitfalls of chasing the elusive America dream set against the backdrop of massive corporate greed. (According to recent economic studies, a generation ago the average chief executive made 40 times as much as the average worker. Today it's nearly 400 times as much).
"One day Jim came to me with this great idea to update Fun With Dick and Jane. It not only had great comic potential but seemed torn from the headlines," observes Grazer. "He asked if I would be willing to produce it. I jumped at the chance."

© Sony Pictures Digital Inc.
While it's told from a uniquely contemporary perspective, the movie's themes also echoed the great comedies of the 1930s, the golden age of Hollywood.
Carrey and Grazer felt the project needed a director who could balance the comedy's physical elements and its underlying satirical aspects without losing its moral center. They turned to Dean Parisot, who had juggled all these elements so successfully in the sleeper-hit comedy Galaxy Quest.
"Dean has this incredible sense of comic timing," observes Grazer. "He likes to pull back on the joke - just shy of the punch line. And that makes it all the more funny. You find yourself laughing while it's happening, and even more later."
"When I initially met with everyone about remaking this movie," says Parisot, "I was especially intrigued with how the plight of this couple might play itself out now, at the beginning of the 21st century. By updating this story and putting it in the context of an Enron-like disaster, I thought there was great potential for a new, original, and very funny take on this material."
The setup of the story was especially tantalizing to Parisot. "Here was this couple who has played by the rules and assembled all the things that define a successful American family," he says. "They worked hard and moved up the corporate ladder. They had a beautiful boy, in a great school, had bought their dream house … They had everything any of us could hope for. Sure, they were heavily mortgaged and in debt, but this was normal and would be taken care of as soon as Dick got his next promotion - which, happily, Dick does get, only to lose it six hours later when his company goes down in flames. Unfortunately, Jane has already quit her job in anticipation of Dick's new salary. Now, out of work and out of luck, we get to watch them lose everything. Even their lawn gets repossessed."
The comic potential inherent in the set up was too good to pass up, Parisot continues. "I knew it would be terrific fun to watch Dick and Jane lose their minds and go after the corporate criminal who bankrupted them."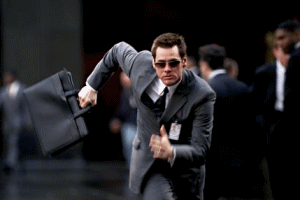 © Sony Pictures Digital Inc.
In finding the right Jane, the filmmakers wanted someone who could keep up with Carrey's highly eclectic and daring improvisation in scene after scene. "She had to have the agility of a physical comedian and the right chemistry with Jim so that the audience would believe Dick and Jane have been together in a loving marriage for ten years," says Grazer.
"Téa was the perfect candidate," says Carrey, "because I had seen her comedic work in Flirting With Disaster and thought she was tremendous. She's one of the best actresses working today, so she could bring a tone of reality to the relationship. She has an adventurous spirit and a nervous vulnerability about her that I think makes her exciting and sexy, as well as endearing."
Adds Grazer: "Téa is also comically durable and you have to be to work with Jim. You not only have to roll with the punches but create some punches that go back at him - because that's when he's at his best."
"The astounding thing about working with Jim is that most of my job entails setting up the scene and then stepping back to watch him play in it," says Parisot. "The fact that I also had Téa, who could go anywhere Jim went in her own very original and funny way, was a huge bonus. They worked so well together as a comedic couple. Their chemistry was absolutely perfect. They really complemented each other in every way. Jim has the ability to turn on a dime and try things from all kinds of different perspectives and Téa was right there with him. Watching them, I really felt that they had actually been together for years."
For Leoni, Fun with Dick and Jane was a crash course in improvisational comedy. She and Carrey met only one week before shooting began and there was little time to rehearse. "I was just terrified," she laughs. "For me, shooting without a rehearsal period is like the first day of school and you've been told that you don't have your knickers on. But it also made it very exciting."
She continues: "I got lucky on this film because Jim and I got this great rhythm going from day one. We were able to take a very small nugget and run with it for five or ten minutes. It was like finding someone to whom you're very well matched for a certain parlay."
A scene in which Dick and Jane plan a robbery disguised as Sonny and Cher is one of Leoni's favorites because of its wacky evolution. "Originally, I was going to be Cher," she explains, "but since Jim is 6-foot-2, it made sense for him to be Cher. What was somewhat disturbing was that we got the costumes from Bob Mackie (who designed many of Sonny and Cher's outfits), I fit into Sonny's costume perfectly - no alterations were needed."
The natural chemistry between Leoni and Carrey also helped in the depiction of Dick and Jane's reinvigorated sex life, mentions Parisot. "When they start robbing banks they spend more time together and they're doing something together as a couple that has a wild, almost sexual excitement to it. They feel guilty about it and yet they're excited at the same time."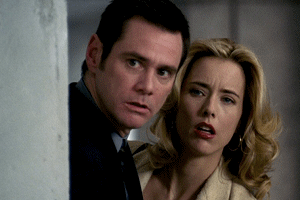 © Sony Pictures Digital Inc.
Adds Grazer: "Once Dick and Jane lose everything, there's this void in their life. They are forced to become resourceful again. When they start robbing, it becomes a sexual stimulant, because they suddenly feel alive again. They're in the moment, rather than getting off on a future event like buying a fancy car or a talking toaster."
The filmmakers gathered together a distinguished supporting cast to support Carrey and Leoni, including Alec Baldwin and Richard Jenkins ("Six Feet Under").
It was the casting of Alec Baldwin that was key to convincingly depicting one of the story's main plot points about the benign facade of corporate corruption. The filmmakers needed someone with the innate intelligence and gravitas to convincingly play the head of a billion dollar corporation, who could also hold the screen as a formidable adversary to Carrey's character.
Notes Carrey: "Alex is one of those actors I've always wanted to work with. He brings a lot of creative energy to everything he does. He was one of the best hosts of 'Saturday Night Live' ever. I was a fan of his comedy chops way back when he did Miami Blues, which was a brilliantly twisted comedic performance. He is also very handsome and that sultry voice … oops!"
Of his character, Baldwin remarks, "There is something fascinating about a guy who is paid a guaranteed salary of a couple of million dollars - or in his mind, a couple of lousy million - who has an expense account that is so lavish he doesn't ever spend any of his own money. He also gets an extraordinary stock option package. And then, on top of that, he decides it's necessary to steal an extra couple of hundred million from the company. They have this artificially inflated lifestyle and it seems all perspective is lost. When I saw that Dennis Koslowski (former CEO of Tyco International) had a $6,000 umbrella stand, I knew we were going back to Roman times. It was just so vulgar."
There are few people working on screen today, Baldwin notes, who have the ability to make this kind of comedy work, without it coming off as either silly or self-important. "Jim is the funniest person in the movie business, not only because he is ferociously smart and ceaselessly dedicated, but because his comedy has a big heart inside. There are other funny people, but some have a mean-spiritedness and their comedy comes at the expense of other people in the movie. With Jim there's none of that. He's such an original and inventive guy, he doesn't need it."
The other resonant theme in the film that was ripe for comic treatment, was how corporate greed has escalated to almost dizzying heights. According to the cover story of the Los Angeles Times Magazine's October 17, 2004 issue entitled "The New Executive Class": If ordinary workers' annual pay had risen at the same rate as CEO pay since 1990, a report by the Institute for Policy Studies points out, they would be making $75,338 today-instead of the $26,899 they are taking home. Adjusted for inflation, that's only marginally more than what they made in 1980.
Beginning in the 1980s, mutual funds and institutional investors came into control of large chunks of company stocks and they wanted quick returns. They applied pressure to the corporate boards, who responded by seeking quick fixes from outside talent. These "saviors" were lured by higher and higher compensation as well as the promise of a "golden parachute" should their methods fail.
"Dick and Jane are victims of corporate greed. The 'little guys' are the ones who are left with nothing while the upper ranks remain unscathed," says Parisot. "Ultimately, it becomes Dick and Jane's job to stand up for those who have gotten the short end of the deal."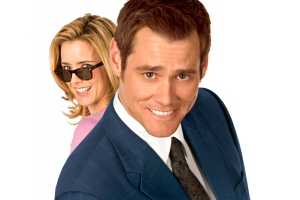 © Sony Pictures Digital Inc.
The parallels between Dick and Jane's thievery and that of Dick's corporate bosses is not lost on Carrey, who doesn't justify the character's actions as retribution for his years of loyalty on his job. "Dick and Jane's stealing comes from their need to preserve their way of life and as a way of rebelling," says Carrey. "Jack McCallister steals out of need for world domination, but they're both different degrees of the same thing. Both are worried about how they're being perceived by other egos. It's a need to look like a winner."
But eventually "it all blows up in their faces," says Parisot. "And after they have come to their senses, they realize that the best way to get back all they've lost is to avenge all the other people Dick worked with who also lost everything they had while their boss got off scot-free, kept his millions and maintained his lavish lifestyle."
"The vice president stripes Dick got for one day were just something else to have, like a fancy toaster or a new car. In his mind, it defined him," says Grazer. "It comes as a heavy blow when he loses it but his superiors still come out on top. So he finally decides he's going to do something about it. And that decision not only helps him get his life and his family back, but does the same for many of his co-workers who got screwed over as well."
Fun With Dick and Jane was shot entirely in Southern California, beginning on a set in Rancho Palos Verdes where a subdivision of 12 houses was constructed for Dick and Jane's neighborhood. The location once housed the former Marineland amusement park (which closed in the late 1980s) and the production shot there for six weeks, much of it in the Harper house, which contained a fully functioning interior and backyard with swimming pool. Other locations included a house in Los Angeles' Hancock Park where Jane's father lives - which interestingly was also used in Carrey's very first movie Once Bitten. The health club where Jane "teaches" Tae Bo is 24-Hour Fitness in Woodland Hills in the San Fernando Valley, while Jack McCallister's posh abode was set high in the hills above Malibu.
« Previous
|
1
|
2
|
3
|
4
|
5
|
Next »