Fun With Dick And Jane
Page 2 of 5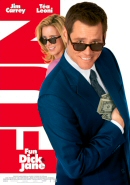 What's it about
In Columbia Pictures and Imagine Entertainment's holiday comedy Fun With Dick and Jane starring Jim Carrey and Téa Leoni, Dick Harper's (Carrey) years of hard work finally pay off when he is promoted to vice president at Globodyne, a worldwide leader in the consolidation of media properties.
But after exactly one day in his new job, Globodyne is destroyed by an Enron-like calamity - and he is left holding the bag.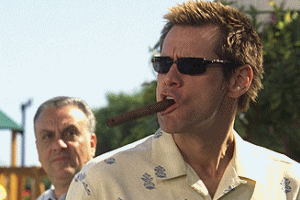 © Sony Pictures Digital Inc.
Dick's sudden reversal of fortune has left him little time to set money aside for a rainy day. Now it's raining buckets as Dick and his loving wife Jane (Leoni), watch in horror as their deluxe suburban home, their luxury cars and their status-conscious friends quickly vanish into thin air.
After playing by the rules and working single-mindedly to build a comfortable life for his family, Dick is utterly unprepared to give up the American dream. Taking a lesson from his corrupt employer, however, Dick hits on a brilliant idea: If stealing was good enough for his boss, then it's good enough for him.
Using his newfound skills, he and Jane exact hilarious revenge and teach big business a lesson.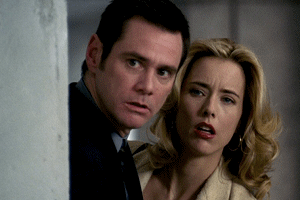 © Sony Pictures Digital Inc.
Columbia Pictures and Imagine Entertainment Present A Brian Grazer / JC 23 Entertainment / Bart/Palevsky Production, Fun With Dick and Jane, starring Jim Carrey and Téa Leoni. The film also stars Alec Baldwin and Richard Jenkins. The film is directed by Dean Parisot. The screenplay is by Judd Apatow (The Cable Guy) & Nicholas Stoller. The producers are Brian Grazer and Jim Carrey. The executive producers are Peter Bart, Max Palevsky and Jane Bartelme. The director of photography is Jerzy Zielinski, ASC. Barry Robison is the production designer. The film is edited by Don Zimmerman, A.C.E.. Julie Weiss is the costume designer. The music is by Theodore Shapiro. The music supervisor is Randall Poster.
Source: Sony Pictures
Credits
Production Companies
Imagine Entertainment
Sony Pictures Entertainment
Columbia Pictures Corporation
Distributor
Sony Pictures Entertainment
Director
Dean Parisot
Writers
Judd Apatow
Nicholas Stoller
Peter Tolan
Producers
Jim Carrey
Brian Grazer
Kim Roth
Executive Producers
Jane Bartelme
Peter Bart
Max Palevsky
Associate Producer
Linda Fields
Composer
Theodore Shapiro
Cinematographer
Jerzy Zielinski
Editor
Don Zimmerman
Cast List
Jim Carrey
Téa Leoni
Michelle Arthur
Alec Baldwin
Richard Burgi
Lawrence Calvin
Michael A. Cassidy
Luis Chávez
Mark Correy
Larry Dorf
Jullian Dulce Vida
Chris Ellis
Daniel Espeseth
Wayne Flemming
Gloria Garayua
Dave Gist
Angie Harmon
John Michael Higgins
Pavel Lychnikoff
Taso Papadakis
Dempsey Pappion
Emilio Rivera
Scott L. Schwartz
Timm Sharp
Nils Allen Stewart
Brian Tee
Tamara Craig Thomas
Stacey Travis
Tyson Weihe
Stephnie Weir
Irene White
Geoffrey Gould
Juliette Tinelle
..... Dick Harper
..... Jane Harper
..... Dick's Secretary
..... Jack McCallister
..... Joe Cleeman
..... Scary Guy #1
..... Cameraman
..... Valet Parker
..... Cayman Banker
..... Car Salesman
..... Day Laborer
..... RJ Wade
..... Bank Security Guard
..... Nosey Neighbor
..... Blanca
..... Angry KostMart Husband
..... Veronica
..... Garth
..... Andrei/Load Boxer
..... Gym Manager
..... Production Assistant
..... Illegal Alien
..... Big Convenience Store Clerk
..... Andrew
..... Aerobics Biker
..... Sushi Chef #2
..... Neighbor's wife
..... Jack's Receptionist
..... Banker, Mr. Landau
..... Debbie
..... New Account Rep
..... (uncredited)
..... (uncredited)
Movie Quotes
| | |
| --- | --- |
| Dick Harper: | I got the lawn back. |
| Dick Harper: | We're all just cavemen, Trying to protect our little patch of land. Well now I've got a club, and I'm gonna take what I need. |
| Dick Harper: | Son of a bitch! |
| Jane Harper: | That fucker! |
| Dick Harper: | Hon, language! |
| Dick Harper: | We followed the rules, and we got screwed. |
| Dick Harper: | INDICTED! |
| Dick Harper: | Billy tell your father he's a winner. |
| Billy Harper: | Papa es ganador |
| Dick Harper: | See? |
| Billy Harper: | SI! |
| Dick Harper: | Are these non-fat muffins? |
Taglines
See Dick Run
This Christmas, one family is living the American Dream a little differently
Giving Big Businesses a Run For Their Money!
« Previous
|
1
|
2
|
3
|
4
|
5
|
Next »