A Christmas Carol
Page 3 of 5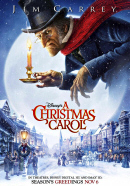 Production Notes
DICKENS' STORY
- Filmmakers Covet Author's Vision

"Everybody loves a good transformational story.
You know, somebody who sees the light, who finally finds out what's important in life. And, this is one of the greatest ones ever written."
~ Jim Carrey, "Scrooge" and the "Ghosts of Christmas Past, Present & Yet to Come"
Thought to be one of the greatest Christmas stories ever told and enjoyed by millions each year at the holidays, "A Christmas Carol" was originally published by Charles Dickens himself in 1843. The novella was an immediate and enduring success and would become a holiday tradition for generations. It was the world's first time travel story and perhaps the most beloved of ghost stories.
At its core, however, the story is one of redemption. "Everybody loves a good transformational story," says Jim Carrey. "You know, somebody who sees the light, who finally finds out what's important in life. And, this is one of the greatest ones ever written."
It is the ghosts, of course, who help turn the stingy Scrooge around.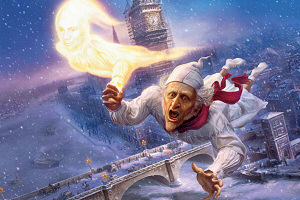 - The Ghost of Christmas Past (Jim Carrey) appears in the form of a flickering flame-Dickens describes the Ghost as a "bright, clear jet of light." The Ghost escorts Scrooge on a journey back in time, revisiting moments in his past. He sees himself as a youngster, as an apprentice to Fezziwig (Bob Hoskins), as a vibrant young man chatting with co-clerk Dick Wilkins (Cary Elwes), and as a man in love and engaged to Belle (Robin Wright Penn). The memories deeply affect Scrooge.
- The Ghost of Christmas Present (Carrey)-a merry giant decked out in robes-arrives to show Scrooge what his life is really like in the present. Scrooge is taken to the Cratchit household and sees his clerk's meager situation, including the gravity of the illness of his young son, Tiny Tim (Gary Oldman). The Ghost also allows Scrooge to observe his nephew's Christmas party, where they witness a guessing game in which Scrooge's dreary life is the punch line.
- Next up, and perhaps most unsettling, is the Ghost of Christmas Yet to Come (Carrey), a phantom who takes Scrooge into the future as the pair explores an unnamed man's recent death. Businessmen discuss the man's riches, Old Joe (Hoskins) and Mrs. Dilber (Fionnula Flannigan) divvy up his bedding and curtains. Scrooge demands to know the man's identity; he's shocked to read his own name on the tombstone. If only he had another chance.

"You take the meanest man alive and show him the error of his ways...
and we get to come along for the ride."
~ Robert Zemeckis, Director/Producer/Screenwriter
The filmmakers felt that no film version had truly captured the story in a way that Dickens truly intended. "It's as if Charles Dickens wrote this story to be a movie-it's so visual and cinematic," says Zemeckis. "It's the greatest time-travel story ever written and I wanted to do the movie the way I believe it was originally envisioned by the author."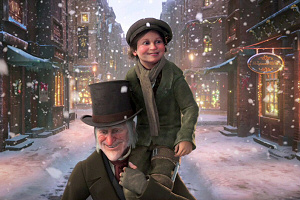 "
Disney's A Christmas Carol
" is a classic tale with stunning performances and powerful visuals," adds producer Steve Starkey. "It has it all."
Performance capture is a process that digitally captures the performances of the actors with computerized cameras in a full 360 degrees; the film will be presented in Disney Digital 3D™. The technologies allowed the filmmakers to present a true Dickensian world with no artistic restrictions, transporting the audience to a time and place previously unavailable.
"The technology is liberating for me as a filmmaker," says Zemeckis. "It allows me to separate the cinema aspect of making a movie, which is something all filmmakers try to control, and realize the magic of the performances from my cast.
It's the perfect blend of welcoming those wonderful accidents that happen when an actor is performing, and then being able to put the cinema language into the film."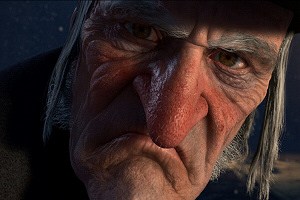 Starkey adds, "The characters in the story are bigger than life-ghosts and even Scrooge himself who evolves through time. We can do things in this new form of cinema that you couldn't do before."
According to Zemeckis,
Disney's A Christmas Carol
" is the perfect film to showcase how far performance capture technology has come and how it allows filmmakers to be innovative, yet still showcase the strengths of the cast. For the actors, it's a fascinating process with no costumes, no physical makeup and very little as far as sets. Carrey and the rest of the cast had their work cut out for them in their efforts to become the characters. "A lot of people think that these movies are just voice-over work," says Carrey, "but they feature complete performances by actors."
While the technology afforded filmmakers incredible freedoms to create environments and characters that have never been seen on the big screen before, it still comes back to the story, says Zemeckis. "You take the meanest man alive and show him the error of his ways…and we get to come along for the ride."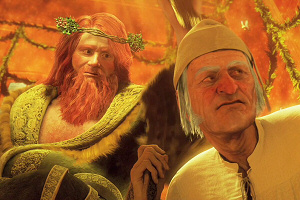 CASTING A CLASSIC
- Jim Carrey Steps in as Scrooge
Even as Robert Zemeckis was writing the script, he had only one actor in mind to play the role of Scrooge-Jim Carrey.
"Jim's not just a wonderful actor, he's a chameleon," says Starkey. "He can work his body in ways other actors can't. He's just so versatile. I can't imagine the film without him."
Neither could the director. Zemeckis had no doubts that Carrey's talent as an imaginative and risk-taking actor would make him the quintessential Scrooge. "When I did my first performance-capture movie and I realized the potential of what could be done, I couldn't help but think that the greatest performance-capture actor that exists is Jim Carrey," says the director. "His face is so incredibly expressive, and he's so great at creating characters, giving him the ability to completely change his physicality. All of his talents as a performer and as a comedian are included in his performance."
Producer Rapke agrees, "There is a place that he goes to that in a million years you wouldn't think it was possible. He has an unlimited amount of extraordinary physicality. The way he transforms himself into Scrooge is amazing. He gives his all, pursuing every single permutation of the character. He comes up with so many alternatives and they are all great. It's an embarrassment of riches."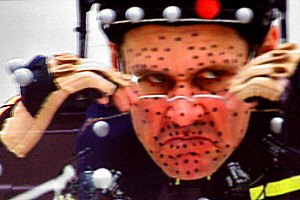 "Scrooge," says Carrey, "is not a person who really loves his life. He wants to live it alone. He's not a spiritual guy on a mountain. He's a guy who wants to make his cage as comfortable as possible because if he steps outside it, he risks being seen by people. He risks people finding out that he's broken and bitter."
But Carrey believes there's more to Scrooge than the miser. "Nobody is just one thing, you know? There's much more to all of us. Generally at the bottom of it all, there's goodness."

"Since the ghosts are all an extension of Scrooge, it's only fitting that they all have a bit of Scrooge in them. So it was a perfect fit to have Jim play all the parts."
~ Robert Zemeckis, Director/Producer/Screenwriter
Not only does Carrey play the old and miserly Scrooge, but because of the advantages afforded by the film's technology, Carrey is able to portray Scrooge at every age-from a young 7-year-old, alone and friendless, sitting quietly at school, to an old man, bent over and feeble. The technology captures Carrey's unique acting performances as the actor expertly crafts the evolution of one character's lifetime. "He's a guy in pain," says Carrey. "He's a guy who didn't have anybody to love him."
Carrey also portrays the Ghosts of Christmas Past, Present and Yet to Come. "Since the ghosts are all an extension of Scrooge, it's only fitting that they all have a bit of Scrooge in them," says Zemeckis. "So it was a perfect fit to have Jim play all the parts."
Zemeckis called on several other cast members to fulfill more than one role. Gary Oldman plays the meek, but optimistic Bob Cratchit, as well as Cratchit's young ailing son Tiny Tim, and Marley's ghost. "We hired a great actor who himself is a master of disguise," says Zemeckis.
"Gary Oldman is one of the most brilliant actors working today and to have him come and do these characters that require different aspects of personality and experience, it's amazing to watch," adds Rapke.
Classically trained British theater actor Colin Firth is one of the few actors playing only one role, but he plays a central figure in the film. Firth portrays the forever optimistic Fred, whose cheery disposition and opposing outlook on life is a stark contrast to that of his grumpy uncle Scrooge.
"Fred is quite simply the opposite of Scrooge," explains Firth. "He's the foil. If Scrooge is the ultimate pessimist, Fred is the ultimate optimist. I think Fred sees life very simply. 'Why can't we be friends? It's not complicated. I'm inviting you to dinner. Why don't you just come for dinner?' I think he embodies the Christmas spirit. He wishes no ill to anybody."
"Colin Firth is a dashing actor," says Starkey. "He is just a perfect, proper young Englishman."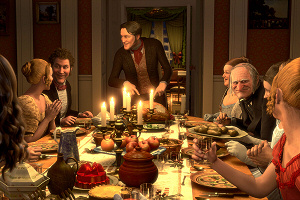 Robin Wright Penn, who appeared in Zemeckis' previous performance-capture film "Beowulf," as well as the director's acclaimed hit "Forrest Gump," portrays Belle, the beautiful young woman whom Scrooge chooses not to pursue, turning his back on a life of love and light. Penn also plays Scrooge's young sister Fan, for whom Scrooge had a great affection; he could never quite get over her untimely death.
"Robin is part of our repertory company," says Rapke. "There is not a female role that we don't think of her first. She is so talented, and she is part of our creative family.
"As Belle, she is part of the moment that forms the older Scrooge," continues Rapke. "She is the object of his love. She represents what could have been and is the source of Scrooge's greatest sadness. His life would have been totally different. And for Fan, we needed somebody to portray that kind of beautiful innocence, that verve for life with a slightly naive quality-that's Robin."
The filmmakers called on one of England's most distinctive actors, Bob Hoskins, to join the cast. Hoskins left school at 15 to pursue an acting career. His breakout performance came in 1987 with his Academy Award®-nominated role in "Mona Lisa." He continued to dazzle audiences in films such as "Nixon," "Maid in Manhattan," and "Mrs. Henderson Presents."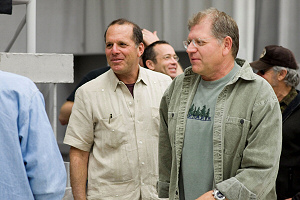 "There is an amazing history between Bob Zemeckis and Bob Hoskins because of 'Who Framed Roger Rabbit?,'" says Rapke. "Bob said, 'The only guy I can see being Fezziwig is Bob Hoskins. He can dance and he has a great face. And Bob should play Old Joe, too. He would be fabulous in that role as well.'"
Although it had been 20 years since the actor had worked with Zemeckis, Hoskins was thrilled to have the opportunity to work with the director again. "My main reason to do this film was to work again with Robert Zemeckis," says Hoskins. "Bob is the Einstein of cinema. His imagination is always worth seeing. It's extraordinary. I've got a very soft spot for Zemeckis-he's mad as a March hare, but I love him," laughs Hoskins.
Starring alongside Hoskins as Mrs. Dilber is the Abbey Theatre-trained Irish actress Fionnula Flanagan. On stage and on screen, Flanagan has appeared in films including "Divine Secrets of the Ya Ya Sisterhood," "Transamerica," and "Waking Ned Divine." Filmmakers tapped Flanagan to portray Scrooge's charwoman, a poor woman who takes advantage of her master's untimely demise by stealing his personal belongings and haggling with Old Joe over the items.
"Their way of celebrating is to gloat over what she's managed to steal from Scrooge's house," says Flanagan.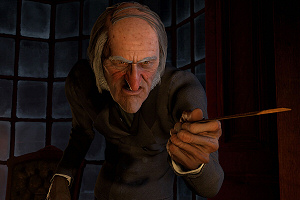 The multitalented Cary Elwes joins the cast and plays a menagerie of characters with great diversity and range: the mad fiddler who plays at Fezziwig's big bash; Dick Wilkins, Scrooge's roommate from years ago; and a businessman who is shunned by Scrooge when he solicits donations for the poor.
"Cary plays multiple characters and he's got the versatility to support them all," says Starkey.
Elwes has a unique connection to the story. The actor is actually related to the man believed to be the inspiration for Scrooge. "John Megid Elwes is an ancestor of mine who was a renowned miser," says Elwes. "He was a politician who changed his name from Megid to Elwes in order to gain favor with his uncle, Sir Harvey Elwes, who he knew was going to die without an heir and he had tons of money. And it worked. He managed to get all Mr. Harvey Elwes's estates and proceeded to become one of the most famous misers in English history. He was renowned for never changing his clothes."
Completing the cast are Leslie Manville as Mrs. Cratchit, Leslie Zemeckis as Fred's wife, and Paul Blackthorne as Belle's husband. Ranging in age from 7 to 17, six young actors were tapped to play dozens of characters including the Cratchit kids, Belle's children, street urchins and carolers. They include Sage Ryan, Sammi Hanratty, Molly Quinn, Daryl Sabara and brothers Ryan and Raymond Ochoa.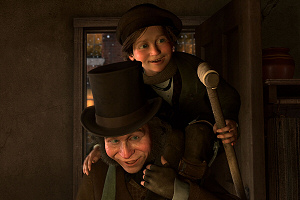 ZEMECKIS AT THE HELM
- It All Comes Back to the Story

"I think what makes him an extraordinary filmmaker is that his films
are not just blockbusters, they're films that people cherish year after year. They're all favorites.
It's character and it's story."
~ Colin Firth, "Fred"
With films like "Forrest Gump," the "Back to the Future" trilogy, "Cast Away" and "The Polar Express" under his belt, Academy Award®-winning director Robert Zemeckis has established himself as an expert filmmaker.
It's all about telling a good story.
"I think what makes him an extraordinary filmmaker is that his films are not just blockbusters," says Colin Firth, "they're films that people cherish year after year. They're all favorites. It's character and it's story. Films like 'Back to the Future' were fantastic from a special effects point of view but it wasn't about that. You wanted to see what was going to happen to the character when he goes back in time. Everything was thought through on a human level. Bob is a storyteller."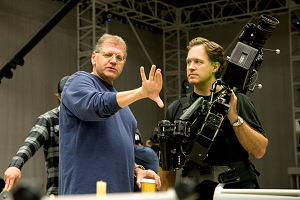 For Zemeckis, the process began with the writing of the script. Utilizing this superb source material, the writing process resulted in a script that is accessible to the modern audience and yet true to the original material.
"The source material is so good and it is all there," says producer Jack Rapke. "Bob wrote a brilliant adaptation of Dickens. There is such depth to the story and the character and the journey that is truly unparalleled."
Those who work with the Academy Award®-winning director find him open-minded, innovative and collaborative.
"We worked together on 'Forrest Gump,' says Robin Wright Penn of the director. "Loved him then, love him now. He's like Santa Claus, because he's jolly in his openness to actors. He will say, 'Let's explore. Sure. Why not? Let's try it.' It's such a liberating way to work. Because why not try? Why not fail? Because, guess what? We don't have to use it, you know? He's very much like that. He doesn't work with a lot of fixed ideas."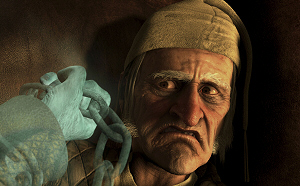 Production designer Doug Chiang, who worked with Zemeckis on "The Polar Express," "Monster House" and "Beowulf," adds: "Bob is a fantastic director to work for, primarily because he always pushes the boundaries of design. And what I love about it is that even in the initial meetings, what he describes and what I envision in my mind during those first meetings is almost always just a fraction of where he's going. And that's the part that I love as a designer, because I know that whatever we start on day one in the first few weeks, the end result is going to be ten times that. And, as a designer, it's really the surprise and the challenge of the unexpected that I get from Bob."
"Bob Zemeckis provides a challenge for everybody working with him," says Starkey. "He's a wonderful collaborator. He actually looks for collaboration with those around him and actually feeds on the artistic input of everybody that works with him. He's very smart and knows many crafts as well as the people themselves do, and he challenges them in their craft. And he's always exploring new technologies and at the same time new stories. So you get the best of both worlds. You get to take cinema into the future and at the same time, tell stories that haven't been seen before."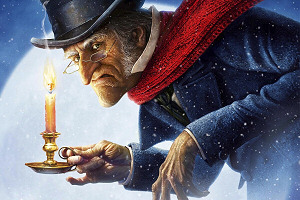 THE SOUNDS OF CHRISTMAS
- Filmmakers Turn to Industry Greats for the Film's Soundtrack
Director Robert Zemeckis didn't have to contemplate who he'd call on to score the music for "
Disney's A Christmas Carol
." Composer Alan Silvestri was his first choice. "Alan and I have a long working relationship that spans 25 years," says Zemeckis.
The two began working together on Zemeckis' film "Romancing the Stone." Silvestri's suspenseful score helped make the action-comedy a hit. They continued to collaborate with films including the "Back to the Future" series, "Who Framed Roger Rabbit," the Oscar®-winning "Forrest Gump" (for which Silvestri received an Academy Award® nomination for Best Score), "Contact," "What Lies Beneath," "Cast Away" (for which the composer won a Grammy Award® for Best Instrumental Composition), and the spectacular Christmas fantasy "The Polar Express." The song "Believe," performed by Josh Groban, which Silvestri co-wrote with Glen Ballard, was nominated for an Academy Award in the Best Original Song category and won a Grammy Award for Best Song for a Motion Picture. Zemeckis and Silvestri also teamed up for the epic tale "Beowulf."

"It's truly a gift that one of the greatest tenors of our time brought his talents to such a powerful and emotional song. We feel extremely fortunate."
~ Jack Rapke, Producer
For "
Disney's A Christmas Carol
," the duo employed the same collaborative process they've used for every movie. "Like always," says Zemeckis, "I asked Alan to underscore the emotion of all the scenes."
Adds producer Jack Rapke: "The music is a critical element of the entire film. It's our last opportunity to tell the story, highlighting the emotions, the suspense."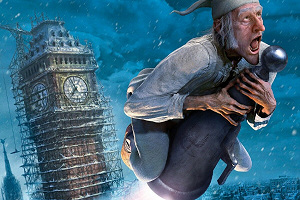 Silvestri's classical score was recorded by a 103-piece orchestra in Los Angeles. "It's a dynamic, powerful score," says Rapke. "It's gentle when it needs to be gentle and powerful when it needs to be powerful."
Silvestri teamed up with Glen Ballard to create the perfect song to cap the film. "God Bless Us Everyone," an original song inspired by the film's famous line delivered by Tiny Tim at the end of the movie, was recorded by none other than Andrea Bocelli. Says Zemeckis: "Bocelli heard the wonderful song composed by Glen Ballard and Alan Silvestri and immediately decided he wanted to record it. I think the song will be a Christmas classic."
Adds Rapke: "We'd heard that Andrea Bocelli was working on a Christmas album. The stars aligned-with a little work-and it turned out he was able to record this incredible song. It's truly a gift that one of the greatest tenors of our time brought his talents to such a powerful and emotional song. We feel extremely fortunate."
"Disney is synonymous with dreams and it's really an enormous pleasure to take part in the project," says Bocelli. "All of us, parents and children alike, grew up waiting for Christmas with those characters who are much loved by different generations, true icons of goodness who have kept the full force of their strength intact over time.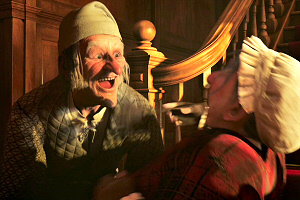 "The matching up of Dickens and Disney is brilliant and inspired," continues Bocelli. "The film makes us feel like better people, I would say, enriched by a dream that soon evil will be defeated and good will triumph. We feel affection for the old miser. There is neither hatred nor conflict. The story reminds us that there is time to change right up until the end."
"God Bless Us Everyone" aptly captures the spirit of the film, says Bocelli. "It's a sweet and majestic song with a pleasantly surprising evocative power which suffuses our senses and tells us about the triumph of forgiveness and redemption."
Not only did Bocelli record the song in English, but he contributed Spanish and Italian versions of the song. "Many languages, but just one Christmas, just one music, which is the music of the heart," Bocelli says. "I like to sing in other languages, as well as Italian. It gives me a wider sense of belonging, a sense of being closer to the people who inhabit the world and who love to share in its joys and sorrows. Of course, sometimes it requires more concentration to be able to pronounce certain sounds in the English language, but I am happy with my work which I always tackle with passion and dedication. The music springs from the desire to be better always and not just for one day of the year."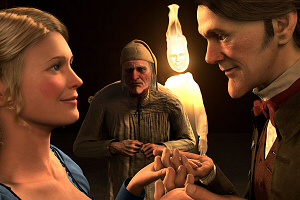 Walt Disney Records releases the film's soundtrack digitally on Nov. 3, 2009, featuring 17 cues from Silvestri's score, as well as "God Bless Us Everyone."
« Previous
|
1
|
2
|
3
|
4
|
5
|
Next »