A Christmas Carol
Page 2 of 5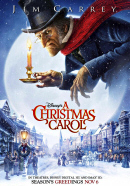 What's it about
Ebenezer Scrooge (Jim Carrey) begins the Christmas holiday with his usual miserly contempt, barking at his faithful clerk (Gary Oldman) and his cheery nephew (Colin Firth). Scrooge makes it clear that he has no intention of enjoying the holiday and, as always, goes home-alone-where he encounters the ghost of his dead business partner Joseph Marley. Marley, who's paying the price in the afterlife for his own callousness, hopes to help Scrooge avoid a similar fate and tells him that he will be visited by three spirits. But when the ghosts of Christmas Past, Present and Yet to Come take Old Scrooge on an eye-opening journey revealing truths he's reluctant to face, he must open his heart to undo years of ill will before it's too late.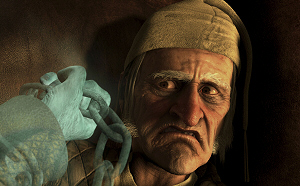 © Walt Disney Pictures
Walt Disney Pictures and ImageMovers Digital present "Disney's A Christmas Carol," a production directed by Robert Zemeckis from his own adaptation based on the classic novella by Charles Dickens. The film is the first film developed by ImageMovers Digital, which was created by Robert Zemeckis, Steve Starkey and Jack Rapke to develop 3D performance capture films exclusively for The Walt Disney Studios. "Disney's A Christmas Carol" is produced by Starkey, Zemeckis and Rapke.
Along with the film's nationwide release in conventional theatres, "Disney's A Christmas Carol" will be released in IMAX® theatres, digitally re-mastered into the unparalleled image and sound quality of The IMAX Experience® through proprietary IMAX DMR® technology. With crystal clear images, laser-aligned digital sound and maximized field of view, IMAX provides the world's most immersive movie experience.
Credits
Production Companies
Walt Disney Pictures
ImageMovers
Distributor
Walt Disney Pictures
Director
Robert Zemeckis
Writer
Robert Zemeckis
Producers
Robert Zemeckis
Jack Rapke
Steve Starkey
Associate producers
Katherine C. Concepcion
Heather Smith
Composer
Alan Silvestri
Cinematographer
Robert Presley
Editor
Jeremiah O'Driscoll
Cast List
Jim Carrey







Gary Oldman


Bob Hoskins

Colin Firth
Robin Wright Penn

Cary Elwes




Steve Valentine

Daryl Sabara




Sage Ryan
Ryan Ochoa




Bobbi Page

Ron Bottitta

Sammi Hanratty


Julian Holloway


Jacquie Barnbrook


Lesley Manville
Molly C. Quinn
Fay Masterson


Leslie Zemeckis
Paul Blackthorne

Michael Hyland
Kerry Hoyt
Julene Renee
Fionnula Flanagan
Raymond Ochoa
Callum Blue
Matthew Henerson
Amber Gainey Meade
Aaron Rapke
Sonje Fortag
..... Ebenezer Scrooge
Scrooge as a Young Boy
Scrooge as a Teenage Boy
Scrooge as a Young Man
Scrooge as a Middle-Aged Man
Ghost of Christmas Past
Ghost of Christmas Present
Ghost of Christmas Yet To Come
..... Marley
Bob Cratchit
Tiny Tim
..... Mr. Fezziwig
Old Joe
..... Fred
..... Belle
Fan
..... Portly Gentleman #1
Dick Wilkins
Mad Fiddler
Guest #2
Business Man #1
..... Funerary Undertaker
Topper
..... Undertaker's Apprentice
Tattered Caroler
Beggar Boy
Peter Cratchit
Well-Dressed Caroler
..... Tattered Caroler
..... Tattered Caroler
Beggar Boy
Young Cratchit Boy
Ignorance Boy
Young Boy with Sleigh
..... Tattered Caroler
Well-Dressed Caroler
..... Tattered Caroler
Well-Dressed Caroler
..... Beggar Boy
Young Cratchit Girl
Want Girl
..... Fat Cook
Portly Gentleman #2
Business Man #3
..... Mrs. Fezziwig
Fred's Sister-in-Law
Well-Dressed Caroler
..... Mrs. Cratchit
..... Belinda Cratchit
..... Martha Cratchit
Guest #1
Caroline
..... Fred's Wife
..... Guest #3
Business Man #2
..... Guest #4
..... Adult Ignorance
..... Adult Want
..... Mrs. Dilber
..... Caroline's Child
..... Caroline's Husband
..... Poulterer
..... Well-Dressed Caroler
..... Well-Dressed Caroler
..... Well-Dressed Caroler
Fred's Housemaid
Movie Quotes
| | |
| --- | --- |
| Ebenezer Scrooge: | What do you want with me? |
| Marley: | You will be haunted by three spirits. |
| Ebenezer Scrooge: | I'd rather not. |
| Ebenezer Scrooge: | Haunt me no longer! |
| Ebenezer Scrooge: | If I could have my way, every idiot who goes about with 'Merry Christmas' on his lips should be boiled in his own pudding, and buried with a stake of holly through his heart! |
| Ebenezer Scrooge: | I've heard that laugh before. |
| Ebenezer Scrooge: | I'm light as a feather! Merry as a schoolboy! |
Taglines
This November, we'll charm the Dickens out of you
Season's Greedings
« Previous
|
1
|
2
|
3
|
4
|
5
|
Next »