The Office: "Search Committee"
Page 2 of 5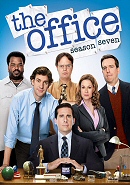 What's it about
With Deangelo Vickers in a coma, Dunder Mifflin-Sabre Scranton is left with Creed (Creed Bratton) as interim regional manager. Jo Bennett (Kathy Bates) puts Jim (John Krasinski), Toby (Paul Lieberstein) and Gabe (Zach Woods) into a committee to interview candidates for the manager position, including Andy (Ed Helms), Darryl (Craig Robinson) and a number of outsiders, including a personal friend of hers, Nellie Bertram (Catherine Tate), who suggests various strange methods for running an office, including a "zen garden" theme and removal of all official titles for Dunder Mifflin Scranton. Pam (Jenna Fischer) takes it upon herself to protect the office and their clients from Creed's haphazard managerial style, such as distracting him with activities and pretending to be their own clients when Creed has Jordan (Cody Horn) contact them.
Dwight (Rainn Wilson), still upset over being demoted by Jo, stops taking care of himself, and openly looks through want ads in the office. His attitude changes when he speaks with applicant Robert California (James Spader), who disparages the position and the office to other manager candidate Merv Bronte (Ray Romano) in a manipulative effort to make him abandon his interview. Merv ruins his interview, and Dwight becomes incensed that the position might go to someone who doesn't take it seriously. He demands to be interviewed, and while Jim balks, after Dwight's persistent efforts to acquire an interview, Jo instructs Jim to grant him one, as she likes "a little bit of crazy." Other interviewees include David Brent (Ricky Gervais), who video conferences from England and raves about his own personal qualifications, Fred Henry (Will Arnett), who claims he has a "three-step plan" for the office but will not reveal it, and Warren Buffett, who asks suspicious questions about long-distance calls policies and gas incentives.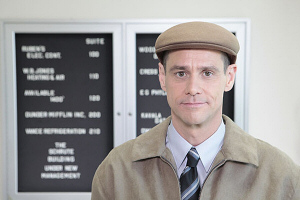 © NBC
Darryl thinks his popularity with the staff (and his race) will make him a shoe-in, so he thinks he doesn't have to do an interview like everyone else. He is caught off guard when he actually must do an interview and they ask for his resume. Darryl writes up an overly-extensive four page resume, which Jo quickly derides, though Jim encourages Darryl by saying that the interview and resume are mere formalities for him. Darryl later brings in his daughter and attempts to use her to gain sympathy points, though he quickly realizes that it was a bad idea. When Andy interviews for the manager position, Gabe hijacks the meeting in an attempt to sabotage him by asking random trivia questions, most of which Andy is able to successfully answer, although Andy is still frustrated in the end. Gabe is also dismissive of Kelly (Mindy Kaling) during her interview. Kelly exacts revenge by telling Jo about his relationship with Erin (Ellie Kemper) and his harassing behavior after their breakup. In response, Jo sends Gabe back to Sabre's Florida headquarters, and installs Kelly to Gabe's position on the search committee. Jim eventually takes the discussion to the entire office (after Kelly accepts a bribe from Dwight to cast her vote for him), but the discussion gets out of control, and Jim brings the committee back to the conference room.
Phyllis (Phyllis Smith) and Erin await the results of a DNA test to see if Erin is the daughter previously given up by Phyllis in high school. The results are negative, but Phyllis holds off on telling Erin after Andy rejects Erin's proposal to start dating again, and continues to show maternal affection toward her.
Meanwhile, Angela (Angela Kinsey) becomes engaged to her state senator boyfriend, Robert. Oscar (Oscar Nunez), who strongly believes that Robert is gay, shares his feelings with Pam, and the rest of the office. They eventually decide not to tell Angela for a wide range of reasons--everyone isn't 100% sure Robert is gay, Oscar is looking forward to the elegant wedding, and Pam doesn't think it's anyone's right to blurt out that information--but Pam and everyone else seem very tempted to talk due to Angela's increasingly obnoxious and insulting attitude as she looks forward to her exclusive wedding to "the Senator".
Credits
Production Companies
Reveille Productions
NBC Universal Television
Deedle-Dee Productions
Distributor
NBC
Director
Jeffrey Blitz
Writer
Paul Lieberstein
Producer
-
Associate producers
Eric Koljan
David Rogers
Executive Producers
Greg Daniels
Ricky Gervais
Stephen Merchant
Composer
Jay Ferguson
Cinematographer
Matt Sohn
Editors
David Rogers
Claire Scanlon
Cast List
Rainn Wilson
John Krasinski
Jenna Fischer
B.J. Novak
Ed Helms
Leslie David Baker
Brian Baumgartner
Creed Bratton
Kate Flannery
Mindy Kaling
Ellie Kemper
Angela Kinsey
Paul Lieberstein
Oscar Nuņez
Craig Robinson
Phyllis Smith
Zach Woods
Kathy Bates
Will Arnett
Warren Buffett
Jim Carrey
Hugh Dane
Cody Horn
Ray Romano
James Spader
Catherine Tate
Taylar Hollomon
Ricky Gervais
..... Dwight Schrute
..... Jim Halpert
..... Pam Beesly
..... Ryan Howard
..... Andy Bernard
..... Stanley Hudson
..... Kevin Malone
..... Creed Bratton
..... Meredith Palmer
..... Kelly Kapoor
..... Kelly Erin Hannon
..... Angela Martin
..... Toby Flenderson
..... Oscar Martinez
..... Darryl Philbin
..... Phyllis Vance
..... Gabe Lewis
..... Jo Bennett
..... Fred Henry
..... Interviewee
..... The Fingerlakes Guy
..... Hank
..... Jordan Garfield
..... Merv Bronte
..... Robert California
..... Nellie Bertram
..... Jada
..... David Brent (uncredited)
Movie Quotes
| | |
| --- | --- |
| The Fingerlakes Guy: | I want the job... I really do. |
Taglines
America's stuck in (crossed out) on the office.
An NBC comedy not for everyone. Just anyone that works.
A comedy for anyone whose boss is an idiot.
« Previous
|
1
|
2
|
3
|
4
|
5
|
Next »