Doing Time On Maple Drive (TV)
Page 2 of 5
What's it about
Reviewed by Bee
The TV movie, Doing Time on Maple Drive, centre's around Phil and Lisa Carter and their 3 grown up children, Karen, Tim and Matt. The Carter's are a middle class family, Phil and Lisa own their own restaurant and a beautiful home. But in their children lay dark secrets. Karen gave up her career as a successful writer to marry a man Phil didn't approve of. Tim is an alcoholic who despite being smart dropped out of college. All Phil and Lisa's hopes lie with their youngest son Matt. He's a young, successful college student, who just happens to be engaged to the young, beautiful and rich Allison. The only problem is, Matt also has a secret. He's gay. When Allison finds out that Matt is gay, thanks to a note from his former lover Kyle, she leaves him and Matt delves into depression. Rather than admit to his parents that he's gay, he decides that he'd prefer to die. In an attempted suicide, he drives his car into a street pole. Matt survives, and when Tim finds out that he did it all on purpose, Matt then has to answer to why he did itů and to why Allison left him.
Doing Time on Maple Drive is a touching drama based around the impossible expectations that some parents place on their children. When it was filmed in 1991, Jim Carrey was carving out a comedic career for himself as being a part of a ensemble cast in the hit sketch comedy show, In Living Color. Up to this stage he hadn't appeared in anything but comedy shows and movies. Director, Ken Olin, later said that if he was aware of Jim's comedic past he probably would never have cast him in the role of Tim. Thankfully for all Jim Carrey fans and admirers he did. Jim portrayed the alcoholic Tim flawlessly and gave the world a glimpse into his dramatic psyche that we'd later see fleshed out in films such as The Truman Show and Eternal Sunshine of the Spotless Mind.

© Fox Network
For me as a fan of Jim's, two scenes stand out for their showcasing of Jim's abilities. The first takes place in the Carter's restaurant. After being refused a drink by the barman, he confronts his father. It's a heartbreaking scene that results in Tim being disowned by his father. The scene begins with Tim being in charge, but he ends it hurt and disillusioned. The anguish and dismay is evident in Jim's eyes throughout the entire scene and will break the heart of any fan of his that watches.
I did say there were two scenes that stand out. The other takes place at the restaurant during Matt's bachelor party. Still down after his confrontation with his father and from being told he's not Matt's best man, Tim delves into the drink. In a drunken state, he makes a heart-felt toast to his brother, where he ends up hugging Matt and telling him that he loves him. While it's a touching cry out to his brother, it's also a very uncomfortable scene due to Tim's drunkenness. This scene and the one at the restaurant are just two out of several where Jim's dramatic ability is on full display.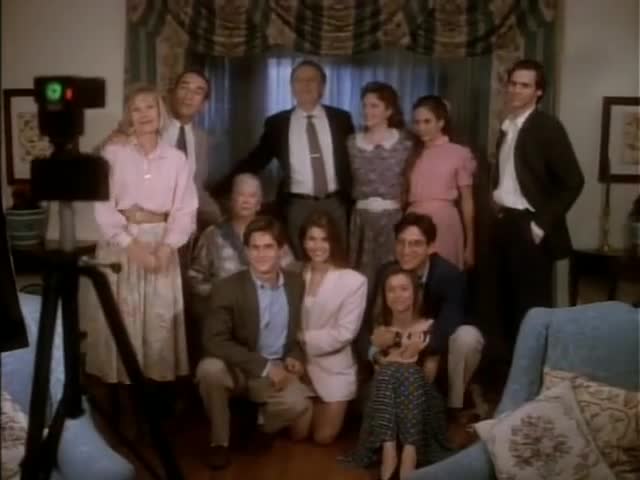 © Fox Network
While he does have powerful scenes, Jim's character isn't the focus of the film. It's a film about Matt and his struggle with his sexuality and his family's acceptance of that. But when Jim is on screen, he really does make the most of it and steals the show. For any Jim fans, if you can get your hands on the film then do so. It's well worth seeing the early showing of why Jim is so revered as an all-round actor today. The film itself also has a beautiful message to itů no matter what, your family is the only one you have, so treasure them all.
Credits
Production Company
FNM Films
Distributor
Fox Network
Director
Ken Olin
Writer
James Duff
Producers
Wayne Hanks
Paul Lussier
Composer
Laura Karpman
Cinematographer
Bing Sokolsky
Editor
Elba Sanchez-Short
Cast List
James Sikking
Bibi Besch
William McNamara
Jayne Brook
David Byron
Lori Loughlin
Jim Carrey
Philip Linton
Bennett Cale
Richard Israel
Mark Chaet
Janice Lynde
George Roth
Parker Whitman
Danielle Michonne
Toni Sawyer
Bodhi Elfman
Mike Marikian
Courtenay McWhinney
Barbara Howard
Brian Waldvogel
..... Phil Carter
..... Lisa Carter
..... Matt Carter
..... Karen
..... Tom
..... Allison
..... Tim Carter
..... Andy
..... Kyle
..... Student Actor
..... Nick
..... Judy
..... Dr. Norman
..... Gene
..... Cindy
..... Millie
..... Joe
..... Kevin
..... Clara
.....
..... Student
Movie Quotes
| | |
| --- | --- |
| Tim Carter: | I don't wanna play anymore. This is it. Don't ask me. Leave me alone! |
| Tim Carter: | I'm such a screw up that I can't even go the front door of my own house. |
| Tim Carter: | The hair fairies came and dance on my head last night. |
| Tim Carter: | I'm tired of pretending that your're the great dispensor of orders and values and goodness and I'm some kinda of criminal cause I want a drink in the afternoon. |
| Tim Carter: | I really resent the way you look down on me. I try, I'm here, I'm doing something. It's not like you are so much better than me. It's not like you are perfect. And if I want a drink in afternoon right now I think I should have it. I don't have to explain it to you. I'm through explaining things to you. I have done my time on Maple Drive, ok? |
| Tim Carter: | So I flack out of school, so what? Why couldn't we have just told mom I flack out of school? I didn't kill anyone, I had a bad time, so what? Why can't we tell her and just move on, why? What's going to happen if we just sit down and say it out loud, dad? |
| Tim Carter: | If I have to live this way, I think I deserve a drink now and then, if I want it, ok? I think is what I deserve. |
| Tim Carter: | You have all the advantages. That doesn't work for me. I look at you and there isn't anyone else. You're the only father I have got. Which one of us is worse of, I wonder? |
« Previous
|
1
|
2
|
3
|
4
|
5
|
Next »