In Living Color (TV)
Page 3 of 6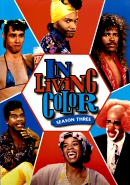 Production Notes
"In Living Color" is an irreverent half-hour sketch comedy series starring the multitalented Keenen Ivory Wayans, who also serves as the shows executive producer and writer. Wayans, The acclaimed writer director and star of "I'm Gonna Git You Sucka" and co-writer and star of "Hollywood Shuffle," brings that same unique comic sensibility to Fox Broadcasting Company in a show that aspires to set a new standard for sketch comedy shows in the 90's combining topical parodies with biting satire, "In Living Color" presents comedy thats fresh, progressive, and highly street-smart, and features an eclectic ensemble cast or talented actors and comedians, including Jim Carrey, Kelly Coffield, Kim Coles, Tommy Davidson, David Alan Grier, T'Keyah "Crystal" Keymah, Damon Wayans and Kim Wayans.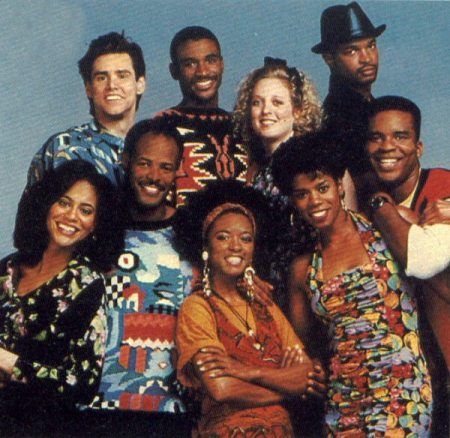 Live dance segments set to latest house-mixed music and featuring the pop choreography of "Keenens Fly Girls" serve as high-energy segues between sketches.
The highly experienced production team includes Producer Tamara Rawitt, who co-produced "I'm Gonna Git You Sucka," Co-Producer Michael Petok, who was supervising producer for the Emmy Awards for the past 3 years, Executive in Charge of Production Eric Gold whos erved as Executive Producer on "I'm Gonna Git you Sucka," and Director Paul Miller, who directed "Saturday Night Live" for 3 years and the recent "Dave Thomas Comedy Show." The writing staff includes ex-"Late Night David Letterman"/"Saturday Night Live" writers Sandy Frank, Joe Toplyn, and Matt Wickline; stand-up comedians Damon Wayans, Franklyn Ajaye, and Barry "Berry" Douglas; performer/Jeanette Collins, and Mimi Friedman.
"In Living Color" is an Ivory Way Production in association with Twentieth Television.
Press Contacts: Andrew Shipps 213/203-3842 Schuyler Samperton 213/203-2969
Fox Broadcasting Company, P.O. Box 900, Beverly Hills, California 90213
With thanks to Cotton
Theme Song Lyrics
Cause That's The Way You're Livin' When Livin' In Living Color
- By Heavy D and the Boyz
How you livin? What?
How you livin? What?
How you livin? In Living Color
You can do what you wanna do
Anything you want its up to you
You for me and me for you
You can be anything you wanna be
Lets take a trip and sip on a dream
Glide with the guide on a funky scene
Here comes another one of those
funky, funny Mo Money shows
a cast for laughs and talented rolls
And sisters with twisters
for you to look at, listener
It seems you dont believe
so you'll believe what I convince ya
Some booty to your short, and forth well make it snappy
with jokes and pokes and folks to keep you happy
No need to hold your remote control, chill
This shows got soul
All aboard, all board
The train never troubles
You better snuggle up, couple up on the double
On the double yeah
Its hard to believe
When some of the best things in life are free
So fellas grab your girl, tell her that you love her
Cause thats the way you're livin'
when you're livin' In Living Color
Reviews
Entertainment Weekly | April 13, 1990 | Issue #9
- Reviewed by Mark Schwed (Episode 1)
The woman playing Robin Givens is on a ''Love Connection'' set describing her first date with Mike Tyson: ''We went to this lovely little jewelry store where I allowed Michael to purchase me a very lovely ruby, diamond, and sapphire collection and a matching car!''
''Did you give Mike anything?'' the host asks.
''Lithium!''
In Living Color — on which this parody is set to appear — is, it seems safe to say, the first urban, hip-hop, ethnically diverse, comedy sketch-dance series to show up on television.
It makes its debut Sunday, April 15, at 9:30 p.m. on Fox (and the next week moves to 9 Saturday nights). Fox has made its mark by being bold: The Simpsons, Married. . .With Children, The Tracey Ullman Show. And now In Living Color.
''I'm a big believer that there is an audience out there desperate for anything new and fresh on TV,'' says Peter Chernin, president of the Fox Entertainment Group and the executive who has championed In Living Color since he arrived at Fox a year ago.
In Living Color is Keenen Ivory Wayans' show, and it got its start more than a year ago when he screened his film I'm Gonna Git You Sucka in Los Angeles. Wayans, who wrote, produced, directed, and starred in the comedy hit (a parody of black exploitation movies of the '70s), invited film executives from 20th Century Fox to attend, but they didn't. Instead, the young Fox TV execs showed up, and they liked what they saw.
''They called me and asked what I would like to do,'' Wayans recalls. ''I really wasn't interested in doing TV, but they said, 'Anything you want to do.' I said, 'Hmmmm.'''
Wayans, 31, pitched them his plan: to do a comedy sketch/variety show with an integrated cast.
One cast member, David Alan Grier, says, ''The whole concept of In Living Color [is] to have more than one token, more than one color, to explore comedy from varied points of view: black, Hispanic, Asian, and white people all together.''
Wayans' proposal also called for a different style of music and dance: hip-hop. Fox gave him the go-ahead, but Wayans wanted an hour show, and the network wanted a half-hour.
''I gave up the hour to get something else,'' Wayans says. ''I got creative control. What that's allowed me to do is what I want to do. I can do a sketch and, as long as it's within the boundaries of standards-and-practices, they pretty much say OK.''
That means doing the Tyson-Givens date sketch. And the ''Homeboy Shopping Network,'' a parody of the Home Shopping Network in which two kids hawk stolen goods from the back of a truck. And ''Wrath of Farrakhan,'' which pokes fun at both Star Trek and the controversial Nation of Islam leader Louis Farrakhan.
''What's interesting is that the network people think the Farrakhan bit is one of the more radical sketches,'' Wayans says. ''But when it was tested with an audience it was one of the favorites. The one that shot off the page, the one that got the negative reaction, was one nobody thought twice about: a 'Sammy Davis sings Mandela' sketch,'' in which an actor playing Davis did a soft shoe and sang, ''The Mandy man cannnnn.'' Because of the test results, Wayans decided to drop the bit. ''I never liked it anyway,'' he says.
Wayans has recruited an impressive cast that includes Saturday Night Live alumnus Damon Wayans (Keenen's younger brother), whose film credits include Colors, Beverly Hills Cop, Hollywood Shuffle, and Earth Girls Are Easy; impressionist Jim Carrey, who starred in the NBC series The Duck Factory; musician Tommy Davidson, who began doing comedy in a topless bar; actress, ballet dancer, and opera singer T'Keyah ''Crysys'' Keymah; Kim Wayans (Keenen's sister), who has appeared in China Beach and A Different World; comedian Kim Coles, who began as a warm-up comic for The Cosby Show; and Grier, a Tony award nominee for his performance as Jackie Robinson in The First.
''The cool thing is everybody is hungry,'' says Wayans, dressed in an L.A. Lakers sweatshirt, sweat pants, and sneakers. '''Eye of the Tiger,' I call it. I wanted people with the same sort of energy and passion I have. That's the kind of freshness you want.''
Wayans does not lack for energy. He has another pilot — Hammer, Slammer, and Slade, based on I'm Gonna Git You Sucka — in the works for ABC, and a comedy for Universal about two black cops, from Scotland Yard and from Washington, that he will direct and star in.
''I'd like to become like Norman Lear or Spielberg, someone who has really franchised into all the different media,'' Wayans says. ''It's not the money. I've already made enough money. I think about the power. The control. That's the dream for me.''
Entertainment Weekly | April 27, 1990 | Issue #11
- Reviewed by Ken Tucker (after the first episodes)
The funniest sketch-comedy series since SCTV, In Living Color is also the hippest show on TV.
There's nothing radical about the structure of In Living Color; it's a series of sketches-parodies of TV, the movies, and pop music; and takeoffs on events in the headlines — broken up by brief performances from a troupe of booty-shaking dancers. But In Living Color has its own sharp-witted yet friendly point of view and provides a showcase for more first-rate black performers than any program since The Richard Pryor Show, which lasted for just over a month in 1977.
In Living Color's point of view comes primarily from the show's chief writer, executive producer, and star, Keenen Ivory Wayans, who oversaw 1988's hilarious feature-film blaxploitation parody I'm Gonna Git You Sucka.
Wayans wants, above all else, to make you laugh, and I haven't laughed harder in a year than I did at In Living Color's parody of The Love Connection featuring dead-on impersonations of Mike Tyson (Wayans) and Robin Givens (the beautifully rubber-faced Kim Coles) as the dating contestants. And Jim Carrey is an extraordinarily elastic embodiment of host Chuck Woolery.
But Wayans also wants to explode a whole set of current cultural clichés. Here, for example, is a half-hour that actually grants you enough intelligence to think of rap music as something other than rude noise, and then goes on to lampoon rap's worst excesses without being racist about it.
There's no predicting whom or what Wayans and his crew will take on next, or what attitude they'll take toward their target. For its genial obstreperousness alone, In Living Color is worth tuning in to every week.
« Previous
|
1
|
2
|
3
|
4
|
5
|
6
|
Next »