The Duck Factory (TV)
Page 2 of 6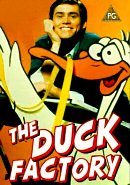 What's it about
"The Duck Factory" concerns the comic adventures of the employees of a hard-luck animation company (nicknamed "The Duck Factory" because its star cartoon character is a duck on a network TV show that's always on the verge of being cancelled).
In the opening segment, young Skip Tarkenton (Jim Carrey) arrives in Hollywood, fresh from a midwestern town, to accept a job from the company's owner, Buddy Winkler. Unluckily, Winkler has just died, so Skip stays on and soon finds himself the unwilling producer of the TV series and involved with the following employees of "The Duck Factory."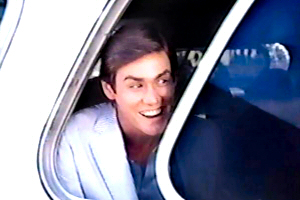 Sheree Winkler (Teresa Ganzel), the deceased boss' widow, had known Buddy only three weeks before he died. Reared in Las Vegas by her manicurist mother, Sheree is now owner and self-hired receptionist of "The Duck Factory."
Brooks Carmichael, Jr. (Jack Gilford), is aging fast, drinking a bit too much and sleeping a lot. Still, he is, and has been for many years, a brilliant director and is Skip's boyhood hero.
Andrea Lewin (Nancy Lane), who wears only jeans and T-shirts, is the assistant film editor (assistant only because Winkler wouldn't pay her a higher salary). She falls in love with Skip on sight and therefore treats him like dirt.
Marty Fenneman (Jay Tarses) is the company's gag writer. He has done everything remotely connected to comedy writing, including soft-porn comedy movies and 250 funny cocktail mapkins.
Aggie Aylesworth (Julie Payne) is the studio production manager who can probably squeeze a dollar tighter than Winkler could and who thinks she should be in charge.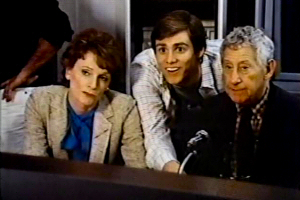 Roland Culp (Clarence Gilyard, Jr.) is the only black storyboard man in the business who has a degree in dentistry.
Wally Wooster (Don Messick), the legendary voice-over man with a repertoire of over 600 voices, doesn't know which of the 600 is his own.
With thanks to Cotton
Credits
Production Company
MTM Enterprises Inc.
Distributors
National Broadcasting Company (NBC)
20th Century Fox Television
MTM Entertainment
Directors
Gene Reynolds (episode 1 and 13)
Rod Daniel (episode 2, 7 and 11)
Victor Lobl (episode 3, 5 and 10)
Harry Winer (episode 4)
Peter Baldwin (episode 6)
Kim Friedman (episode 8)
Burt Brinckerhoff (episode 9)
Jim Drake (episode 12)
Writers
Allan Burns (episode 1)
John Steven Owen (episode 2, 6 and 10)
Barbara Hall (episode 3)
Steve Kline (episode 4)
Katherine Green (episode 5)
Jordan Moffet (episode 7 and 9)
Bob Stevens (episode 8)
Thad Mumford (episode 11 and 12)
Dan Wilcox (episode 11 and 12)
Stuart Silverman (episode 13)
Producers
Thad Mumford
Dan Wilcox
Composer
Tom Wells
Cinematographer
Robert F. Liu
Editors
Daniel Cahn
A. David Marshall
Jerry Temple
Cast List
Jim Carrey
Jay Tarses
Clarence Gilyard Jr.
Julie Payne
Don Messick
Teresa Ganzel
Nancy Lane
Jack Gilford

Guests
Daphne Maxwell Reid
June Foray
F. William Parker
Barbara Perry
Bill Scott
Frank Bonner
Diane Stilwell
Veronica Hamel
Barry Corbin
John Bennett Perry
Penny Fuller
Jo Ann Harris
Walter Olkewicz
Harris Peet
Pat Finley
John Hancock
Kenneth Mars
Lynne Marie Stewart
Joseph Brutsman
Larry Gelman
Allyn Ann McLerie
William Schallert
Sally Klein
..... Skip Tarkenton
..... Marty Fenneman
..... Roland Culp
..... Aggie Aylesworth
..... Wally Wooster/Voice of Dippy Duck
..... Mrs. Sheree Winkler
..... Andrea Lewin
..... Brooks Carmichael


..... Saleswoman
..... Herself
..... Herb
..... Aunt Pauline
..... Annie Awards Host
..... Mel Kemper
..... Ginger
..... Herself
..... Himself
..... Himself
..... Himself
..... Wendy Wooster
..... Bumps Carmichael
..... Club Host
..... Miss Irma Hodge
..... Mr. Culp
..... Harmon Allison
..... Assistant
..... Gary Roth
..... Pancho
..... Mrs. Tarkenton
..... Mr. Tarkenton
..... Employee
Movie Quotes
| | |
| --- | --- |
| Skip Tarkenton: | Hollywood... so great! |
| Skip Tarkenton: | Dippy is the hero of our show. |
| Aggie Aylesworth: | Why are they giving me the suspicious look? |
| Skip Tarkenton: | They always give you suspicious looks. |
« Previous
|
1
|
2
|
3
|
4
|
5
|
6
|
Next »