Untitled Movie (Loomis Fargo)
Page 1 of 5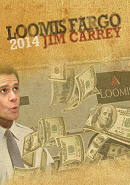 Basic Information
Current Status
In development
US Release
2015?
DVD Release
-
Official Sites
more »
Genre
Action / Comedy
Running time
-
Credits
Jim Carrey ... Dave Ghantt
Owen Wilson ...
more »
Story Line
A night guard at an armored car company in the Southern U.S. organizes one of the biggest bank heists in American history. more »
Discussion
see our forum
Multimedia
Trailer, Pictures,
Related News
31 Oct 2013

Jim Carrey replaced in "Loomis Fargo"

Moviehole reports that Jim Carrey has been replaced by Zach Galifianakis in the untitled action/comedy movie by Jared Hess, previously known as "Loomis Fargo". The movie has been in the works for some time. It will now star Galifianakis and Owen Wilson as inexperienced criminals who rob a bank – ...

Read more

13 Jun 2013

Owen Wilson Joins Jim Carrey in "Loomis Fargo"

According to Deadline.com, funnyman Owen Wilson has signed on to star opposite Jim Carrey in a new untitled comedy based on a true story of an armored car driver (Jim Carrey) determined to steal $20 million in an outrageous bank heist. The movie was titled "Loomis Fargo", but is currently untitled. ...

Read more

02 Feb 2013

Filming In April For Jim Carrey's Heist Comedy "Loomis Fargo"

It was first revealed last year, the director of Napoleon Dynamite is now firmly set to rob a bank, and Jim Carrey is along for the ride. Relativity Media has acquired worldwide rights to finance, produce and distribute the action-comedy heist film currently titled "Loomis Fargo" starring Jim Car...

Read moreRelated headlines

10/16/2012

Jim Carrey in Talks For Heist Comedy "Loomis Fargo"
1
|
2
|
3
|
4
|
5
|
Next »