The Number 23
Page 3 of 5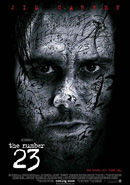 Production Notes
About The Production
British screenwriter Fernley Phillips was first turned on to the number 23 enigma by a friend. And much like Walter Sparrow, the lead character in "
The Number 23
", Phillips was quickly drawn in to the mystery of the number and its meaning. Phillips devoured the vast literature and subculture surrounding the number and found himself inspired to use the enigma as the chilling backbone for a unique film.
"My friend mentioned the number 23 enigma, which led me to read authors such as futurist Robert Anton Wilson, who wrote things like The Illuminatus Trilogy," recalls Phillips, who earned his first screenplay sale with "
The Number 23
". "I began to open up to the numerical phenomena, as well as memory repression, hypnosis and the power of suggestion. I decided to incorporate all these subjects into a story."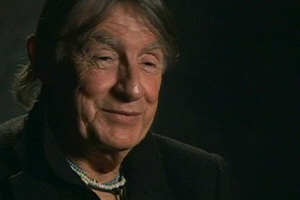 Joel Schumacher © New Line Cinema
Phillips' first instinct was to incorporate these ideas and the number 23 into a political thriller. "But I am not by nature political. I enjoy real events, real people," he says. "I came up with an idea that concerns a man who reads a book that mirrors his life and reminds him of distant images and events. I needed a title for that book, and decided to bring the 'number 23' into the story. I wanted audiences to start thinking for themselves about how something like this enigma could find meaning in their own lives."
Producers Beau Flynn and Tripp Vinson, partners in Contrafilm, were impressed with Phillips' script and brought it to New Line Cinema.
"This being Fernley's first script, it was immediately apparent to us that his was an original voice that treads new territory, a unique vision," says Beau Flynn. "His originality, spirit and vigor permeated the script and never allowed this project to languish during its journey to production."
Confident they had a unique and compelling script to work with, Flynn and Vinson turned their attention to finding the right director for the project. Their search began and ended with one name: Joel Schumacher. The versatile filmmaker, who has guided such diverse fare as The Phantom of the Opera, Falling Down and 8MM, had previously worked with the producers on the critically-acclaimed military drama, Tigerland.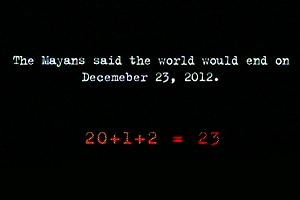 © New Line Cinema
"Joel Schumacher was our only choice for this material," says Flynn. "Long before I worked with him on Tigerland, I had admired his mix of stylish vision, flair for the darker side and unparalleled rapport with actors."
The producers' instincts proved correct as Schumacher instantly took to the material.
"I loved the script immediately and thought it was totally original and very unique," says Schumacher. "It intrigued me because I'm always looking for something that everybody isn't making and this was so original and very challenging. I didn't know anything about the 23 phenomenon at the time, so I Googled it and saw that there was endless insanity about the number 23. There's even a web site where people have been photographing 23's where they see them all over the world. It's a cult that I didn't know existed."
But it wasn't just the unique spin on numerology that intrigued Schumacher. What he saw in Phillips' script was a rare piece of material that could work on multiple levels.
"Fernley didn't start the 23 phenomenon, he just wove it into this very interesting thriller which I think is about much more than just a number," says Shumacher. "It's about how obsession can become very destructive. And I think most of us know that in our own life. I think everybody has obsessions."
Casting The Number 23
For the lead role in "
The Number 23
", Schumacher and the producers turned to an actor he had worked with on Batman Forever in 1994 - international superstar Jim Carrey. Carrey's range made him seem like the perfect choice to play the off-center dual roles of Walter Sparrow and Detective Fingerling, but they could only hope that he would be interested in taking on a role so different from his comedy roots.
"Jim has proven himself to be a master of acting among many genres," says producer Beau Flynn. "This thriller seemed to be a natural progression in his career, as these roles have a bizarre comic edge within an original look at life that is perfectly Jim."
Schumacher also believed from his previous experience working with Carrey that the actor had the ability to take on the challenging dual roles.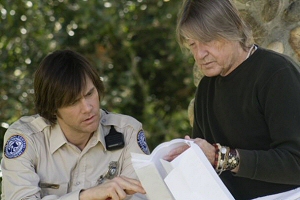 © New Line Cinema
"I think people have started to see Jim as the fine actor he is," says Schumacher. "Somehow in our culture, great brilliant comics are not revered in the same way as dramatic actors, which is crazy. Jim has certainly been one of stellar comic stars for a long time now, but he has many other facets, and I think he certainly shows them in this movie. He's fearless."
The filmmakers believed Carrey could pull off the role, but what they didn't know at the time was that Carrey also had his own personal connection to the number 23.
"I actually changed the name of my company to JC23 a couple years ago because I had kind of an obsession with this number for a long time," says Carrey. "One of my friends in Canada had the obsession, and he told me about it - started pointing to things like license plates and showing how they added up to 23. I thought it was ridiculous, but then I started seeing it everywhere and it finally ended up culminating in my realization that the 23rd Psalm was about living without fear. That's why I used it in my company name."
A few years later, the number would once again surface in Carrey's life.
"When the script came along, it was completely coincidental," says Carrey. "I was telling a friend about my 23 thing, and he told me he had just read a script called The Number 23. So I read it and was blown away - it was so compelling and it was freaking me out, page by page. I gave the script to another friend of mine to read and, after an hour and a half, I went back in to see him. He had read the entire script and had turned to page 23 where he was circling every 23rd word to see if there was a pattern. That's what I think this movie will do with an audience - you'll leave the theater going, 'There it is!'"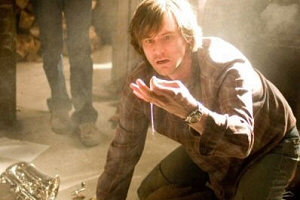 © New Line Cinema
It turned out that the uniqueness of the project was exactly what Carrey was looking for.
"The Number 23 is different and that's what I look for in a movie," says Carrey. "I just want to see somebody come up with an idea I've never seen, that's what I look for in scripts. I want to see something about the idea that challenges, like with Eternal Sunshine of the Spotless Mind. With that film it was the idea of, 'Who would you erase? Who would you make invisible? Have you ever been erased?' This is another one of those ideas that taps into something that's never really been talked about."
Carrey was also excited to have the opportunity to once again work with Joel Schumacher.
"Joel is fantastic with actors because he'll sit and allow you do whatever you need to do to get to the place," says Carrey. "But he also has ideas and he's very tough as well. I need somebody who can stand up to me and duke it out sometimes on an issue because I'm real headstrong about my ideas. I'm not right all the time, I know that."
As Carrey began to explore the nature of his dual characters in the film, Walter Sparrow and Fingerling, he developed a clear picture of their similarities and differences.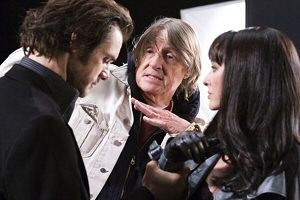 © New Line Cinema
"Walter is every man, he's the normal guy," says Carrey. "He's the guy who values his family and just wants to do his job and have a good life. He doesn't want any trouble. But like everybody, he has things going on inside him that he doesn't even know about. And 23 is there to kind of coax those things to the surface."
Carrey continues, "But Fingerling is a detective and he's a very different type of character for me to play, much more edgy. He's an angry, very turbulent guy and I really enjoyed playing him. I was able to explore the darker edges of my personality which really was a blast and something different for me. Fingerling is an ass-kicker. He's not somebody who is looking for trouble - he's expecting it."
The connecting tissue between the two characters is the number 23, as Joel Schumacher explains.
"The number 23 is the part of Walter that he doesn't want to acknowledge," says Schumacher. "So the number is really representative of something that isn't a number, it's really a conscience. It's an awareness, and the obsession with it is something he can't shake because he hasn't gotten to the bottom of what it is. So it isn't really the number, but obsession is never what it really is. It's the thing underneath it."
Pulling off this portrayal obviously would be a tremendous challenge for any actor, but Carrey says he approached it as an equally big opportunity.
"I live in a very crowded room in my head," says Carrey. "There's a lot of people in there, so it's just a matter of tapping into that and putting yourself in that position. There's so much freedom in losing yourself in a character. It's less hard work than it is just a wonderful escape from yourself."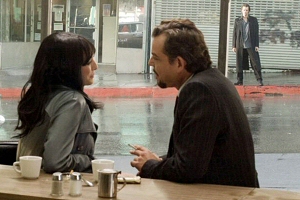 © New Line Cinema
Helping Carrey lose himself in his character was an outstanding supporting cast led by Virginia Madsen, an Oscar nominee for her work in Sideways. Madsen took on the challenging dual role of Walter's wife Agatha and Fabrizia, detective Fingerling's tempting femme fatale.
"Agatha, the woman Walter loves in real life, becomes in his mind Fabrizia, this very dark, sexual creature from one of the chapters of the book," says Madsen. "I got to explore a side of myself that I didn't like very much. She's full of rage, and she expresses her rage through her sexuality and her control of men. I was a bit afraid to be Fabrizia, but I went in to it headlong, and it was very exciting."
"Virginia is one of those actresses that is just solid as a rock," says Schumacher. "She's just that Chicago theater actor who can get out there every night and do it."
Madsen initially met with the director thinking she was being considered for only the role of Agatha. But when she learned that she was being asked to play two different roles, Madsen "tried to be cool about it because inside I was thinking 'I may not be able to do this.' But then I thought that if I'm uncomfortable, that's probably a good thing and that I should stop living safely. I would need to go to a dangerous place, creatively."
Most importantly, Madsen managed to create a special chemistry with Carrey that served as a thruline between their scenes as Walter and Agatha and Fingerling and Fabrizia.
"I love working with Jim," says Madsen. "He's so creative and spontaneous and all the things you would want him to be, walking in with expectations. I really wanted to do this movie with him because of what I saw him do in "
Eternal Sunshine of the Spotless Mind
". What I found in him was a really gifted actor and a really sincere, genuine person. He's very warm and supportive and likes to experiment - and he has great ideas."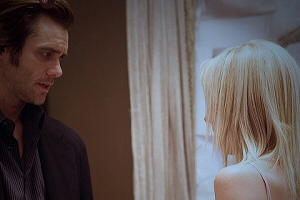 © New Line Cinema
"For Virginia and Jim, they were two very demanding roles because they're actually playing many different facets of a man and woman," says Schumacher. "They are playing very different people at very different times in the film and they are both just brilliant. They were very happy to be working with each other - you can tell. And they gave a lot to each other every take."
Rounding out the supporting cast, most of whom are playing dual roles, are Danny Huston (21 Grams) as Professor Isaac French and his literary alter ego, Dr. Miles Phoenix; Logan Lerman (Hoot) as Walter and Agatha's son, Robin, as well as the young Fingerling; Rhona Mitra ("Nip/Tuck") as the sultry Laura Tollins; and Lynn Collins (The Lake House) as the book's tragic Suicide Blonde as well as a shadowy figure from Fingerling's past, the Widow Dobkins.
"I've never seen a film that's like this movie," says Virginia Madsen. "I never read a script like this one, and I've been acting since I was eighteen. Just the fact that so many of us play two different roles - I've never seen that. It's fascinating. It's going to be quite a trip for the audience."
The Challenges of "The Number 23"
With the cast on board, the filmmakers set about figuring out exactly how they would bring this story to life on screen. While Fernley Phillips' screenplay was unique, it was a complicated story which still needed some tweaking in order to successfully translate to the screen. Specifically, Schumacher knew that they would need to figure out the best way to bring the characters in the book - Detective Fingerling and the femme fatale, Fabrizia - to life in the film.
"The way the script was written, the fantasy world was actually more computer generated - the way Fernley had first envisioned it, the characters were somewhat gray, amorphous people with black hollowed-out eyes," explains Schumacher. "The first thing I explained to Fernley was that it would be very hard for anyone to get emotionally involved with those shapes for a whole movie. And I thought it would be great for the actor to play the duality. What happened with Jim and Virginia is that they really did become other people because Fingerling as the detective and Virginia as the femme fatale in the movie are totally different human beings from Walter and Agatha, although they certainly have some of them in them."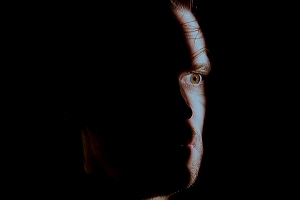 © New Line Cinema
The key for Schumacher was to succeed in having the characters in the book sequences be dark reflections of the characters in the main story - Walter and Agatha.
"It's a movie about self-revelation and each chapter of the book is designed to be reflective of the content," says Schumacher. "There are haunting questions that each chapter brings up with, not only Walter, but his son and some of the people around him. Many things become disturbing. I think everybody has read books or seen movies or plays where there are parts that closely mirror their own lives, maybe unspoken things that seem to disturb someone when they're experiencing it."
Schumacher also knew that the look of the film - particularly the visualization of the book sequences - would be crucial to hooking audiences into this dark and surreal world. To create the look of the film, he put together a talented production team which included cinematographer Matthew Libatique (The Fountain, Inside Man), production designer Andrew Laws (The Break-Up, Derailed), and costume designer Daniel Orlandi (The Da Vinci Code, Cinderella Man). Together, they created not only the stark look of a modern day thriller, but the dark and disturbing design of the literary nether world of The Number 23.
23 On The Set
Since obsession with the number 23 forms the backbone of the film, it only seems logical that some of that obsession would spill over to the production itself. In fact, members of the cast and crew seemed to be aware of the presence of 23 in just about everything they were doing.
"Everybody was coming up all the time and asking 'Did you hear what added up to 23 today?'" says Jim Carrey. "There was always something, everybody got into it. That's what I hope for people when they leave the theater, that they kind of start looking around and find those things. I'm really drawn to movies that are about more than just the plot itself. Movies that somehow capture a social phenomenon like Jaws captured our fear of the ocean, our fear of the unknown in sharks. I think this movie captures a real phenomenon that's going on out there. The 23 enigma is everywhere, and this movie puts its finger on that."
Carrey and the rest of the team became well versed in the 23 mythology.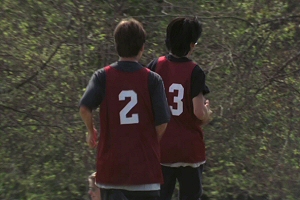 © New Line Cinema
"In life, 23 seems to be attached to a lot of different things – good and bad," notes Carrey. "You've got Michael Jordan and LeBron James, who both wear number 23. David Beckham just changed his number to 23. Then you've got O.J. Simpson, the infamous athlete who wore 32 – 23 reversed. You've also got Nicole Simpson and Ronald Goldman, whose names combined have 23 letters. It just goes on and on. It's everywhere."
But not everybody was quick to get caught up in the symbolism of the number on set. Schumacher found himself debunking superstitions as quickly as people were discovering them.
"I try not to get caught up in it anymore, because when we were making the film, the cast and crew became so obsessed with the number," says the director. "People's children, the internet, it becomes this every day thing. Somebody would look at the slate and we're doing the 23rd take of the 23rd scene, and it happens to be February 23rd. Then everybody goes, 'No way…' and nothing happens. You do take 23 or not, and then you go on. But the cameras didn't explode, we didn't win a million dollars in the lottery. Nothing happened except that it was the 23rd take on the 23rd day – oooohhh."
Schumacher continues, "I do have my own superstitions, and there were some things that happened on the movie with 23's. But maybe if we were making a movie called 'Twenty-Eight,' that would have happened also. I don't know."
Even Virginia Madsen, who was initially a skeptic, began to notice strange coincidences. "My mother bought a new place, and the address has the number 23 on it. Then a parking space that was assigned to me was number 23. And when Jim and I filmed a scene in a car on a flatbed, every time we went to the beginning of the shot we found ourselves on 32nd St. Jim is so satisfied when it happens, but I try my best not to pay attention. I've decided it's just too haunting."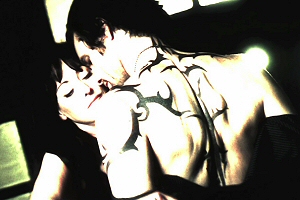 © New Line Cinema
Whatever people's feelings were about the 23 phenomenon, Jim Carrey points out that all the conjecture made for an interesting shoot. "What's really fun about this whole concept of the 23 is that it taps into this need people have to believe in magical things," he says.
Magic or not, the 23 enigma is sure to capture the attention of audiences. But at the end of the day, "
The Number 23
" is about much more than just numerology.
"I don't know about any enigmas. I wanted to tell a story and I thought this is a damn good story to tell," says Schumacher. "If people want to see this movie just as a thriller, that's fine with me. But I think there are many other elements to it. It's essentially a film about responsibility because I believe in that very strongly. I think we have to take responsibility for everything we have done, and I think when we avoid that it can be like a disease, like a physical disease of the soul."
« Previous
|
1
|
2
|
3
|
4
|
5
|
Next »