The Oprah Winfrey Show
Page 1 of 2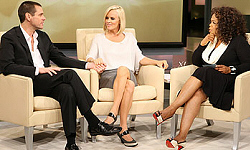 The Oprah Winfrey Show is an American syndicated talk show that ran nationally for 25 seasons from 1986 to 2011. Produced and hosted by its namesake, Oprah Winfrey, it remains the highest-rated talk show in American television history.
Original run:
September 8, 1986 – May 25, 2011


Past appearances by Jim Carrey on The Oprah Winfrey Show. Click to read more:
»
September 24, 2008

»
April 9, 2008
»
February 18, 2008
»
November 14, 2005
»
January 18, 2005
»
November 24, 2004
»
June 14, 2004
»
January 29, 2004
»
September 10, 2003
»
May 15, 2003
»
November 28, 2001
»
April 27, 1998
»
February 17, 1997

»
Imdb.com
»
Wikipedia
Basic Information
Air Date
September 24, 2008
Recorded
-
Episode
Season 23, Episode 13
Genre
Talk-Show
Official Site
[US]
Running time
20 minutes
Guest(s)
Jim Carrey
Jenny McCarthy
Host(s)
Oprah Winfrey

Info
Warrior Spirit.
Jim Carrey and Jenny McCarthy opens up about their relationship. And talk about her new book 'Mother Warriors'.

Discussion
see our forum
Multimedia
Pictures,
Related News
The Oprah Winfrey Show
28 Sep 2008
By Priya B
(Web correspondent)
Jim Carrey and Jenny McCarthy were on The Oprah Winfrey Show on Wednesday, 24th. It was a show mostly about Jenny's new book '
Mother Warriors
'. Jim wrote one chapter in the book.
The first half hour Oprah interviewed Jenny about her new book and how her son has recovered from autism. Then Jenny said her prayers were answered when Jim came into her life as he stood by her during tough times when she was dealing with her son's sickness. He also played an important part in her own coping up with this situation. Jenny said that at first she was nervous to tell Jim the truth about her son. But when the truth came pouring out she had a "nervous breakthrough", as Jim called it.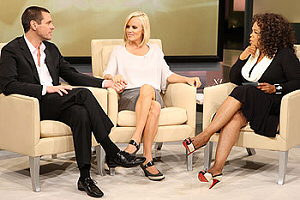 © Harpo Productions, Inc
Then for the first time Jim spoke about his deep relationship with Jenny and her son Evan. Jim said at first he feared that Jenny has gone away from his life forever when she said goodbye to him after her son became seriously ill. But, he was glad that she was back in his life and they both took care of Evan together. Jim also said that Evan has made him realize that autistic children are here to teach us all a lesson in love. Gradually he and Evan got along together very well and Evan has recovered. They have a blast each time they are together as they play Star Wars impressions back and forth all day long. Over the years, Jim has been Jenny's shoulder to cry on, as well as a voice of reason. Jim believes that if you convince yourself that you deserve to be loved, it can and will happen. Jim credits Evan with bringing him and Jenny together.
-- Source:
Oprah.com
. Click to
comment this article
.
1
|
2
|
Next »