The Oprah Winfrey Show
Page 1 of 2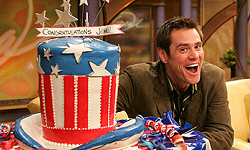 The Oprah Winfrey Show is an American syndicated talk show that ran nationally for 25 seasons from 1986 to 2011. Produced and hosted by its namesake, Oprah Winfrey, it remains the highest-rated talk show in American television history.
Original run:
September 8, 1986 – May 25, 2011


Past appearances by Jim Carrey on The Oprah Winfrey Show. Click to read more:
»
September 24, 2008
»
April 9, 2008
»
February 18, 2008
»
November 14, 2005
»
January 18, 2005
»
November 24, 2004

»
June 14, 2004
»
January 29, 2004
»
September 10, 2003
»
May 15, 2003
»
November 28, 2001
»
April 27, 1998
»
February 17, 1997

»
Imdb.com
»
Wikipedia
Basic Information
Air Date
November 24, 2004
Recorded
-
Episode
Season x, Episode x
Genre
Talk-Show
Official Site
[US]
Running time
44 minutes
Guest(s)
Jim Carrey
Meryl Streep
Liam Aiken
Host(s)
Oprah Winfrey

Info
Jim Carrey Goes Wild with Oscar® Icon Meryl Streep.
Promoted "Lemony Snicket's A Series of Unfortunate Events".

Discussion
see our forum
Multimedia
Pictures,
Related News
The Oprah Winfrey Show
24 November 2004
By Marissa
(Web correspondent)
A different side, the side that everyone is used to seeing, was in full force today as Jim licked, joked around with, and entertained Oprah. Oprah had a huge cake brought out to congratulate him on becoming a US citizen. He was very touched.
He also talked about his eating habits, his life "Life is good, I am happy", and of course, "
Lemony Snicket's A Series of Unfortunate Events
". He said that he had a really good time with this one and that it was an honor to work with Meryl Streep.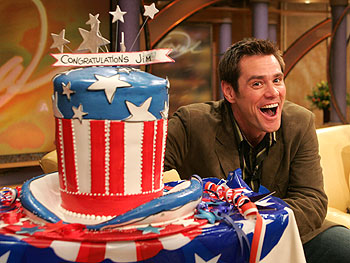 © Harpo Productions
Thanks to Oprah.com, here are a few quotes from the show:
Oprah Winfrey: Is it true you're on a real health kick now?
Jim Carrey: You know, I live a monastic lifestyle. No, I do. I do live in extremes, basically. I go back and forth. Once every six months, I'll have a day where I eat more chocolate than has ever been consumed by a human being.
Oprah Winfrey: So what was it like for a critically acclaimed actress like Meryl Streep to work with a comedic genius like Jim Carrey?
Meryl Streep: Well, you just try to swim as fast as you can to keep up. I mean, it's wild. And, you know, [there are] no stimulants. Don't need coffee. Don't eat anything. Just go to the set and plug in to Jim.
Jim Carrey: She loves to play, which is great. That's the thing about her. I was so excited about the fact that she comes [to the set] like a kid to the sandbox.
Jim Carrey says he had a great time playing multiple characters in the Lemony Snicket movie—one in particular.
"I really kind of loved Stephano," Jim says. "I mean, I loved all of them, but Stephano was just kind of a magical creation. He was the guy who thinks everyone tells him he looks like Antonio Banderas."
-- Source:
The Oprah Winfrey Show
. Click to
comment this article
.
1
|
2
|
Next »