NEWS
Kidding Recap: S2E6 – (The Death of Fil)
25 Feb 2020
By Lucas Allen
(Web correspondent)
Now we've come to the peak point of this season. It means that once you've gone uphill, it means it's all downhill from there.
The episode opens in the Philippines where the version of Pickle Time is hosted by Filipino Pickles and it aired its own version of the divorce episode. During filming of new episode with one of the new replacement puppets, authorities stormed in, grabbed Fil, and toss him off the roof to his death. Apparently, divorce is illegal in that country.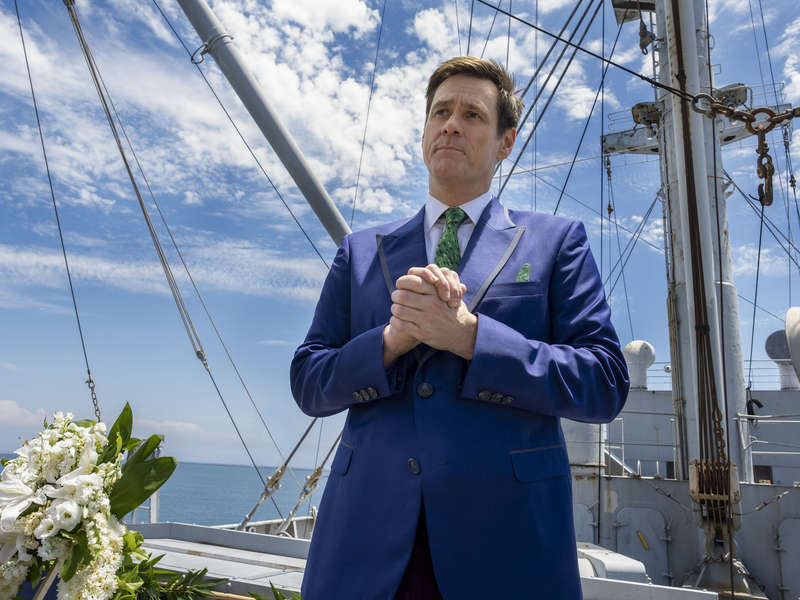 During an interview, Jeff received news of the incident not knowing the fallout from episode 3101 has happened across the world. Now he must go to the funeral as part of a tradition. Afterwards, Deirdre and Seb have an argument about the current events affecting the show including the old puppets like Snagglehorse in a phone commercial with Stacy Keach (Carrey's co-star from Mike Hammer: Murder Takes All). She assures her father that she'll try to keep things under control especially trying to handle Jeff's behavior.
After hearing about what the kids and angry parents said about the episode, Jeff goes to his old home to get a passport. He has a nice chat with Peter, who tells him he's going take Jill to a local park over the weekend and propose to her. Jeff gives him the good luck before entering the house to see his ex-wife. She gives him the passports that's stored in a hidden door of the closet with other secret material involving their late son Phil as seen in a previous episode. At his school, Will and his new girlfriend were talking about her parents arguing right before she wins a jar of Skittles from his previous girlfriend. He then talks to his friends about his belief that he can turn back time and get his parents back together. Just then, Jeff picks up his son letting him know that he'll be going to the South China Seas.
On the helicopter ride over to the funeral, Jeff tells his son that he usually handpicks his members of the Pickle clan based on the good-hearted nature including no drugs and alcohol. He then tells him that his son will one day inherit the show before giving him his own green tie. They soon arrive at a derelict ship, where the rest of the episode takes place.
During the funeral, each of the different Mr. Pickles greet Fil with one last goodbye before Jeff pulls a lever and released the barrel coffin into the ocean. But once he starts the eulogy, Jeff is suddenly bombarded with insults from the hosts over the changes made on the show. The current Mr. Pickles-San even points at Deirdre being responsible for his brother's disappearance though we the viewer saw the events differently. The group then throw their green ties at Jeff's feet in anger before he walked away.
Seb then serves vodka to the hosts making way for a wild post-funeral party. Everybody's getting drunk, making wild actions, and other indescribable incidents occur as Mr. Pickles-San tries to get his revenge on Deirdre. Things go from bad to worse when Jeff reveals to Will about Peter possibly marrying Jill thus destroying the young kid's belief in his time travel. The episode ends with Will also throwing his green tie at his father's feet, and Jeff's world officially falls apart in front of his eyes.
While they're some shocking moments in the whole episode, the conclusion is certainly devastating to watch as Jeff lose his family, his friends, and his community in a matter of the third act. It's going to be a tough road to pick up the pieces from there.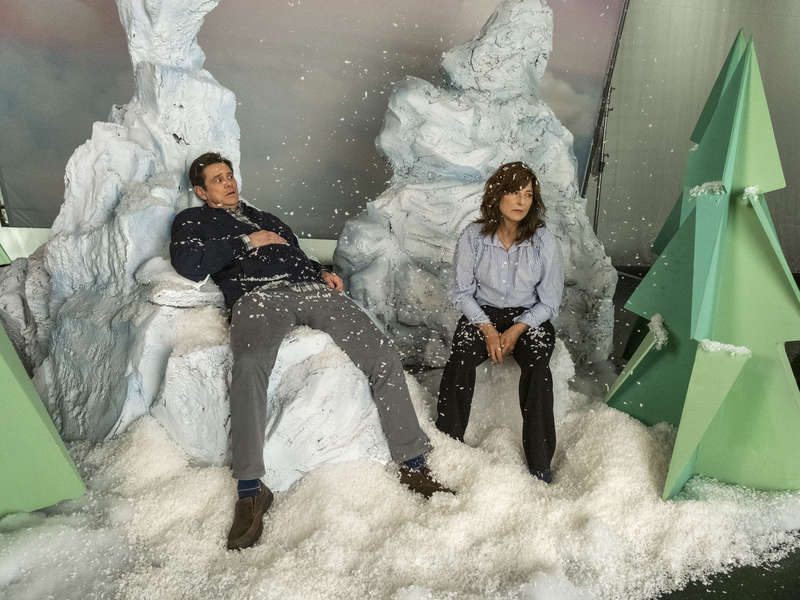 -- Click to
comment this article
.
» Send to friend
---
« Newer article
|
Overview
|
Older article »