NEWS
Jim Carrey's Art Exhibition - Nothing to See Here
09 Jan 2012
By Nicola West
(Editor/Writer (UK))
Since Jim joined the Twittersphere many moons, ago he has teased his loyal band of followers with glimpses of his artworks and accompanying tweets but the question 'when will he exhibit the pieces' has hung in the air ... until now that is.
In the 'Heather James Fine Art' Gallery in Palm Desert, Jim Carrey recently exhibited 40 works in his first solo exhibition, 'Nothing to See Here' to an exclusive guest list.
A mixed media exhibition the works are as diverse and eclectic as their creator. Included in the pieces are several Pop art style portraits, such as Pamela Anderson whose eyes reflect a man silhouetted by the moon, and social commentaries, like the one about gossips: Have You Heard What They Are Saying?

Jim Carrey installation view at Heather James Fine Art
Text permeates many of his paintings. He even jokes about creating his own typeface for his distinctive script. Included are two larger-than-life Fiberglas sculptures, two videos, and a Twitter conversation projected and scrolling on facing walls.
A highlight of the show is the 16ft tall 'High Visibility' Pop-style painting filled with figuratively drawn archetype characters and winding text thatís at once emotional, philosophical, and moral. It is a dizzying swirl of love, lust, betrayal, abandonment, and other emotional bondage ó each as personal in conception as it is universal to its audience.
"This is the first time Iíve seen the painting upright," says Jim, who worked more than 400 hours on the piece in his New York studio. "Physically, it was a tremendous challenge working on sections of it while hanging from scaffolding and with all the emotional ups and downs."
Possibly the most compelling picture is The Unfinished Abandonment of Self ó a near throwaway. "It sat on the easel for a long time," Jim says. "I got sick of looking at it. I shredded it up, and I went to take a shower. Then I realized it wasnít about me; it was about being invisible, getting past this selfish place. Visibility is being upfront and honest. No one wants to see that." In the painting, a male figure, literally coming apart, stands in front of a long, single-story white house with a Post-Impressionist-style tree in the yard. Jim had reassembled the 35x45-inch painting by stitching the pieces with black wire ó a technique that also surfaces in Heart Upon Re-entry, Hard Upon Re-entry, Hard Up On Re-entry.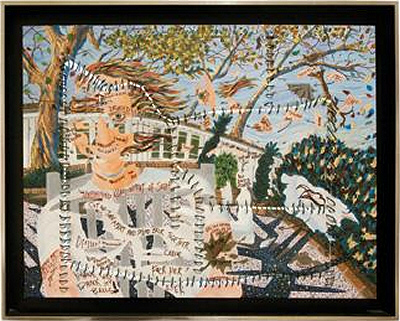 The Unfinished Abandonment of Self
"When Iím involved in creation, whether it be a movie, a painting, a joke, a song, or a sculpture, it stops the world for me," he says in his artist statement ("I hope you read it. I worked really hard on it."). "At best, I think an artistís work also stops the viewer from thinking, worrying, or dressing what they are looking at with their mood or interpretation, bringing them into presence as well."
His art is serious business, with roots deep into his childhood: a drunken grandfather (whom Jim imitated at the age of 7, unwittingly helping his family heal) and a mother so depressed that she believed her life held no value. "I carried that around with me my whole life," Jim says. "I still do. Once I knew my [humour] could help people, I consciously made a decision to be like my dad, who could hold the attention of a room, and prove to my mother that sheís worth something, that she created a miracle in me."
Jim Carrey is currently in talks to open the exhibition to the public in March.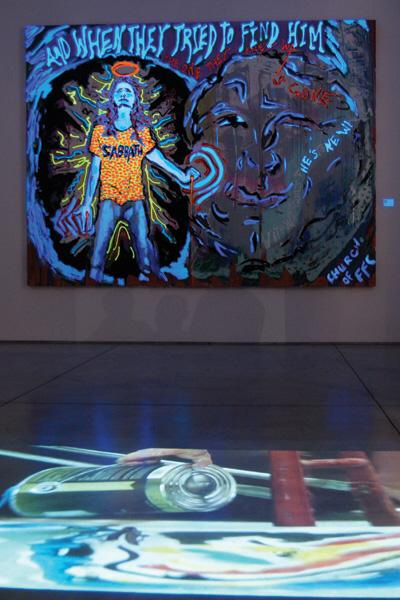 On the floor, Jim projects a video of the making of the painting.
-- Source:
Palm Springs Life
. With thanks to
EvaAraujo
. Click to
comment this article
.
» Send to friend
---
« Newer article
|
Overview
|
Older article »