NEWS
The Tonight with Jay Leno
10 Jun 2011
By Priya Baboota
(Web correspondent)
Jim Carrey was guest on 'The Tonight with Jay Leno' on 9th June, Friday. He came to promote his upcoming movie "
Mr. Popper's Penguins
". Jim sat on the sofa with Jay, and began singing a song. Jay Leno was happy to see him after a while.
Jim joked with him saying that he came through the time machine because this show was actually to be aired on Friday but, he came a day before instead. Jim also introduced his friends which he brought along with him. Those were penguins playing video games and watching their favourite movie "Birds".
He told Jay Leno that now he is doing business with penguins by opening 'KFP' and brought a plate of artifical roasted penguins with tuxedos! He told the audience that if they are eating sushi, then they are eating "Nemo"!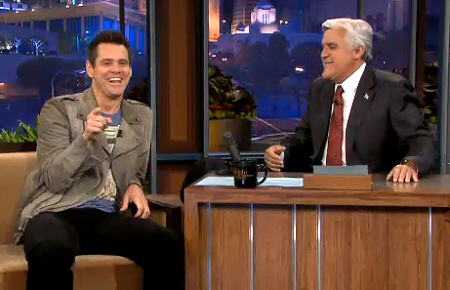 Jim Carrey has a passion for paintings. He shared a few pictures of his masterpieces done recently. He also told Leno that he isn't worried about the critics after "Ace Ventura" and instead worries when they are on his side!
He also told how he visualizes a lot of things and they become a reality. Then Jim talked about the 10 million dollars check story which he wrote to himself in the beginning of his career and 6 months before the check became due he made that much money in a movie. He gave an example of visualization which might become a reality by saying that he has a "condom" in his wallet! Then, he showed some funny pictures which he called "sex photos of whiener".
After his interview in the commercial break Jim Carrey sang with Jay Leno's band. Next guest was actress Selena Gomez. During her interview, Jim Carrey asked her "Do they make you vommit?" when she said it's awkward doing the photoshoot for Teen Vogue Magazine. He also sarcastically asked her "Do you find anything small here?" Because everything is big in Texas.
Enjoy the hilarious clips here:
-- Source: NBC. Click to
comment this article
.
» Send to friend
---
« Newer article
|
Overview
|
Older article »