NEWS
Jim Carrey Hosts Saturday Night Live
09 Jan 2011
By Lucas Allen
(Web correspondent)
Since his first hosting gig in 1996, we here at Jim Carrey Online had been waiting for Jim Carrey's second shot at hosting the long-running sketch show Saturday Night Live.
Fortunately, the wait was worth it and the results were better than expected. Jim was able to give it his all that night alongside the showís current cast including Bill Hader, Nasim Pedrad, Kristen Wiig, Andy Samberg, and former Nickelodeon star Kenan Thompson. He once again proves that he can still contort his face and body for our entertainment no matter how old he gets.
Here are brief descriptions on the many appearances he was in throughout the show:
1. Jim Carrey Monologue
Jimís opening monologue includes complaining that 2010 was bad, but 2011 looks to be a great year. He reveals that he is a positive person, and he wants to make every moment of the New Year as special as he wants it to be. He ends the monologue by making a surprise proposal to a random audience member.
2. Black Swan
Jim Carrey's first sketch is a parody on the recent highly acclaimed thriller "Black Swan" with Nasim Pedrad in the Natalie Portman role and Carrey in the Mila Kunis role. His character tries to outdo her rival by giving suggestive ballet moves to her instructor (played by Hader). For some reason, it made me want to check out the movie.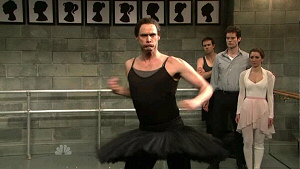 3. Healing Conversations
Jimís next appearance is in a talk show involving three people who talked about asserting themselves only to be seen breaking down from hidden cameras. Jimís the third guest who talks about finding out his wifeís infidelity during a recent winter vacation. However, we see the hidden camera footage through the wifeís mouth that heís emotionally shattered before rolling around in the snow.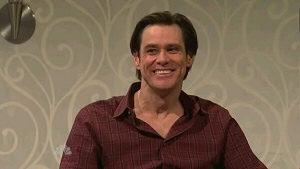 4. Grady Wilson's Tantric N' Tasty
Thompson plays a guru in a commercial for his workout DVD on making sexual moves. Jim appears as the assistant guru who provides more Ďexoticí ways to satisfying your lover. In the end, the two of them teach the finer ways of making group sex.
5. Worst of Soul Train
Jim appears in the end of another commercial this time for The Worst of Soul Train DVD collection which includes the worst performances by many of the worst acts. He plays a 80s-style singer with a bad Duran Duran-hairdo. The singerís name is DíVersity, and his song was called ďI Just Need One.Ē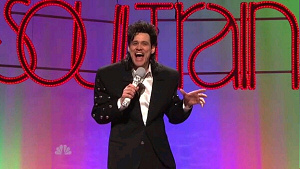 6. Amusement Park Ride
Thompson gets haunted by a small group of singing robots during an amusement park ride that breaks down. Jim Carrey plays one of the robotic singers who attempts at pretty nasty things.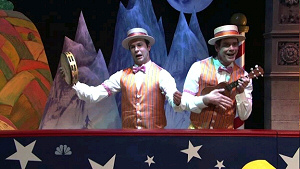 7. Psychic Medium
Jim plays a former impressionist turned psychic tarot reader who only used impressions to sum up the spirits. It shows Jimís classic talent of impressions from his stand up days including Sammy Davis Jr., Billie Holiday, and surprisingly Alan Thicke. He even recreates his Jimmy Stewart impression that he had done for 'The Joe Pesci Show' sketch from the 1996 episode.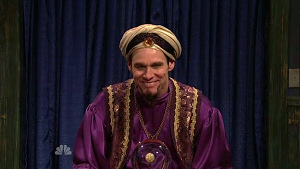 8. A Taste of New York
This last sketch is pretty much the weakest of all the sketches shown that night. Jim Carrey plays guitar and sings in a band called A Taste of New York that sings mopey songs about the city. Though the sketch is short, it trudges at a snailís pace.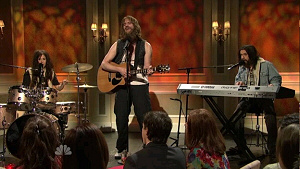 Overall, Jim Carrey's appearance in the episode surpasses what he had done 15 years ago, and letís hope he makes more. The episode also included two performances by The Black Keys who played pretty well. Next stop for Jim, Monday night's episode of Inside the Actorsí Studio.
Source:
NBC.com
. Click to
comment this article
.
» Send to friend
---
« Newer article
|
Overview
|
Older article »