NEWS
Jim and Jenny on "Good Morning America"
05 Jun 2008
By TNPihl
(JCO Editor-In-Chief)
Watch "Good Morning America" Wednesday, June 4, to see Jenny McCarthy and Jim Carrey's first interview about the
Green Our Vaccines
march which was held yesterday in Washington D.C.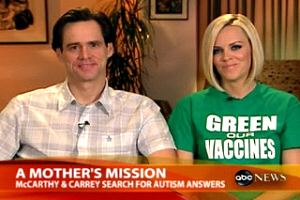 Click here to watch the 8-minute video clip:
>
Good Morning America, ABC News
Jim Carrey and Jenny McCarthy are two people passionate about this subject, after Jenny's son Evan was diagnosed with Autism. In this video both talk with a great deal of research and knowledge about the subject.
As more cases are being reported of children suffering with Autism both Jim and Jenny quite rightly want to get as much information out there for Parents' to make an informed decisions about vaccinating their children, as it's widely reported to be one of the factors in the cause of Autism in so many young people today.
The interview opens with some personal video footage of Jenny and her beautiful son, Evan and the start of Jenny's Journey into what she calls "The Fight for her Son's Life". After unsatisfactory results from the medical profession, she started to research the subject herself and found a special diet that showed remarkable results both in Evan's moods and self awareness.
After seeing vast improvements which involved Diet, Therapy and Medication, Jenny continues to be an advocate for Evan and other children. At that time during her relationship with Jim Carrey, whom she calls the 'Autism Whisperer', they were the leading voices in this campaign.
We then have Jim and Jenny being interviewed by Diane Sawyer, for ABC news, where they both stress they aren't against the 'Vaccination Programme' but just want a more balanced administration of vaccines given to babies and young children. Jenny points out that in the 1980's children were given 10 shots where as today they are given 36. Autism then was diagnosed as 1 in 10,000 now the figures are 1 in every 150.
Jim then describes why Jenny calls him the 'Autism Whisperer', of course we all know Jim Carrey has magnificent 'People Reading' skills and how to interact with different individuals, so it's no surprise he understood immediately how to communicate with Evan and in the video he tells us some sweet stories on how he achieved that.
The video ends with Diane reminding us about Jenny's book, 'Louder Than Words: A Mother's Journey in Healing Autism'.
-- Source:
ABC News
. With thanks to
Priya B
. Click to
comment this article
.
» Send to friend
---
« Newer article
|
Overview
|
Older article »