NEWS
Jim joins Jenny in the fight against Autism
07 Apr 2008
By Nicola West
(Editor/Writer (UK))
It's no secret that Jim Carrey and Jenny McCarthy now live together, nor is it a secret that Jenny is an ardent spokeswoman for families and children touched by autism, prompted by the discovery that her own son Evan Asher was diagnosed at 2. What might come as a surprise however, is Jim's involvement in the fight to find the cause and cure for the condition.
Described by Jenny as 'an Autism Whisperer' because of his skills with Evan, Jim has openly spoken of his fondness for her son and has helped him overcome, not only his fear of water but also his fear of dogs and thunderstorms according to press reports.
A highly misunderstood and complex brain development disorder, autism impairs social interaction and communication, and causes restricted and repetitive behaviour. Causes are unknown but it is recognised that autism is highly heritable, although it is unclear which genes are responsible.
Most recent figures estimate 1:100 children under the age of 5 now display behaviour within the autistic spectrum, whilst a phenomenal 1:58 is the UK figure, with mostly boys affected.
So why these shocking figures? Considering the rates in 1983 were estimated at 1/10th of today's figures? In Evan's case his autism was diagnosed after a particularly harrowing series of events. Jenny notes in her book 'louder than Words', the trigger seems to have been Evan's vaccinations and frustrated with the advice given by the conventional medical community, Jenny was prompted to seek alternative treatments.
At this point Evan was seizing regularly, had lost all language and eye contact and was trapped in his own world. By seeking out a 'Defeat Autism Now' doctor who helped Jenny implement a casein and gluten free diet and a programme to removed heavy metals and yeast from Evans system, Jenny noted an almost instantaneous improvement in Evans speech and behaviour.
Coupled with speech and behavioural therapies, Evan's huge improvement has been noted by his doctors and Jenny is convinced the causes of Evans autism were influenced strongly by the toxins and heavy metal preservatives found in todays vaccines, which have increased from 10 shots in 1983 to 30+ in 2007.
Convinced the government needs to address the vaccine issue, Jenny has been doing the rounds of talk shows promoting the rights of parents to control their childs vaccine schedule, the clean-up of vaccines and the Biomedical therapies which worked for Evan.
Joining her in the cause, Jim put his name to a full page advert which appeared several weeks ago on behalf of Generation Rescue. An organisation dedicated to cleaning up vaccines and promoting the cause the advert listed the differences in vaccination schedules over the years.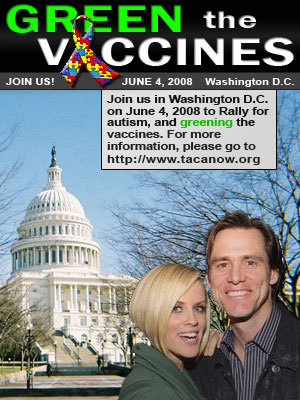 Coinciding with the start of 'World Autism Awareness Month' last week Jenny and Jim co-wrote a piece for CNN.
Read it here
Clearly passionate about the cause, Jenny has announced she, along with Jim will be heading a
mass demonstration in Washington DC on June 4th
. Calling on congress to re-examine their approach to vaccination schedules, and the toxins and preservatives used. Thousands are expected to attend.
Full details are
here
at the TACA website and if you want to be there, remember you need to sign up first.
From a personal perspective I'll be watching on with interest as a professional working with children in the autistic spectrum in the UK. Whatever the outcome of the rally and the ensuing debate, there is no doubt that this is a topic which inspires passionate discussion and we will continue to report on any developments.
Head over
here
if you want to comment on this article.
-- Source:
CNN
. Click to
comment this article
.
» Send to friend
---
« Newer article
|
Overview
|
Older article »