Frequently Asked Questions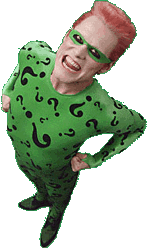 Question: What other movies has Jim Carrey done? Anything embarrassing from his early career?A:
You people are really sick. (That's what I like about you.) How many goddamn actors start out by filming Hamlet? Most starving actors take what roles they are offered and most have participated in some real turkeys. Carrey spent some time in the early '80's doing made for TV movies for Canadian TV and the roles that were offered were less than stellar. Hard Copy has reported that he made a picture called "
Introducing Janet
". Carrey played Tony Moroni (honest, would I make up a name like that) a struggling stand-up comedian who assists a young girl with both her term paper and her self esteem problems. (Sort of like an ABC Afternoon Special for teens thingee.)The little snippets of the movie that Hard Copy showed looked pretty good, lots of great faces and tons of impressions. This itty-bitty film was released on video last autumn, so that the producer who found it in his vaults could take advantage of Jim Carrey's fame without having to pay him much in the way of royalties. It was released under the title "Rubberface". Ah Hollywood.
Inside Edition reported that Carrey made another movie for Canadian TV with Alan Thicke. It was called "
Copper Mountain: A Club Med Experience
". (Wow, those Canadians really have a way with titles.) Two zany guys go looking for love at a ski resort. (Hmm, does this sound familiar to anyone else.) This movie also showcased Carrey at the time in his career when he was still mainly known as an impressionist and he gets to strut his stuff here. Again, since Carrey signed away the rights to this one years ago and it could make some money for some producer, I'm sure it will be out on home video in the near future.
« Previous Answer
Back to overview
Next Answer »