Frequently Asked Questions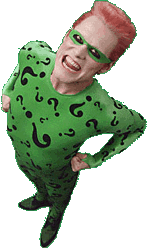 Question: Is Jim Carrey planning on doing 'dumb' movies for the rest of his career?A:
Ha, Ha, Ha, the answer is no! Carrey has made numerous comments about trying to expand his repetoire into drama and light drama. (Think Tom Hanks, sorry Raquel!) An interviewer on a local TV show in Boston asked Carrey if he ever wanted to do Shakespeare and he replied, "Sure, if I can figure out what it all means. I just have to get my decoder going."
Carrey has been very interested in a script called "
The Truman Show
" for awhile now. (Had theatrical premiere in 1998). This 'magic realism' movie is about an insurance adjuster whose life is turned upside down when he finds out that his life may actually be a TV show. Since Hollywood grades everything on how close it is to something else, people are saying that this movie will be to Carrey what "Big" was to Tom Hanks. (A chance to cross over into drama, but still retain some of the comedy.) Peter Weir is directing. (Weir did "Witness" with Harrison Ford and "Dead Poet's Society" with Robin Williams.)
Carrey's career path might encompass a whole range of characters in the future. The thinking is that he will release one wild and wacky comedy then follow it up with a more serious role. That way, if the more serious stuff tanks, he will still have hits at the box office. Smart career move, in my humble and unknowledgeable opinion.
« Previous Answer
Back to overview
Next Answer »