BIOGRAPHY
Page 1 of 5
By Nicola West

Jim Carrey, Film Star, Survivor, Inspiration. From humble beginnings to superstardom, he joins an elite group of comedians who have spanned the acting chasm to achieve phenomenal success. This is his story.

The fun began on January 17th 1962, born to Kathleen and Percy and the youngest of 4 he grew up in a house filled with laughter and fun. His parents often suffered from ill health and the young Jim would clown around to bring smiles to their faces and to stand out from his siblings, Rita, Pat and John. A skill he was to take to school in return for his good behaviour.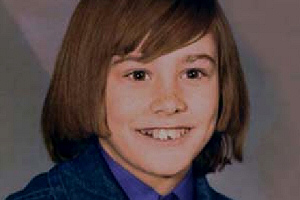 The laughter however took a blow when Percy lost his safe job as an accountant when he was 52, plunging the family into dire financial straights. This was a huge blow for the mild mannered Percy who had given up musical dreams in favour of family security. They lost their home and when Jim was in 8th grade the family was forced to enter one of their bleakest periods, as they agreed to work as factory caretakers and cleaners, in return for secured accommodation. This meant Jim too, who struggled with working an 8 hour evening shift with schoolwork. Inevitably the A grade student began to fail and this showed in his behaviour in the community. He decided he had no option but to leave school.

Eventually the family decided the hostility between fellow factory workers and their general unhappiness was too much to bear and they moved into a VW camper van. Despite the cramped space the family was happier again and Percy and Jim began to explore Jim's comedic talents. At 15 he appeared at Toronto's Yuk Yuk's in a bright yellow suit made for him by Kathleen. He went down badly and it took time and perseverance, but soon he was performing regularly on the Toronto club circuit, whilst supporting the family.

His early routine comprised mainly of impressions and along with the positive feedback he was receiving he took the brave step of moving to Los Angeles in 1979. The Comedy Store soon had him on the bill and he found himself spotted by Rodney Dangerfield who booked Jim to be his support act, leading to Vegas gigs.
Despite these achievements Jim felt things weren't moving as quickly as he would like. Low budget movies were filtering through however. "All in Good Taste", "Rubberface", "The Sex and Violence Family Hour" and "Copper Mountain" were learning experiences for the young Jim but he was becoming more and more disillusioned with impressionism.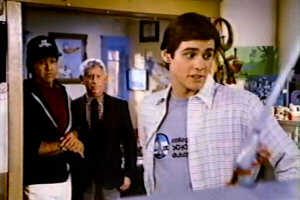 Then came along "The Duck Factory" in 1984 and for a while it seemed as though stardom had arrived and Jim moved his parents to LA, but Jim played a straight character in the series and it's scheduling up against "Cheers" led it to fail.

Jim knew things had to change and above all he realised he wanted to make people laugh and heading back to the comedy circuit, began to explore new material, often bombing in front of the audience but never giving up. However the money did and with no option he was forced to ask his parents to leave, Therein followed a bleak period in Jim's life. During this time he wrote himself the now legendary cheque for $10 million for services rendered, which he kept in his wallet and subsequently and poignantly placed in his fathers pocket at Percy's funeral.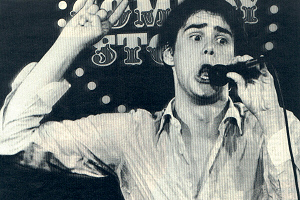 His personal life however looked more promising. In 1986 he met actress Melissa Womer at the Comedy Store where she was waitressing, fell in love and married a year later, shortly followed by the birth of daughter Jane. He was no longer a single man, he had a family to think of.

Other movies began to filter through, "Finders Keepers", "Once Bitten", "Peggy Sue Got Married", "The Dead Pool", "Pink Cadillac" and "Mike Hammer: Murder Takes All" then came "Earth Girls are Easy". Despite being an unimpressive movie Jim made an impression on co-star Damon Wayans who recommended Jim to his brother for a new show "In Living Color". This was to be his big chance. The role led to Jim Carrey's Unnatural Act in 1991 and led to a role in Fox's Emmy nominated TV film "Doing Time on Maple Drive". A serious role in which he played a young man with a serious drinking problem, it showcased Jim's straight acting talents but he continued with "In Living Color", sticking with comedy for the meantime.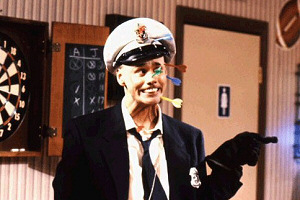 Well received, Jim stayed with the show until 1994 and used it as a vehicle for characters such as Fire Marshall Bill and Vera de Milo. He was able to push boundaries and test audience reactions and across the industry was receiving attention and acclaim, which was to lead to his first blockbuster.
"Ace Ventura: Pet Detective". Made for just $12 million the movie raked in $72 million and put Jim at the top of his game. This was a movie Jim had more than the usual hand in, he re-wrote it around his sense of humour and the public and the industry loved it.

1 | 2 | 3 | 4 | 5 | 6 | »