NEWS
Comedian Richard Pryor dies
11 Dec 2005
By Nicola West
(Web Correspondent)
Yesterday at 10.20pm Reuters broke the news that actor-comedian Richard Pryor, who was influential in transforming comedy died on Saturday at age 65 after a long illness. His wife told CNN, "He was my treasure," Jennifer Pryor said in a telephone interview. "His comedy is unparalleled. He was able to turn his pain into comedy."
The cause of death was recoded as 'cardiac arrest' at 7:58 a.m. PST, after efforts to resuscitate him failed. Pryor had been suffering from multiple sclerosis for almost 20 years, although this was not the recorded cause of death.Ever the funnyman, he used his failing health as the promppt for the title of his book "I ain't dead yet," and stood as an inspiration for many and devoted himself in his latter years to animal charities and dog rescue.
However, it was Pryor's stand-up comedy act, in which nothing was off-limits which made him the controversial star he was to become. Racism, drug use and sex often were the themes of his show and in doing so he broke through the barriers. A Grammy Award winner for comedy albums and Billie Holiday's piano player in the 1972 Oscar-nominated film "Lady Sings the Blues," he also had a successful film carreer.
His other movies included "Uptown Saturday Night," "The Bingo Long Traveling All-Stars and Motor Kings," "Blue Collar," "Stir Crazy," "Superman III" and "Jo Jo Dancer, Your Life Is Calling,"
Pryor marked his 65th birthday on December 1, an exceptional man he lived life to the full. Married 7 times and with 7 children few can doubt this, and even at the end his wife is quoted as saying "He did not suffer, he went quickly, at the end there was a smile on his face..."
Jim Carrey often acknowledged Pryors influence and groundbreaking approach to comedy and was rewarded for this, when Pryor asked Jim to write the intro of his biography.
"Some people are born wearing an iron shoe. They're the ones who kick doors down and enter the places that before them have been untouched even by light. Theirs is always a mission filled with loneliness and broken bones. Richard Pryor is one of the bravest of them."
-- Jim Carrey
"I learned how to say 'F***', by listening to Richard Pryor. No. But there's guys like that who opened doors to realms for me. Like Richard Pryor and guys like Sam Kinison. You watch them and then you go, well maybe your gotta give up a little more to, you know, push the buttons these days."
-- Jim Carrey
Go here for pics of Jim with Richard: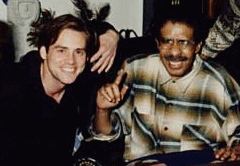 Picture © Richardpryor.com
I think i can speak for all at JCO when i say our thoughts and condolences are with the family...
God bless
-- Source: Reuters. Click to post funny memories of Richard or your condolences.

» Send to friend


---
« Newer article
|
Overview
|
Older article »