You are here:
Home > Recent > News > JCO interviews Larry Verne, a former "Duck Factory" crew member
NEWS
JCO interviews Larry Verne, a former "Duck Factory" crew member
24 Dec 1998
By BCDavis
()
Interview: Larry Verne
Question:
Can you give some details as to what your job was on the set of "The Duck Factory"?
Answer:
My job consisted of supervising the building of the sets and their maintenance. I worked directly with the art director and the set designers. My crew of carpenters, plasterers, painters and sign writers and grips constructed the original sets on the stages #7 and #8 at MTM Studios. We also did modifications of locations which were selected by the director and art director.
Question:
Did you get to work directly with Jim Carrey? If so, what was it like working with him?
Answer:
I didn't work directly with Jim, but I did have the opportunity to meet and talk with him a couple of times. A very friendly guy, but not as animated as you might expect. Certainly not like his new works.
Question:
A few friends of Carrey's said that he was cast totally wrong, that he shouldn't have played the "straight-man" of the comedy series. Jim himself said, "It would have been fine if they had given me something to do!" Do you agree?
Answer:
I knew nothing of Jim before working on the show, but I agree whole-heartedly that his talent and star power was wasted on that show. It seems like he was miscast in that straight role. Of course, hindsight is 20-20.
Question:
Are you currently working on any projects, television or film?
Answer:
No, I'm not working on anything now. I have been retired for the past 2 years. During my career in the motion picture and TV industry I was fortunate to have worked on some pretty big and wonderful projects. "Remington Steele" for 3 yrs., 3 yrs on "Seinfeld" 1 yr. on the ill-fated series "Downtown" and 1 more year on "Seven Brides for Seven Brothers". Also some short stints on "Brisco County Jr.", "Homefront" and various others. Movies I worked on (some of them) "Tango and Cash", "Rambo III", "Iron Eagle" (1 and 3), "Dreams of Gold" and a whole lot more. I consider myself very lucky to have had such a career in the entertainment industry. I wouldn't have traded it for any other.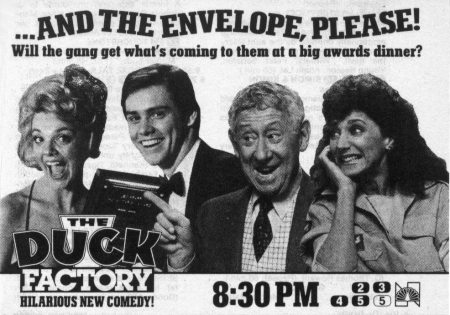 Scanned by cotton
» Send to friend
---
« Newer article
|
Overview
|
Older article »