NEWS
Jim Carrey on SNL
26 Oct 2014
By Lucas Allen
(Web correspondent)
If the past two hosting gigs are any indication, Jim Carrey was born to be on a sketch comedy show like Saturday Night Live. Though never a regular cast member except on In Living Color, he still uses his magical talent for physical comedy to give the show an extra jolt of life. Last Saturday night's show however, can be seen as the lowest point in the show's 40-year history that Jim has ever been part of.
Just like last time, here's a brief rundown on many of the sketches he was in:
1. Monologue
In the opening monologue, Jim dresses up in his Halloween costume as "Helvis," which is a combination of Elvis Presley and the devil. He talks about the character's legend before doing his Elvis routine similar to Andy Kaufman's routine from "Man on the Moon" and in the "Pecan Pie" short. Some of the cast members join in as backup dancers wearing devil horns along with a choir also wearing devil horns.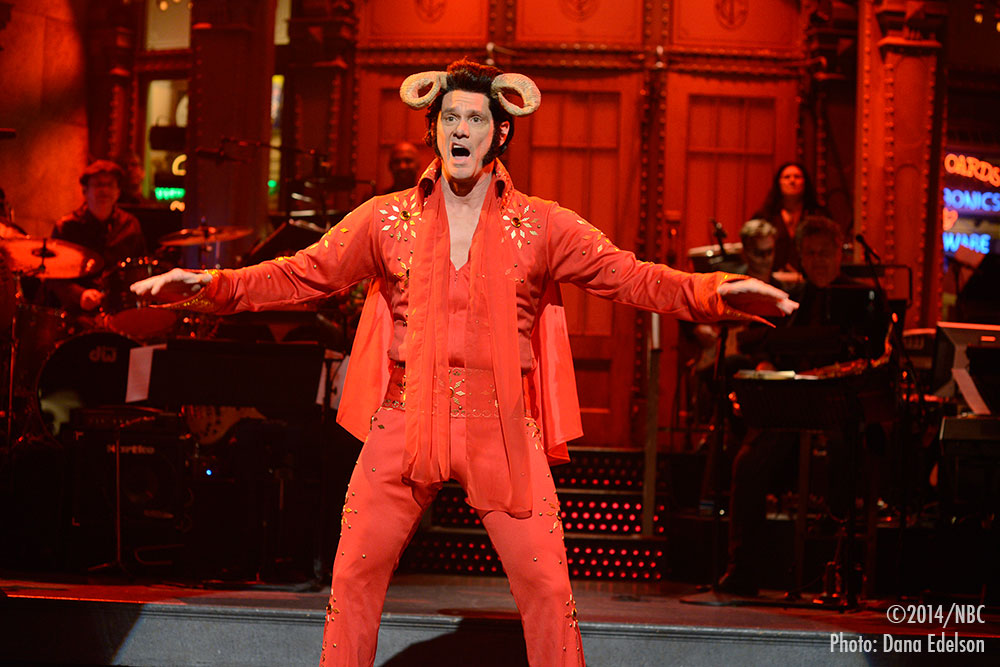 2. Matthew McConaughey for Lincoln
In this spoof of the recent Lincoln commercials, Jim imitates the Oscar-winning actor parodying the line delivery and references some of the movies like The Lincoln Lawyer. These commercials appear during the course of the show including one that hilariously interrupts Kenan Thompson's Dennis Haysbert's AllState commercial. I'm sure the real McConaughey would feel honored to be impersonated by the man himself.
3. Carrey Family Reunion
Jim stars in a sketch where he's reunited with members of his family, which are cast members dressed up as some of the actor's greatest characters including Ace Ventura, The Mask, The Cable Guy (a true cult classic), and Fire Marshall Bill. There's even a surprise appearance from his "Dumb & Dumber To" co-star Jeff Daniels dressed as Lloyd Christmas. You can tell that Jim was really taking it all in reliving some of his past achievements and how it influenced our lives.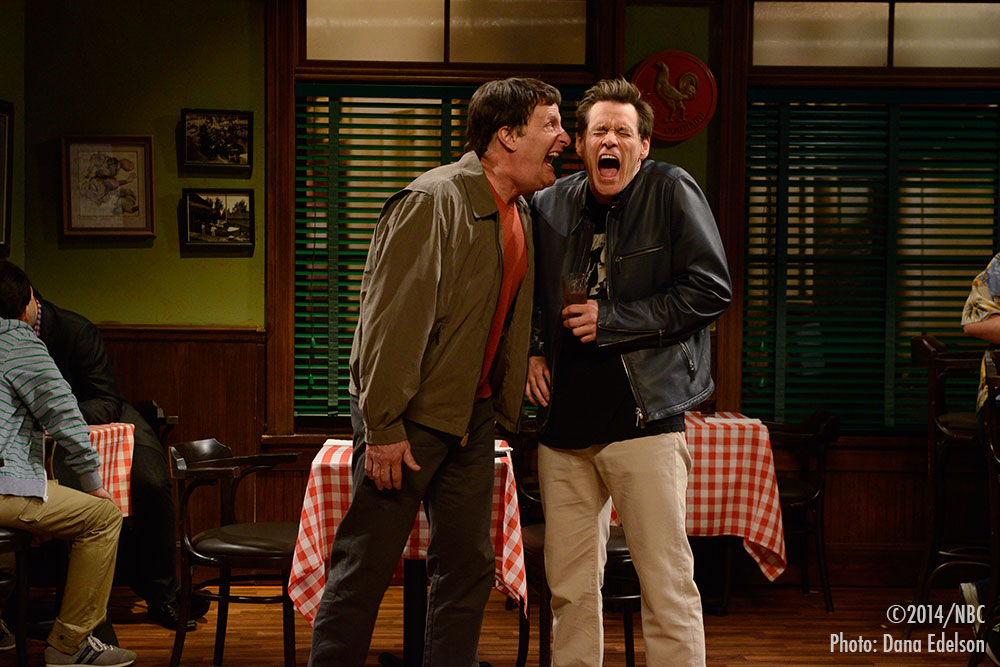 4. Graveyard Sketch
A couple find themselves in a graveyard with statues and tombstones singing a song sounding awfully like Danny Elfman's "This is Halloween" from Tim Burton's The Nightmare Before Christmas. Jim appears as one-half of a mullet wearing ghostly duo named Paul & Phil, who keeps ruining the song.
5. Secret Billionaire
In this spoof of reality dating shows, Jim plays one of four bachelors vying for the affection of a beautiful woman. His character is a disabled rich old guy with a robotic hand.
6. Zombie Apocalypse
Jim plays a Southern-fried survivalist showing off his pet zombie to some other survivors. Of course we need a zombie sketch for an Halloween episode. What else?
7. Office Costume Contest
Jim finds himself in a awkward place when he dresses in the same Sia costume as another cast member. To settle the matter, they take part in a dance-off. In a bit of fourth wall breaking, the two of them dance all over the SNL set with producer Lorne Michaels watching the whole thing like what the hell is going on.
8. Geoff's Halloween Emporium
In the final sketch, two employees star in an ad for their Halloween store, which includes some Hunger Games-inspired costumes. Jim appears as the store's ghostly boss. The best part is when he pukes blood on the two of them. Gross!
The musical guest was Iggy Azalea, but I'm not gonna indulge on it for obvious reasons.
Overall Thoughts:
Jim's at his usual funny rubberfaced self that accounts for something, but even his comedy magic cannot save the awful writing the show has been criticized for in recent years. Sure the monologue, the Lincoln commercials, and the Carrey Family Reunion sketch are the show's true highlights. Even that third sketch can be seen as a tribute to the comedy legend's wide variety of characters and what made him one of the most popular box office superstars in comedy history. But the rest feel like rejected material from season's past that should've stayed hidden somewhere deep below the Earth's crust.
If you remember what Jim's previous shows were like, most of the sketches gave him free reign to express his comedy body language which he's known for. But here, the writing was so bad that he couldn't find anything to work with let alone try to steal the thunder from the rest of the cast. I'm no SNL expert (I haven't been watching the show full time anyway), but does Jim ever get to make suggestions of how to make the sketches work? I know he's supposed to be the host and these sketches had to be done by the time the show airs, but wouldn't he be allowed to suggest how any sketch he's in should work based on his comedy? Whatever the case, it doesn't change the fact that the SNL writers are some of the lamest in the show's history.
There's no other way to put it, but Jim's third SNL appearance is easily his worst yet. I definitely will not recommend a second look entirely though I could only recommend the Carrey Family Reunion sketch on its own merit. Still, stick with his first two SNL gigs for more laughs especially all his great sketches from In Living Color. If they ever ask Jim back in another couple of years for a fourth appearance, I wouldn't hold my breath if the writing will be marginally better.
-- Click to
comment this article
.
» Send to friend
---
« Newer article
|
Overview
|
Older article »