NEWS
Jim Carrey's 'Cold Dead Hand' Music Video Released
25 Mar 2013
By Priya Baboota
(Web correspondent)
The much awaited Funny Or Die music video featuring Jim Carrey and alt-rock band The Eels as "Lonesome Earl And The Clutterbusters" has been released! Jim said in the press release: "I find the gun problem frustrating and '
Cold Dead Hand
' is my fun little way of expressing that frustration."
The video is a spoof of one of the gun lobby's most well known supporters, the late actor Charlton Heston. He was former National Rifle Association president from 1998-2003.
"Charlton Heston movies are no longer in demand, and his immortal soul may lay forever in the sand. The angels wouldn't take him up to heaven like he planned, because they couldn't pry the gun from his cold dead hand," Jim sings in the video. The lyrics also include: "It takes a cold dead heart to pull the trigger."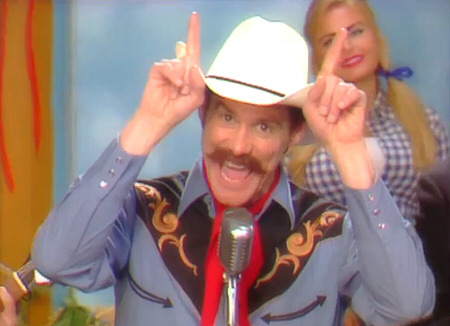 The music video is inspired by the classic variety show - "Hee Haw". Jim also mentioned that Heston and other gun enthusiasts buy weapons to compensate for having "diminished" sexual organs.
The satire ends with Jim dressed like cowboy actor Sam Elliot, hoisting a beer and saying, "biting social satire goes down smooth."
The video is hilarious and a must watch! The song Jim Carrey wrote himself is available on
iTunes
.
Watch the video here:
Credits
Starring:
Jim Carrey
Featuring:
Bill Oberst Jr, Dink O'Neal, Justin Kelly, Neal Kumar, Cate Beehan, Tia Barr, Whitmer Thomas, Clay Tatum, Russel Wadle
Producers:
Betsy Koch, Matt Mazany, and Michael Aguilar
Associate Producers:
Nicole Montez and Linda Hill
Directors:
Nick Corirossi and Charles Ingram
Director of Photography:
Kevin Atkinson
Music Produced by:
E of the EELS
Music Written by:
Jim Carrey
Lead Vocals:
Jim Carrey
Arranged by:
Jane Carrey and Kyle Turek
-- Source: FunnyorDie.com. With thanks to
Dale Hughes
and
Thomas Stewart
. Click to
comment this article
.
» Send to friend
---
« Newer article
|
Overview
|
Older article »