NEWS
"I'm the Tom Hanks of the Golden Globes!"
23 Jan 2000
by BCDavis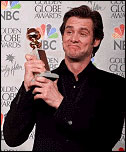 The 57th Annual Golden Globes found fierce competition for the Best Actor in a Comedy or Musical Motion Picture with Jim Carrey, Robert DeNiro, Rupert Everet, Hugh Grant and Sean Penn. But when it came down to "…and the winner is," Jim Carrey walked away with the trophy.
Carrey has won two of the coveted awards in consecutive years. He won last year for Best Actor in a Drama Motion Picture for "The Truman Show."
Ironically enough, Jim asked why he won for best comedy, as he said to Dick Clark in a quick interview, "I thought I made a drama." Carreyholics agree, wondering why "Man on the Moon" was not nominated as a drama. Jim said during his acceptance speech that he could throw in a musical number, take it to Broadway, singing "You can't shoot a man with a gun! With a gun! With a gun!"
Carrey insisted that, "I really wasn't expecting it... I didn't, like, write anything..." (looking at the trophy in his hands and making a funny face) "But I'm doing okay!"
Jim Carrey will be taking some time off - about six months - from the movie making business to spend time with family and friends.
-- Photo ©
AP/Kevork Djansezian
.
» Send to friend
---
« Newer article
|
Overview
|
Older article »