NEWS
The Sound of Christmas
01 Nov 2009
By TNPihl
(JCO Editor-In-Chief)
Director Robert Zemeckis didn't have to contemplate who he'd call on to score the music for "
Disney's A Christmas Carol
." Composer Alan Silvestri was his first choice. "Alan and I have a long working relationship that spans 25 years," says Zemeckis.
The two began working together on Zemeckis' film "Romancing the Stone." Silvestri's suspenseful score helped make the action-comedy a hit. They continued to collaborate with films including the "Back to the Future" series, "Who Framed Roger Rabbit," the OscarŽ-winning "Forrest Gump" (for which Silvestri received an Academy AwardŽ nomination for Best Score), "Contact," "What Lies Beneath," "Cast Away" (for which the composer won a Grammy AwardŽ for Best Instrumental Composition), and the spectacular Christmas fantasy "The Polar Express." The song "Believe," performed by Josh Groban, which Silvestri co-wrote with Glen Ballard, was nominated for an Academy Award in the Best Original Song category and won a Grammy Award for Best Song for a Motion Picture. Zemeckis and Silvestri also teamed up for the epic tale "Beowulf."

"It's truly a gift that one of the greatest tenors of our time brought his talents to such a powerful and emotional song. We feel extremely fortunate."
~ Jack Rapke, Producer
For "
Disney's A Christmas Carol
," the duo employed the same collaborative process they've used for every movie. "Like always," says Zemeckis, "I asked Alan to underscore the emotion of all the scenes."
Adds producer Jack Rapke: "The music is a critical element of the entire film. It's our last opportunity to tell the story, highlighting the emotions, the suspense."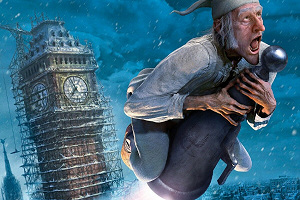 Silvestri's classical score was recorded by a 103-piece orchestra in Los Angeles. "It's a dynamic, powerful score," says Rapke. "It's gentle when it needs to be gentle and powerful when it needs to be powerful."
Silvestri teamed up with Glen Ballard to create the perfect song to cap the film. "God Bless Us Everyone," an original song inspired by the film's famous line delivered by Tiny Tim at the end of the movie, was recorded by none other than Andrea Bocelli. Says Zemeckis: "Bocelli heard the wonderful song composed by Glen Ballard and Alan Silvestri and immediately decided he wanted to record it. I think the song will be a Christmas classic."
Adds Rapke: "We'd heard that Andrea Bocelli was working on a Christmas album. The stars aligned-with a little work-and it turned out he was able to record this incredible song. It's truly a gift that one of the greatest tenors of our time brought his talents to such a powerful and emotional song. We feel extremely fortunate."
"Disney is synonymous with dreams and it's really an enormous pleasure to take part in the project," says Bocelli. "All of us, parents and children alike, grew up waiting for Christmas with those characters who are much loved by different generations, true icons of goodness who have kept the full force of their strength intact over time.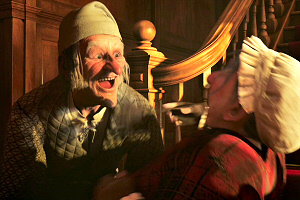 "The matching up of Dickens and Disney is brilliant and inspired," continues Bocelli. "The film makes us feel like better people, I would say, enriched by a dream that soon evil will be defeated and good will triumph. We feel affection for the old miser. There is neither hatred nor conflict. The story reminds us that there is time to change right up until the end."
"God Bless Us Everyone" aptly captures the spirit of the film, says Bocelli. "It's a sweet and majestic song with a pleasantly surprising evocative power which suffuses our senses and tells us about the triumph of forgiveness and redemption."
Not only did Bocelli record the song in English, but he contributed Spanish and Italian versions of the song. "Many languages, but just one Christmas, just one music, which is the music of the heart," Bocelli says. "I like to sing in other languages, as well as Italian. It gives me a wider sense of belonging, a sense of being closer to the people who inhabit the world and who love to share in its joys and sorrows. Of course, sometimes it requires more concentration to be able to pronounce certain sounds in the English language, but I am happy with my work which I always tackle with passion and dedication. The music springs from the desire to be better always and not just for one day of the year."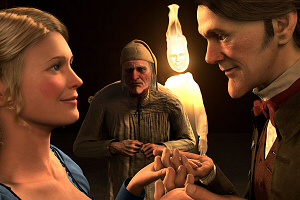 Walt Disney Records releases the film's soundtrack digitally on November 3, 2009, featuring 17 cues from Silvestri's score, as well as "God Bless Us Everyone." We wrote about the soundtrack last week.
Click here
to read more about it.
-- Click to
comment this article
.
» Send to friend
---
« Newer article
|
Overview
|
Older article »