NEWS
Meet the Horton characters
09 Feb 2008
By TNPihl
(JCO Editor-In-Chief)
Horton (Jim Carrey)
Horton the elephant is that rare grown-up that never lost the rich imagination he had as a child. It is that imagination along with his unwavering dedication that makes Horton a great teacher, unconditional friend and a force to be reckoned with. Horton holds strong to his belief that "a person's a person, no matter how small" so much so that he promises to risk everything for a world of people so tiny, he can't even see them. Horton says it best: "I meant what I said, I said what I meant an elephant's faithful 100%".
The Mayor (Steve Carell)
The Mayor of Who-ville has the Town Council waiting for him to screw up, 97 mouths to feed, and a son who hasn't spoken in years. Mix in a disembodied voice telling him his world is on the verge of apocalypse and the result is one stressed out guy. Through it all, the Mayor is still the most dedicated father, husband, friend and civil servant in Who-ville. The pressure though, is enough to make the Mayor take a swing at the Council Chairman. Well, not in real life, because that would be crazy. But the Chairman's portrait? It better lookout.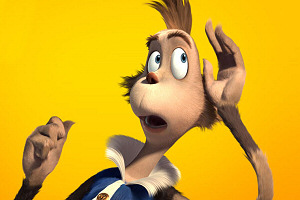 Sally O'Malley (Amy Poehler)
With 97 children, Sally's responsibilities dwarf those of even her husband's... and he's the Mayor of Who-ville. Still, she's able to juggle them with the grace of a first lady and the humor of a late night talk show host. The laast thing she needs is another problem child with an overactive imagination, but when her husband starts hearing voices, that's exactly what she gets. It's a situation even her sharp wit and pointet sarcasm can't defuse.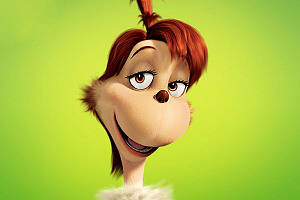 Jo Jo (Jesse McCartney)
Jo-Jo is so worried that he'll say something to disappoint his father that he finds it best not to speak-ever. But he's anything but silent. He hears music in the tapping of an old keyboard, feels the beat in the rhythmic bounce of a basketball and finds harmony in wind whistling over a comb. His ear for the unusual led to his creation of a huge Symphonophone, an instrument made up of recycled junk that is so big it fills the abandoned Who-ville Foul Weather Observatory.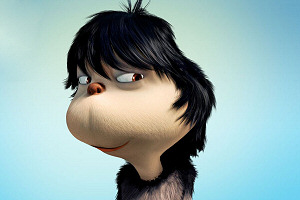 Dr. Larue (Isla Fisher)
Dr. Mary Lou Larue, fresh out of Who U., is the most promising mind in Who-ville. She might seem scatterbrained, but when she has to put her selfpeeling potato research aside to help the Mayor save Who-ville, she's up to the task.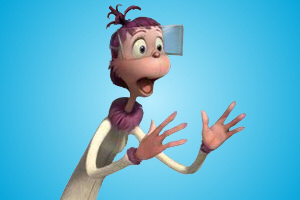 Yummo (Dan Fogler)
Yummo the monkey isn't only big, dim-witted and mean: he's also hungry. If there's one thing that gets in the way of his hijinks, it's his grumbling stomach. He's no foodie though. He'll cram 12 unpeeled bananas in his mouth just to see how many fit. Satisfying his appetite has made Yummo the biggest of the monkeys. His limited brainpower and infinite rage combined with his ever-growing size create a classic henchman that doesn't require convincing to perpetuate evil.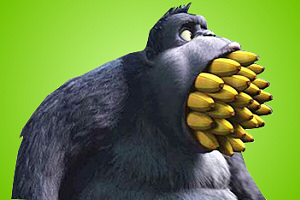 Vlad (Will Arnett)
Vlad the eagle is an evel genius-he'd be satisfied with just plan evil. His greasy feathers, badly butchered English and hermit lifestyle are all part his carefully self-manicured bad guy persona. He lives in a hidden cave where he's free to practice his tactics of terror and hone his theatrical flair, hoping someday to be called upon to be a supervillain.
Tommy (Jonah Hill)
As laidback and low-key as his big bouncing belly suggest, Tommy's a teenager who somehow manages to avoid trouble... no matter how much he looks for it. If the mischief-makers of Nool are the pawing up chaos, Tommy's most like the one with the blueprint for the shenanigans. His lovable, loughable attitude endears him to jocks and jerks alike.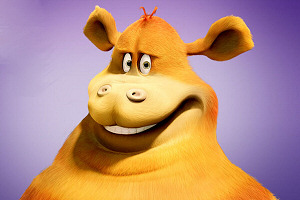 Morton (Seth Rogen)
Morton the mouse is Horton's best friend who makes up in speed what he lacks in size. He's smaller than the elephant's big toe, but when Morton speaks, Horton listens. Morton will endure Horton's whims, but when the elephant takes off on flights of fancy, Morton knows it's his job to bring him back to earth. He's succesful, most of the time.
Kangaroo (Carol Burnett)
Kangaroo's nose is so high in the air that she can't see past it. She's too afraid of the products of imagination and creativity to let her son Rudy roam free. Kangaroo keeps Rudy jammed inside her pouch (even though he's two sizes too big), leaving her with back problems and him with emotional ones. She knows that outside the comfort she provides him, non-conformity and anarchy are minutes away from turning their ordered life into chaos.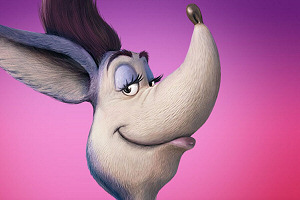 Rudy (Josh Flitter)
A lot of kids feel like their parents keep them prisoners. Rudy the Kangaroo actually might have a legimate complaint. Since his birth, he's been trapped in his mother's pouch. Years after he should've been on his own two feet, his giant legs are crammed next to his head in an unnatural-and uncomfortable-position. But his stifling environment can't contain his freethinking spirit: Rudy is ready to take the next step, even if it's his first.
Mrs. Quilligan (Jaime Pressly)
Mrs. Quilligan is a jungle bird that is a two-faced and asily influenced busybody. She sways with public opinion and everyone knows it. It's not unusual for her to be caught flip-flopping and backtracking to cover herself, keeping her firmly entrenched in the "in crowd."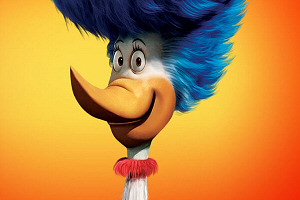 Jessica (Laura Ortiz)
Like any teenager, Jessica might be embarrassed by her mother's busybody behavior, but it's obvious to everyone else in the community that she's Mrs. Quilligan's mini-clone. She views herself as an independent thinker but since conformity leads to acceptance, she's just another cog in the wheel.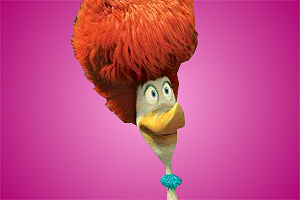 » Send to friend
---
« Newer article
|
Overview
|
Older article »