NEWS
Danny Wallace is the 'Yes Man'!
11 Sep 2007
By Nicola West
(Editor/Writer (UK))
Most of you know by now that in October Jim Carrey will begin shooting the movie "
Yes Man
". Based on the book of the same name, by the British humourist/writer Danny Wallace, it follows his exploits as a man determined to say yes to every opportunity with hilarious consequences.
A major bestseller in the UK 'Yes Man' has been adapted for the big screen by David Iserson whilst Peyton Reed is set to direct.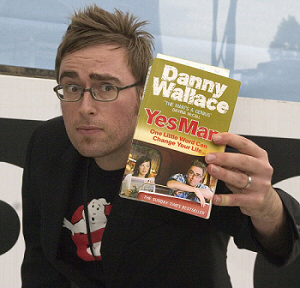 On Sunday I was fortunate enough to be at the BBC Film Festival and had the chance to chat to Danny Wallace about the book and the forthcoming movie.
Danny:
Thanks for the parcel (tea and biscuits).
NW:
You're very welcome Danny. The book is hilarious, have you had a chance to read the screenplay yet?
Danny:
Yes I have, it's great.
NW:
It's essentially a very British book though, how are they managing to translate that to an LA environment?
Danny:
They've managed to keep the spirit of the book, they bob about in the LA scenes but manage to throw in some scenes from the book too, they seem to have a good balance.
NW:
Filming is set to begin on the 31st of October we believe?
Danny:
Yeah, I heard that too, I'm actually going over to meet with Jim Carrey in a few weeks. He's busy re-working the script to add in some 'Carreyisms' at the moment.
NW:
LOL......you'll need to mention JCO. He better make a good job of the movie.....lol
Danny:
LOL......I'll mention it. Hey you'll need to keep me informed of the movies progress...
NW:
Absolutely, we have our ears to the ground...
Danny:
Hey it's been nice meeting you..
NW:
It's been a pleasure Danny, all the best.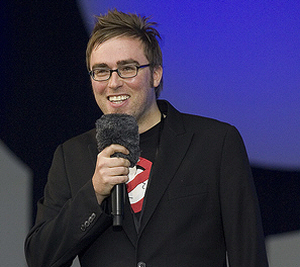 A thoroughly decent chap Danny Wallace is the rising star of British humour with a huge following. Currently holding the BBC1 Prime Saturday Tea-time slot with '
Schools Out
' he has made the transition from reviewer-producer-writer-presenter with meteoric speed. Whilst his star continues to be on the rise he is rarely seen without a cheery smile.
Yep, Danny Wallace is indeed a throughly decent chap.
Thanks Dan
Check out Amazon:
-
Danny Wallace's books
-- Click to
comment this article
.
» Send to friend
---
« Newer article
|
Overview
|
Older article »