NEWS
Casting The Number 23
11 Feb 2007
By TNPihl
(JCO Editor-In-Chief)
For the lead role in "
The Number 23
", Schumacher and the producers turned to an actor he had worked with on Batman Forever in 1994 - international superstar Jim Carrey. Carrey's range made him seem like the perfect choice to play the off-center dual roles of Walter Sparrow and Detective Fingerling, but they could only hope that he would be interested in taking on a role so different from his comedy roots.
"Jim has proven himself to be a master of acting among many genres," says producer Beau Flynn. "This thriller seemed to be a natural progression in his career, as these roles have a bizarre comic edge within an original look at life that is perfectly Jim."
Schumacher also believed from his previous experience working with Carrey that the actor had the ability to take on the challenging dual roles.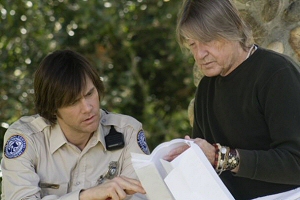 © New Line Cinema
"I think people have started to see Jim as the fine actor he is," says Schumacher. "Somehow in our culture, great brilliant comics are not revered in the same way as dramatic actors, which is crazy. Jim has certainly been one of stellar comic stars for a long time now, but he has many other facets, and I think he certainly shows them in this movie. He's fearless."
The filmmakers believed Carrey could pull off the role, but what they didn't know at the time was that Carrey also had his own personal connection to the number 23.
"I actually changed the name of my company to JC23 a couple years ago because I had kind of an obsession with this number for a long time," says Carrey. "One of my friends in Canada had the obsession, and he told me about it - started pointing to things like license plates and showing how they added up to 23. I thought it was ridiculous, but then I started seeing it everywhere and it finally ended up culminating in my realization that the 23rd Psalm was about living without fear. That's why I used it in my company name."
A few years later, the number would once again surface in Carrey's life.
"When the script came along, it was completely coincidental," says Carrey. "I was telling a friend about my 23 thing, and he told me he had just read a script called The Number 23. So I read it and was blown away - it was so compelling and it was freaking me out, page by page. I gave the script to another friend of mine to read and, after an hour and a half, I went back in to see him. He had read the entire script and had turned to page 23 where he was circling every 23rd word to see if there was a pattern. That's what I think this movie will do with an audience - you'll leave the theater going, 'There it is!'"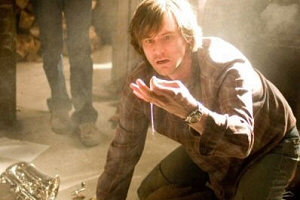 © New Line Cinema
It turned out that the uniqueness of the project was exactly what Carrey was looking for.
"The Number 23 is different and that's what I look for in a movie," says Carrey. "I just want to see somebody come up with an idea I've never seen, that's what I look for in scripts. I want to see something about the idea that challenges, like with Eternal Sunshine of the Spotless Mind. With that film it was the idea of, 'Who would you erase? Who would you make invisible? Have you ever been erased?' This is another one of those ideas that taps into something that's never really been talked about."
Carrey was also excited to have the opportunity to once again work with Joel Schumacher.
"Joel is fantastic with actors because he'll sit and allow you do whatever you need to do to get to the place," says Carrey. "But he also has ideas and he's very tough as well. I need somebody who can stand up to me and duke it out sometimes on an issue because I'm real headstrong about my ideas. I'm not right all the time, I know that."
As Carrey began to explore the nature of his dual characters in the film, Walter Sparrow and Fingerling, he developed a clear picture of their similarities and differences.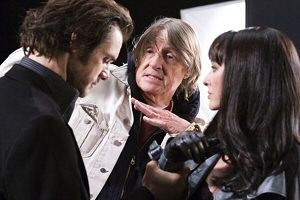 © New Line Cinema
"Walter is every man, he's the normal guy," says Carrey. "He's the guy who values his family and just wants to do his job and have a good life. He doesn't want any trouble. But like everybody, he has things going on inside him that he doesn't even know about. And 23 is there to kind of coax those things to the surface."
Carrey continues, "But Fingerling is a detective and he's a very different type of character for me to play, much more edgy. He's an angry, very turbulent guy and I really enjoyed playing him. I was able to explore the darker edges of my personality which really was a blast and something different for me. Fingerling is an ass-kicker. He's not somebody who is looking for trouble - he's expecting it."
The connecting tissue between the two characters is the number 23, as Joel Schumacher explains.
"The number 23 is the part of Walter that he doesn't want to acknowledge," says Schumacher. "So the number is really representative of something that isn't a number, it's really a conscience. It's an awareness, and the obsession with it is something he can't shake because he hasn't gotten to the bottom of what it is. So it isn't really the number, but obsession is never what it really is. It's the thing underneath it."
Pulling off this portrayal obviously would be a tremendous challenge for any actor, but Carrey says he approached it as an equally big opportunity.
"I live in a very crowded room in my head," says Carrey. "There's a lot of people in there, so it's just a matter of tapping into that and putting yourself in that position. There's so much freedom in losing yourself in a character. It's less hard work than it is just a wonderful escape from yourself."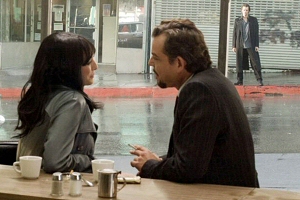 © New Line Cinema
Helping Carrey lose himself in his character was an outstanding supporting cast led by Virginia Madsen, an Oscar nominee for her work in Sideways. Madsen took on the challenging dual role of Walter's wife Agatha and Fabrizia, detective Fingerling's tempting femme fatale.
"Agatha, the woman Walter loves in real life, becomes in his mind Fabrizia, this very dark, sexual creature from one of the chapters of the book," says Madsen. "I got to explore a side of myself that I didn't like very much. She's full of rage, and she expresses her rage through her sexuality and her control of men. I was a bit afraid to be Fabrizia, but I went in to it headlong, and it was very exciting."
"Virginia is one of those actresses that is just solid as a rock," says Schumacher. "She's just that Chicago theater actor who can get out there every night and do it."
Madsen initially met with the director thinking she was being considered for only the role of Agatha. But when she learned that she was being asked to play two different roles, Madsen "tried to be cool about it because inside I was thinking 'I may not be able to do this.' But then I thought that if I'm uncomfortable, that's probably a good thing and that I should stop living safely. I would need to go to a dangerous place, creatively."
Most importantly, Madsen managed to create a special chemistry with Carrey that served as a thruline between their scenes as Walter and Agatha and Fingerling and Fabrizia.
"I love working with Jim," says Madsen. "He's so creative and spontaneous and all the things you would want him to be, walking in with expectations. I really wanted to do this movie with him because of what I saw him do in "
Eternal Sunshine of the Spotless Mind
". What I found in him was a really gifted actor and a really sincere, genuine person. He's very warm and supportive and likes to experiment - and he has great ideas."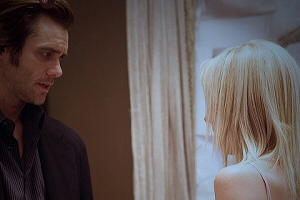 © New Line Cinema
"For Virginia and Jim, they were two very demanding roles because they're actually playing many different facets of a man and woman," says Schumacher. "They are playing very different people at very different times in the film and they are both just brilliant. They were very happy to be working with each other - you can tell. And they gave a lot to each other every take."
Rounding out the supporting cast, most of whom are playing dual roles, are Danny Huston (21 Grams) as Professor Isaac French and his literary alter ego, Dr. Miles Phoenix; Logan Lerman (Hoot) as Walter and Agatha's son, Robin, as well as the young Fingerling; Rhona Mitra ("Nip/Tuck") as the sultry Laura Tollins; and Lynn Collins (The Lake House) as the book's tragic Suicide Blonde as well as a shadowy figure from Fingerling's past, the Widow Dobkins.
"I've never seen a film that's like this movie," says Virginia Madsen. "I never read a script like this one, and I've been acting since I was eighteen. Just the fact that so many of us play two different roles - I've never seen that. It's fascinating. It's going to be quite a trip for the audience."
-- Click to
comment this article
.
» Send to friend
---
« Newer article
|
Overview
|
Older article »