Cold Dead Hand


»
About the song
»
Lyrics
»
Music Video
»
Pictures
»
Transcript

»
Funny or Die
»
iTunes
About the song



Released: March 24, 2013
Format: Digital download
Video filmed: March 4, 2013
Genre: Western, satire
Length: 4:15

'Cold Dead Hand' is a single and accompanying music video created for Funny or Die by Jim Carrey with The Eels, playing as "Lonesome Earl and the Clutterbusters". The title is a reference to a statement Charlton Heston made while acting as spokesperson for the National Rifle Association, "I'll give you my gun when you pry (or take) it from my cold, dead hands."

The song lampoons American gun culture, and specifically the late Heston, stating that he could not enter Heaven, as even the angels could not pry the gun from his hands. Staged as an episode of the variety program Hee Haw in which Heston is a guest star, the video also features The Eels dressed as Abraham Lincoln, Mahatma Gandhi, and John Lennon (all of whom were advocates of peace that were assassinated with guns).

In a press release Jim Carrey said, "I find the gun problem frustrating and 'Cold Dead Hand' is my fun little way of expressing that frustration."

Cold Dead Hand. Don't be afraid. It's just a funny little song.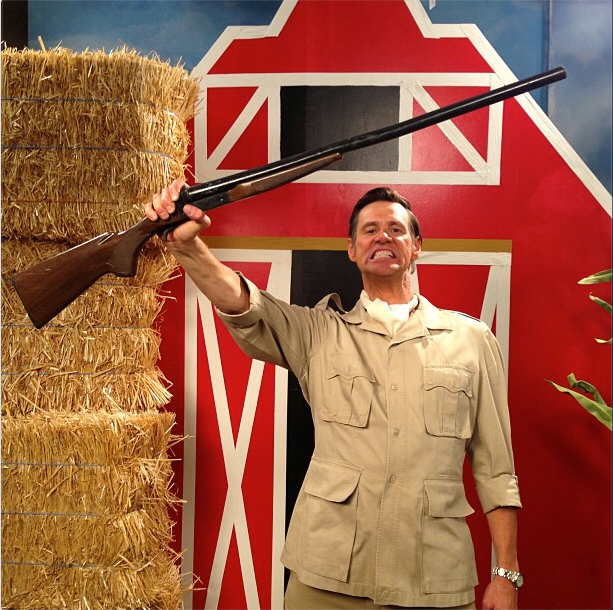 Lyrics



Some folks ride like the wind
With the whispering pines to guide them
And the burning light inside them
Keeps them warm in the snow

Others fear the sounds they hear
Make bandito's out of mole-hills
Fill their hearts with porcupine quills
They're dead and buried long before they go

Charlton Heston movies are no longer in demand
His immortal soul my lay forever in the sand
The angels wouldn't take him up to heaven like he planned
'Cause they couldn't pry that gun from his cold dead hand

It takes a cold dead hand to decide to pull the trigger
It takes a cold dead heart and as near as I can figure
With your cold dead aim you're trying to prove your dick is bigger
But we know your chariot may not be swinging low

Cold dead hand - cold dead hand
Cold dead hand - cold dead hand
You're a big big man with an little bitty gland
So you need something bigger just to fill
Your cold dead hand

Imagine if the lord were here
And he knew what you've been thinkin'
Would his sacred heart be sinkin'
Into the canyon of dismay

And on the ones who sell the guns
He'd sick the vultures and coyotes
Only the devil's true devotees
Could profiteer from pain and fear

Charlton Heston movies are no longer in demand
His immortal soul my lay forever in the sand
The angels wouldn't take him up to heaven like he planned
'Cause they couldn't pry that gun from his cold dead hand

It takes a cold dead hand to decide to pull the trigger
It takes a cold dead heart and as near as I can figure
With your cold dead aim you're trying to prove your junk is bigger
But we know your chariot may not be swinging low

Cold dead hand - cold dead hand
Cold dead hand - cold dead hand
Cold dead hand - cold dead hand
You're a big big man with an little bitty gland
So you need something bigger with a hair-pin trigger
You don't want to get caught with your trousers down
When the psycho killer comes around
So you make your home like a thunderdome
And you're always packin' everywhere you roam
But the psycho's win no matter what you do
'Cause they're gonna buy way more guns than you

And while you're stumbling out of bed
They put five rounds in the back of your head
Or you get depressed 'cause the money runs out
Then you put your own shotgun in your mouth
And your kids walk in and they find you there
Like a headless stump in your underwear
And they move the gun and it kills them too
And your wife just doesn't know what to do
But she takes a hand grenade from her shoe
And she pulls the pin...

And it's all on you
And your cold dead hand




Music Video








Credits



Starring:
Jim Carrey

Featuring:
Bill Oberst Jr, Dink O'Neal, Justin Kelly, Neal Kumar, Cate Beehan, Tia Barr, Whitmer Thomas, Clay Tatum, Russel Wadle

Producers:
Betsy Koch, Matt Mazany, and Michael Aguilar

Associate Producers:
Nicole Montez and Linda Hill

Directors:
Nick Corirossi and Charles Ingram

Director of Photography:
Kevin Atkinson

Music Produced by:
E of the EELS

Music Written by:
Jim Carrey

Lead Vocals:
Jim Carrey

Arranged by:
Jane Carrey and Kyle Turek

Recorded at:
The Compound

Recorded and Mixed by:
Koool G Murder and P-Boo

Mastered by:
Dan Hersch, D2 Mstering

Production Sound by:
Botown Sound

Production Sound Mixer:
Ryan Knouf

ADR:
Brennan McVicar at Silver Sound

Production Designer:
Flower Cole

Wardrobe Stylist:
Melissa Gould McNeely

Wardrobe Assist:
Alexandra Casey

Camera Operator:
Gabe Diniz, Yoni Aviaram

DIT:
Dan Moses

Gaffer:
Corrin Hodgeson

Construction Coordinator:
Lupe Sanchez

Set Decorator:
Ananda Friedman

Art Assistant:
Matthew Berry

Key Grip:
Michael Asinger

Electric:
Adrienne Garcia

Swing:
Michael Tingley

Make Up FX:
MillsFX

Make Up/Hair:
Chris Mills, Amy Mills

Make Up Assist:
Brenna Haukedahl

PA:
Luis Sanchez, Andrew Grissom, Anthony Knasas, Ross Buran




Pictures



Screen captures of the music video:








198 screen captures in the Gallery.




Transcript



MAN 1: Why did the ventriloquist quit drinking?

MAN 2: Cause he acted like a real dummy.

HOST: Well hi-oh and howdy fine folks; welcome back to "Hee Haw." We want to thank our special guest Charlton Heston (Jim Carrey) for joining us.

JIM CARREY (AS HESTON): Walter, It's an absolute pleasure to be here in this site of God on "Hee Haw," but who would be laughing if it weren't for the patriots who answer the call of freedom …

HOST: Well I...

JIM CARREY (AS HESTON): The aliens, they would exploit our every weakness and suck the brains out of every living soul. They'd be laughing, but not like you and me. They'd go: [makes alien noises]

HOST: Well, we wanna leave you with the sweet as molasses sounds of a band I'm sure you're all gonna like. Hens and roosters, lend an ear to Lonesome Earl and the Clutterbusters.

[Music begins].

JIM CARREY (AS EARL): Some folks ride like the wind
when the whisping pines do guide them,
and the burning light inside them
leaves them warm in the snow.

Others fear the sounds they hear,
make banditos out of mole hills,
fill their hearts with porcupine quills;
they're dead and buried long before they go.

Charlton Heston movies are no longer in demand,
and his immortal soul may lay forever in the sand.
The angels wouldn't take him up to heaven like he planned
'cause they couldn't pry that gun from his cold dead hand.

JIM CARREY (AS HESTON): What did he say.

JIM CARREY (AS EARL): It takes a cold dead hand to decide to pull the trigger.
takes a cold dead heart, and as near as I can figure
with your cold dead aim you're trying to prove your dick is bigger,
but we know: your chariot may not be swingin' low.

Cold dead hand, cold dead hand
Cold dead hand, cold dead hand
You're a big dick man with a little bitty gland
so you need something bigger just to fill your cold dead hand

JIM CARREY (AS HESTON): They're making fun of everything I hold dear

JIM CARREY (AS EARL): Imagine if the Lord were here
and he knew what you've been thinkin'
would his sacred heart be sinkin'
into the canyon of dismay?

And on the ones who sell the guns
he'd stick the vultures and coyotes.
Only the devil's true devotees
could profiteer from pain and fear.

Charlton Heston movies are no longer in demand,
and his immortal soul may lay forever in the sand.
The angels wouldn't take him up to heaven like he planned
'cause they couldn't pry that gun from his cold dead hand.

It takes a cold dead hand to decide to pull the trigger.
takes a cold dead heart, and as near as I can figure
with your cold dead aim you're trying to prove your dick is bigger,
but we know: your chariot may not be swingin' low.

JIM CARREY (AS ELLIOT): Hi, I'm Clearly Sam Elliot. Pay attention now braves, this boy's got something to say, budding social satire; you couldn't stand smooth. Enjoy the show. I'm a watch that sunset.

JIM CARREY (AS EARL): Cold dead hand, cold dead hand
Cold dead hand, cold dead hand
You're a big dick man with a little bitty gland
so you need something bigger with a hairpin trigger.
You don't wanna get caught with your trousers down
when a psycho killer comes around
So you make your home like a thunderdome
and you're always packing everywhere you roam
but the psychos will no matter what you do
they're gonna buy way more guns than you
And while you're stumblin' now to bed
They put five rounds in the back of your hair
and you get depressed
and you put your own shotgun in your mouth
And your kids walk in and they find you there
Like a headless lump in your underwear
And they move the gun and it kills them too
And your wife just doesn't know what to do
So she takes a hand grenade from her shoe
And she pulls the pin

And it's all on you, and your cold dead hand

[shotgun blast]

GIRL 1: Well what in the heck was that?

JIM CARREY (AS HESTON): I accidentally shot my foot off.

GIRL 2: Awww shoot. [crowd laughter]