MTV Movie Awards 1997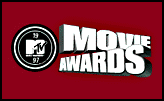 By M.T. Moura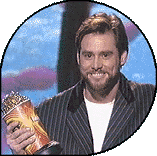 Ok, so who needs the Oscars® when there's the MTV Movie Awards? Well, we Carrey fans, sure don't. This year's edition of the awards gave yet another proof of Carrey's popularity, as he was determined winner, by a poll of MTV viewers, in two of the three categories for which he was nominated. The viewers were able to cast their votes by phone and also through MTV Online.
The nominations were attributed for his work in "The Cable Guy" and covered the following categories - Best Villain, Best Comedic Performance and Best Fight.
The two-hour show was hosted by Mike Myers and took place at the Barker Hangar in Santa Monica, Los Angeles, June 7th.
As usual the show had many irreverent moments, however, Carrey's acceptance speeches were undoubtedly the highlights of the evening. Shortly after the beginning, he set the mood for the rest of his interventions, by enthusiastically trying to kiss Will Smith, as a compliment on his and Vivica A. Fox's Best Kiss award for "ID4".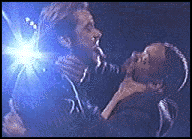 Later, when hearing his name as the winner in the Best Villain category, he jumped up from his seat and did a high speed run through the auditorium corridors, high-fiving audience members along the way. He then proceeded to accept the award with a well-delivered, sarcastic speech, referring to the polemic that engulfed "The Cable Guy" and the persons involved in its production. He finished by thanking the viewers that voted for him and with a remark that - "I'll remember this not as an award, but as an undeniable proof that I am a badass mother --------."
Carrey was the evening's unique multiple winner, taking also home the award for Best Comedic Performance, which he accepted after smooching a surprised Alicia Silverstone. Beginning his speech by an impressive interpretation of George Thorogood's "Bad To The Bone" chorus, he then thanked the public for the award, considering it as an encouragement for further developing his career.
Click to download Real Media clips of the event: 1 | 2 | 3 © MTV