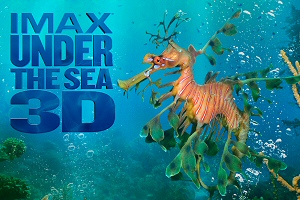 Its time to open the review thread. I know some of the IMAX theaters have sneaks today.
So post your review and comments in this thread or other reviews from the internet
internet reviews links
http://www.london-se1.co.uk/news/view/3732
Under the Sea 3D is a new IMAX film shot with IMAX cameras on the coral reefs around Australia, Indonesia and Papua New Guinea.
http://www.variety.com/review/VE1117939616.html?categoryid=31&cs=1
Gorgeous, informative and as gripping as a shark's jaws, "Under the Sea 3D" reps the apotheosis of the Imax 3-D form.
http://www.nationalpost.com/arts/story.html?id=1279643
Trying to curb Jim Carrey's improvisational enthusiasm as the narrator of the IMAX documentary Under the Sea 3D was not easy, but the extra effort was worth it, according to producer Tina Myers.
http://www.thestar.com/Entertainment/article/586860
A casual observer might accuse the Imax crew of riding the wave of the 3-D craze with Under the Sea 3D, in which beasties from wondrous waters engage our senses.