NEWS
Memorable Moment: In My Life (1998)
15 Sep 2015
By Amanda Jayne
(Web correspondent)
The Making of an Unusual Album with the Master, Sir George Martin - In My Life, recorded in 1998, a beautiful Album of brilliant Beatles classics (Featuring Jim Carrey, Celine Dion, Phil Collins, Robin Williams, Goldie Hawn, Bobby McFerrin and John Williams).
The documentary opens with the stunning voice of Celine Dion singing, 'Here, There and Everywhere', a gorgeous song written by Paul McCartney and John Lennon one of their most beautiful songs. With a voice over from George Martin describing how after nearly 46 years he wanted to wrap up his career with one last Album for himself with all his Pals and Hero's covering this fantastic catalogue of work and although they aren't the Beatles most popular work, they are nevertheless brilliant.
Then crikey what a change of pace, it goes from the hypnotic voice of Celine and the dulcet tones of Sir George into a burst of Jim Carrey's designated song 'I am The Walrus' and a quick look at gorgeous Goldie Hawn with her quirky little vibe. Next comes a little intro from a few of the other artists including Phil Collins, Robin Williams and a glimpse of what is in store for us with Jim, as always crazy fun.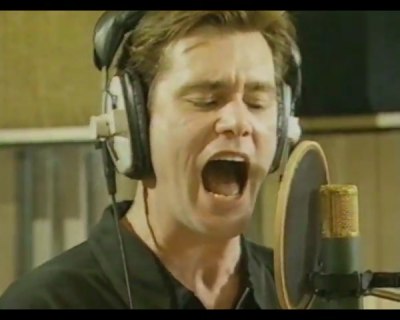 Next it is Phil Collins turn singing, 'Golden Slumbers' and Sir George explains why he chose Phil for this: Because it has a fantastic drum solo in it and Collins is a genius at this.
Sir George then explains why he chose Robin Williams to sing, 'Come Together', Robin was humble enough to recognise that if he didn't do the track justice to lose him, tantamount to the respect Lennon and McCartney command even amongst Superstars. Robin was so sure he wouldn't measure up he brought along Bobby McFerrin but Williams is surprisingly good actually. Whilst working with Robin, Sir George explains his own technique, which makes him one of the best Record Producers of our time. A fabulous end piece to this slot with Robin Williams doing a spot on Jack Nicholson impression just in case he gets bumped for the said Mr N.
Then comes a beautiful solo guitar piece of 'Here Comes The Sun', you automatically recognise that this is just a gorgeous piece of music, even if you are not a Beatles Fan. Sir George explains that some of the songs needed to be taken down a classical route and you cannot get anyone better for this than John Williams, one of the best Classical Guitarists ever to pick up an instrument. Sir George explains the intricacies within this track and you realise what an amazing composer and song writer George Harrison actually was. Something not so obvious because you automatically thought Lennon and McCartney were the Talent. George also wrote a special Score for an Orchestra to go with this John William's version which is in the video.
Wow!!! who knew Goldie Hawn had a gorgeous Jazzy voice, she is up next with her rendition of 'Hard Days Night'. George then gushes about Goldie (I think he picked her because he had a major crush on her). The video cuts to numerous snippets of Goldie's giggle and a little interview with her looking sexy and cute with those massive blue eyes. She sounds surprisingly good, turning a rock classic into a Jazzy sound, all playful and breathy.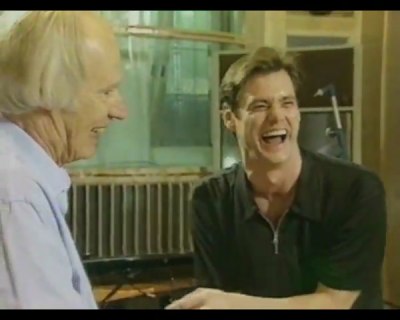 Up next is Jim Carrey and George explains why he picked him; Because he's a talent and then finding something that would fit such a 'Talent', of course, 'I am The Walrus'. Like a tornado in comes the said 'Talent' with his natural rock voice sounding absolutely brilliant. Of course genius recognises genius and Sir George explains why he picked Jim. The comedy fans won't be disappointed as Jim's fantastic improv is always in the mix. Jim lets us in on the first meeting he had with George at his house in LA, it's very sweet. Sir George explains how John Lennon was influenced by Lewis Carroll type words, called 'Portmanteau' words, which is the act of putting two adjectives together and creating one and who better to replicate that than Jim, which he always does so well in his own eminent style. Jim's bit finishes with him being hilarious and cheeky.
Lastly we have Sir George's favourite McCartney song, the haunting, 'Here, There and Everywhere. It's so gorgeous and CÚline Dion sings it so beautifully. She explains how anyone can write a great song but to write a song so beautiful yet simple is the hardest thing to do.
The documentart finishes with some accolades to George from the artists taking part in this wonderful project and the beautiful, beautiful 'In my Life', played so sweetly on the piano by Sir George himself.
If you aren't a fan of the Beatles or have never listened to their songs, this video will change that because you don't realise what actual works of art these songs are and will make you want to listen to the Beatles over and over again.
Watch the full documentary here:
-- Click to
comment this article
.
» Send to friend
---
« Newer article
|
Overview
|
Older article »