NEWS
Star Inc.
04 Jan 2006
By Nicola West
(Web Correspondent)
As a website, you know you've made it when the newstands have magazines and papers, which reference your website as THE site of choice, The latest Star Inc (Quebec) proves this point, in it's really rather frank and interesting interview with Jim. At the end of the interview they have printed the Jim Carrey Online web address which re-enforces our conviction that this is the Premier Jim Carrey site on the net.
But this got me thinking, if Star Inc regards us as the only site worth mentioning, who else does? The search was on.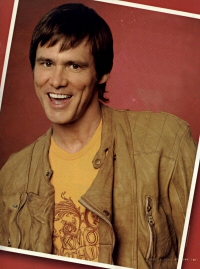 Picture © Star Inc. Thanks to cotton
My first stop was the BBC website, and lo! Behold! The ONLY website recommended by the highly esteemed BBC is JCO. Next i tried 'E' Online for a tabloid perspective. As expected they have a list of now defunct sites listed but the only up to date English language site was JCO. I keyed in Jim Carrey into the Yahoo search engine and guess which site popped up as No 1, yep! It's JCO and finally i tried Google and whadya know? We were No 1 again...
If you see the Jim Carrey Online address in any publication keep a note and let us know, it's good to know that the industry is actually recognising JCO as the primary Jim Carrey Website.
Click to comment this article.

» Send to friend


---
« Newer article
|
Overview
|
Older article »