NEWS
"ILC" DVD Release!
17 Mar 2004
By BCDavis
(JCO Editor-In-Chief)
The "In Living Color Complete Season One DVD Collection" is coming! We are pleased to be joining the ILC E-team in spreading the word! If you'd like to join the ILC E-team, check out this link here:
Join the ILC E-team
. Below is the official press release for the DVD set, including information on what is on each disk. (Personal note: My favorite sketch? "Jim Carrey Transition.") Click on the links for a few stills of Jim Carrey from ILC.
I Ain't One To Gossip, So You Ain't Heard This From Me…
IN LIVING COLOR SEASON ONE DVD COLLECTION
Is Coming To DVD On
April 6, 2004
From Fox Home Entertainment!
Three-Disc Set Highlights The Next Generation Of Superstars, Including Jim Carrey, David Alan Grier, The Wayans Brothers And More!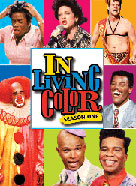 CENTURY CITY, Calif. - Two snaps up! "IN LIVING COLOR", the hip and irreverent sketch comedy series that launched the careers of Jim Carrey (Bruce Almighty), Jennifer Lopez (Maid In Manhattan, Out Of Sight), David Alan Grier ("Life With Bonnie," Boomerang), Jamie Foxx (Any Given Sunday) and the Wayans brothers (Scary Movie), is debuting on DVD on April 6, 2004. From its launch in 1990, "IN LIVING COLOR" took the mantle off offensive, politically-uncorrect comedy, earning a coveted place in prime time for five seasons.

Featuring now-classic sketches and characters such as Homey The Clown, Vera Demilo, Handi-Man, Fire Marshal Bill, Homeboy Shopping Network and The Head Detective, the funniest comedy since the original "Saturday Night Live" crossed every line with raunchy, crude humor and introduced a new generation of talent. The "IN LIVING COLOR" SEASON ONE DVD COLLECTION is available as a collectible three-disc set and is loaded with extras including commentaries, two featurettes, and more. The set is available for the suggested retail price of $39.98 U.S./$54.98 Canada.

"IN LIVING COLOR" SEASON ONE DVD COLLECTION Special Features:

The three-disc set is loaded with extras, including commentaries, cast interviews, featurettes and so much more. The following is the breakdown for each disc:

Disc One:
Episodes:
Episode One (4/15/90)
Sketches: Love Connection, Great Moments In Black History, Homeboy Shopping Network, Redd Foxx For Hire, Equity Express, Men On Films
Episode Two (4/21/90)
Sketches: Do-It-Yourself Milli Vanilli Kit, Arsenio Hall and Marion Barry, Rap Choir, Sugar Ray Leonard Transition, The Wrath of Farrakhan, Ridin' Miss Daisy
Episode Three (4/28/90)
Sketches: Lean on Me Beautiful, Mitzvah Train, Go On Girl, United Negro Scholarship Fund, Too-Too Ethnic, Lassie '90, Richard Pryor - Scared For No Reason, Super Absorbent
Episode Four (5/5/90)
Sketches: Oprah, The Exxon Family, Great Moments In Black History: Self Service Gas Station, Jim Carrey Transition, Rhythymless Nation, Anton, Men On Art
Episode Five (5/12/90)
Sketches: Three Champs And A Baby, New Ambassador, A Date With Grace, Hefty World Condominium Estates, Homeboy Shopping Network - Used Car Sale, Black World

Disc Two:
Episodes:
Episode Six (5/19/90)
Sketches: Bad Karate Class, Grecian Formula, Jheri's Kids, The Making Of A Tracey Chapman Song, Oppression, Snackin' Shack
Episode Seven (5/27/90)
Sketches: King - The Early Years, Cookin' With Salt And Pepa, Hey Mon/West Indian Sitcom, Ted Turner's Very Colorized Classics - Casablanca, Rallo, Men On Books
Episode Eight (6/3/90)
Sketches: President Jackson's Farwell Address, K-Tel Presents Cephus & Reesie Wayweather, Endangered Species, Casa De Hair, This Ol' Box
Episode Nine (6/17/90)
Sketches: Mo Money With Whiz And Ice, America's Funniest Security Camera Videos, Andrew Dice Clay, Hedley Airways, Homey The Clown
Episode Ten (6/24/90)
Sketches: Michael Jackson Potato Head, Disc Jockey Death Jockey, School For The Seld Taught, Lil' Miss Trouble, Fairy Tales - Racquella, Old Train, Vera Demilo Bodybuilder

Additional Bonus Features:
Commentary on "Don King - The Early Years" by Tommy Davidson


Disc Three:
Episodes:
Episode Eleven (7/15/90)
Sketches: The Brothers Brothers, M.C. Hammer Video, Cine-Globe Theaters, Calhoun Tubbs, Ted Turner's Very Colorized Classsics - The Kid, Anton On The People's Court
Episode Twelve (9/2/90)
Sketches: Vortex Of Fear, Ray Charles In Charge, Lil Richard's Playhouse, Della Reese's Pieces, Secret Council, I Love Laquita
Episode Thirteen (9/9/90)
Sketches: Homey's One Stop Carnival, David Alan Grier Transition, Benita Butrell, Michael Winslow - A One Man Show, Samantha Kinison, The Buttmans

Additional Bonus Features:
Commentary on "Homey The Clown" returns by Tommy Davidson.
"Looking Back in Living Color - The First Season" Featurette
"Back in Step with The Fly Girls" Featurette
HBO Comedy 2001 Comedy Arts Festival: In Living Color Panel Discussion


A recognized industry leader, Twentieth Century Fox Home Entertainment is the marketing, sales and distribution company for all Fox film and television programming on VHS and DVD as well as video acquisitions and original productions for the U.S. and Canada. Each year the Company introduces hundreds of new and newly repackaged products, which it services to more than 70,000 retail outlets - from mass merchants and warehouse clubs to specialty stores and e-commerce - throughout North America. Twentieth Century Fox Home Entertainment is a unit of Fox Filmed Entertainment, a Fox Entertainment Group company.

-- Source: Fox Entertainment. With thanks to Chandra @ M80. Click to comment this article.

» Send to friend


---
« Newer article | Overview | Older article »