NEWS
Memorable Moment: Saturday Night Live (1996)
16 Mar 2015
By Lucas Allen
(Web correspondent)
If you were flipping channels last Saturday night, you might've come across a piece of Jim Carrey's time capsule. As part of Saturday Night Live's 40th anniversary, NBC airs selected classic episodes every Saturday night. In this case, Jim's 1996 episode made its long awaited return, but in a truncated hour-long version. Still, you get plenty of the sketches the actor was in plus a performance by the rock group Soundgarden.
In case you missed it or want a refresher, here are Jim's appearances in chronological order based on last Saturday night's airing.
1. Monologue
As usual, Jim Carrey get things started right in his monologue. First of all, he pretends to be an alien from a foreign planet. He says he comes to entertain while promoting his latest movie coming out at the time "The Cable Guy". He also says that on his planet, minimum wage is $20 million (his paycheck at the time) and contorting faces and talking out of butts can be considered artistic merriment, but doesn't understand the phrase "over-the-top!" Of course, that his jab at his critics. But then changes his tune by pointing to a frowning audience member. He appeases him by uttering his famous phrases from both "Ace Ventura" and "The Mask" before ending it with Fire Marshall Bill from "In Living Color."
2. Roxbury Guys
Jim Carrey plays the third guy bouncing alongside the Butabi brothers Steve (Will Ferrell) and Doug (Chris Kattan) in this classic Roxbury Guys sketch. They hop around Molly Shannon at the China Club, crash a high school prom, interrupt a slow dance between Jim Breuer and Nancy Carell, and bring home some old broads from a retirement home. In between all the hilarity, the trio have a nice night drive throughout the city to the tune of Haddaway's 1993 dance classic "What Is Love."
3. Spartan Cheerleaders
Jim Carrey plays Lochmiel, a foreign exchange student joining the Spartan cheerleading squad that consists of Craig (Ferrell) and Arianna (Cheri Oteri). Their routines include a Tai-chi style routine. However, Craig and Arianna discover a secret to Lochmiel's talent for cheering. The sketch ends with a routine set to Sir Mix-A-Lot's 1992 hip-hop classic "Baby Got Back." The sketch can be seen in its entirety at Jim's official website under the TV section.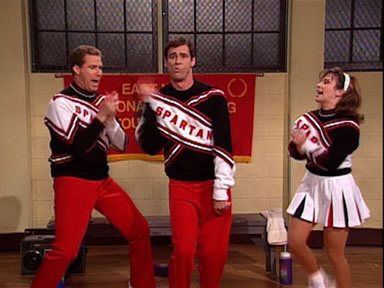 4. The Joe Pesci Show
In a great bit of impersonation, Jim Carrey channels the late great Jimmy Stewart as a special guest on a talk show hosted by Oscar winner Joe Pesci (Breuer). Stewart recites a poem he wrote himself much to Pesci's annoyance. But then Mark McKinney's Jim Carrey shows up in his Ace Ventura costume. McKinney's Carrey impersonates Stewart before Carrey's Stewart tries to one-up with his own Carrey impersonation. It all ends with a bat and Stewart's sudden violent urge.
5. Overprotective Lifeguard
In this last sketch shown in the airing, Will Ferrell is trying to relax in a jacuzzi but keeps getting bothered by Jim's lifeguard character. Tim Meadows shows up at one point to perform some swimming laps. But then a cramp toe makes Jim want to dive in and perform some outrageous CPR. This sketch along with Roxbury Guys are some of the best remembered sketches in the whole episode especially for the comic chemistry between Jim and Will. It makes one wonder how come there hasn't been a movie made with the two in the leads though Jim did make a short cameo in Ferrell's hit sequel "Anchorman 2: The Legend Continues."
There were two other sketches not shown in the hour long version including the elusive
I'll See You in Hell
that a video link couldn't be provided, and
Jimmy Tango's Fat Busters
.
It may feel surreal watching the then-34 year old Jim doing what he does best in his first of three hosting gigs on SNL, but that was during the time when he's already made a name for himself as one of the funniest people ever before taking his career into another direction. All the sketches seen here are always worth a watch.
-- Source: NBC. Click to
comment this article
.
» Send to friend
---
« Newer article
|
Overview
|
Older article »