NEWS
Dumb and Dumber To Review
17 Nov 2014
By Lucas Allen
(Web correspondent)
(This review was originally written by Mr. Allen as part of his movie column for Maine's Advertiser Democrat. It's reprinted by request of the editor)
What is it about 1994's Dumb and Dumber that has not already been said? Best thing to say is that it's still one of the funniest movies ever made, and it's part of a trifecta of comedy classics that year that launched Jim Carrey into the Hollywood stratosphere along with Ace Ventura: Pet Detective and The Mask. So after 20 years, does the movie still deserve a sequel? If the fans demanded it, then it's truly worthy of one. With "
Dumb and Dumber To
", fans can finally see the big screen return of Lloyd Christmas (Jim Carrey) and Harry Dunne (Jeff Daniels) in another brainless, funny-filled adventure.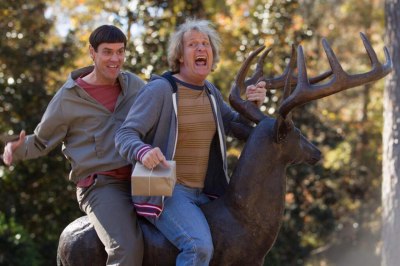 The movie opens with Harry visiting Lloyd in a mental institution even though it was all a gag. Afterwards, the plot actually begins when Harry tells Lloyd he needs a kidney transplant, but couldn't find the right donor. Their search leads them to their old flame Fraida Felcher (Kathleen Turner), who tells them that she had a daughter she gave up for adoption. Believing he's the father, Harry takes Lloyd along for another trip across the country to reunite with his long-lost daughter Penny (Rachel Melvin).
Their first stop was meeting Penny's adoptive father, a scientist named Dr. Pinchelow (Steve Tom), who tells them that she'll be in El Paso giving a speech at a university. However, the scientist's manipulative, money-grubbing wife Adele (Laurie Holden) wants her lover Travis (Rob Riggle) to keep an eye on them before carrying out the plan to secure the inheritance for themselves. But with Lloyd and Harry driving to El Paso, it's going to be one outrageous trip.
The best thing this movie has going for it is the nostalgic value. Whether you seen the first movie the first time either in the theater, on video, or on television, watching the sequel will give you that sentimental feeling based on your appreciation for the original. Of course, the movie is filled with jokes and references to the first film. Some of it do come natural, while others felt a little more forced. Still, there's plenty of humorous moments that'll keep you entertained all the way through.
It's no doubt in this current era of unfunny and unoriginal comedies that here comes the king of the genre himself, Jim Carrey, proving he still has the physicality and rubberfaced humor who succeeds over anyone who tries to take his crown. For the first time since Ace Ventura: When Nature Calls, he finally slips back into a character he calls his own and manages to make it just as fun and hilarious as ever. Anyone who had doubts about the actor's longevity after his 2013 bombs, the underrated "The Incredible Burt Wonderstone" and the mostly Carrey-less "Kick Ass 2", will be surprised by this return to his comic roots.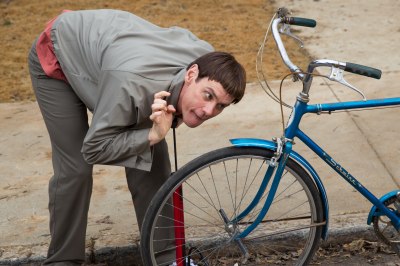 Let's not forget Jeff Daniels, who also easily slips back into his character. Sure he's better known today as a serious actor for his Emmy-winning TV role in the drama The Newsroom, but his role in the first film is what put him on top. His comic chemistry with Carrey is still a delight, and both actors bring heart and soul to the movie. The movie also has a solid supporting cast who bring fine work to the material.
Yes it's dumb and moronic, but that's why it's called "Dumb and Dumber To". If you can't see the humor in two characters wanting to do a farting contest, then you must check your brain at the door. For the rest who really care about this, this is one comedy film that will have you jumping up and down in happiness. Don't miss it!
-- Click to
comment this article
.
» Send to friend
---
« Newer article
|
Overview
|
Older article »