NEWS
How Roland Rolls - The E-Book Release
19 Dec 2013
By Eva Araújo
(Web correspondent)
Nothing beats the smell of paper in a book, the feeling of it or the need to flip the pages. But nowadays with the busy lives that we sometimes live in, there's always a need to get everything accessible as fast as we can. And for the book lovers… an e-book may be the ideal match.
Three months ago Jim Carrey released his first book, "for children and their grown-ups", named "How Roland Rolls". The book tells us the story of Roland, a wave in the Ocean, who's afraid that, one day, when he hits the beach, his life will be over. But when he gets deep, he's struck by the notion that he's not just a wave - he's the whole big, wide ocean!
Many people have got the book which, not only got an Honorary Award by Gelett Burgess, but also created a wave of love in all the book signings that Jim presented us with.
On December 17th the E-book of "How Roland Rolls" was finally released!
Click here
to order it!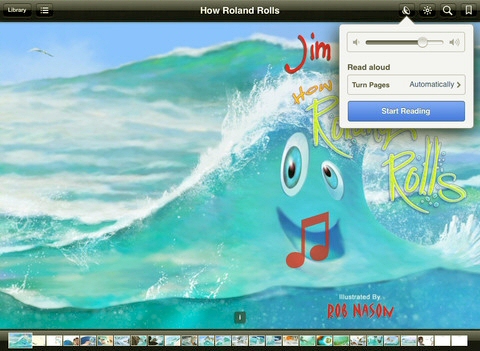 John Raatz, who's the project manager for Carrey's Some Kind of Garden Media, publisher of the e-version and the original hardcover had this to say about it:
"We've produced three versions," says Raatz. "The ones for iPad and Nook will include all of the enhancements. A third version for Kindle and other e-readers is a more straightforward edition." The Apple-based version can also be read on iPads, iPhones and iPods, and on Apple computers equipped with their new iBook reader running on the recently released OS X Version 10.9 Mavericks operating system."
This means that for Ipad and Nook users, you will get all the visual effect and not only Jim will read the story but also voice all of the characters and the majority of the sound effects.
Also Jim Carrey's and his daughter, the very must talented Jane Carrey, will sing the four songs of the EP album that you can also get separately through Itunes or in a CD through Roland official website.
To know more about Roland's world visit:
HowRolandRolls.com
.
You'll be able to buy the hardcover book, songs & poster and join the Roland family!
We're waiting for you to jump in the wave with us!
-- Source:
How Roland Rolls
. Click to
comment this article
» Send to friend
---
« Newer article
|
Overview
|
Older article »