NEWS
Memorable Moment: Rosie O'Donell Show 2000
04 Jul 2013
By Nicola West
(Editor/Writer (UK))
Back in the days when the American comedienne Rosie O'Donnell had her own talk show Jim Carrey made an appearance on November 13, 2000 to promote his film "
How the Grinch Stole Christmas
".
The enthusiastic host declared that she thought Jim was the funniest man she had ever met to which he replied with some amusing quips about politicians and Feng Shui. Acknowledging this was his first appearance on the show, the audience were kitted out with Grinch gloves and Jim revealed his thoughts on the difficult make-up he had to endure for the film. Despite how uncomfortable he found the process, he got round it by telling himself he was part of something amazing.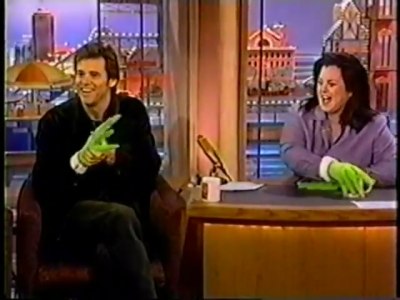 Jim also revealed how the widow of Dr. Seuss visited him on the set of "Man on the Moon" to discuss the Grinch and got more than she bargained for when she found herself faced with Jim Carrey acting as Andy Kaufman, acting as the Grinch which felt surreal.
Talking about his childhood influences, Jim revealed he often played at home with friends and cousins re-enacting scenes from 'The Untouchables' and spoke about his schooldays. Jim was a very smart kid who would finish his work first then disrupt the class. This changed when his family hit financial difficulties and the straight A student lost his focus and motivation, often falling asleep in class. He revealed that he thought making children feel special and loved was the key to improving society.
Rosie then spoke about his first television series "The Duck Factory", a light-hearted comedy to which Jim responded by discussing his career ups and downs.
He then spoke about his ambition to be on the Johnny Carson show and how it felt when he finally achieved this. They closed the interview with a brief discussion about "The Truman Show", his acceptance speech at the Golden Globes and a hilarious speech Jim had made at a charity function. Jim acknowledged his gratitude for those who support his work and allow him to do his stuff, he declared that he thought he was very lucky.
Watch the interview here:
-- With big thanks to
cotton
. Click to
comment this article
.
» Send to friend
---
« Newer article
|
Overview
|
Older article »