NEWS
Kick-Ass 2 Behind-the-scenes footage
23 Jun 2013
By Tommy Pihl
(JCO Editor-In-Chief)
MTV News has uploaded new great behind-the-scenes footage from "
Kick-Ass 2
". Some of those are uploaded to our Gallery in high quality. One of them is a new set photo of Jim Carrey as Colonel Stars and Stripes. Below are sneak peeks from MTV News at the sequels new characters.
Colonel Stars and Stripes
Jim Carrey joins the cast in a mash-up role from the comics. His character, Colonel Stars & Stripes, was originally two violent do-gooders: Colonel Stars and Lieutenant Stripes. Both characters worked for a huge crime family before becoming born-again Christians and vigilantes. Because of his faith, Colonel Stars carries empty guns and seldom swears in the comics.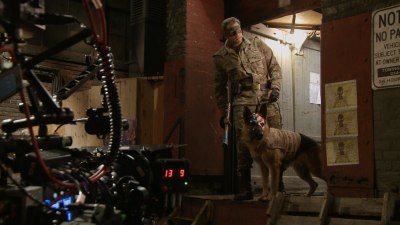 Mother Russia
It takes a bodybuilder like Olga Kurkulina to bring a character as intimidating as Mother Russia to life. Judging by this picture of her carrying Hit-Girl over her head, she's doing just fine. She plays a big role in the comics, acting as The Mother F---er's main enforcer. She most notably tangles with Hit-Girl during the comic's finale, which seems to be the case in the film as well.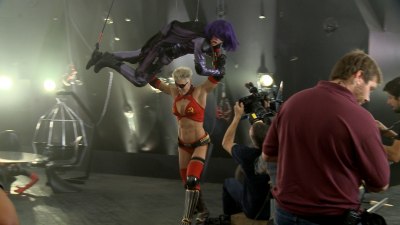 Mindy Macready
Yeah, Chloe Grace Moretz shared the spotlight in the first "Kick-Ass" film, but this time she's spending more than a few minutes in her civilian identity. The "Kick-Ass 2" comics saw her retired from the superhero life and trying to fit in at school, as well as dealing with her mother's new husband. Judging by this behind-the-scenes look and the film's trailers, those mundane struggles will be brought to the big screen in an epic way.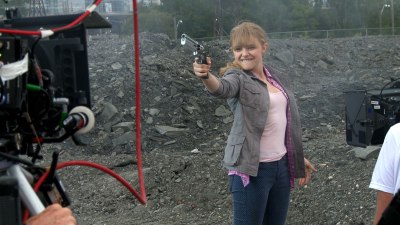 Doctor Gravity
Doctor Gravity was one of the first heroes inspired into action by Kick-Ass. The English major took up the mantle Doctor Gravity to patrol alongside his hero, with both of them eventually hooking up with Justice Forever. Donald Faison suits up as Doctor Gravity, and it looks like he's brought the Gravity Pole — a baseball bat wrapped in tinfoil — along for the ride.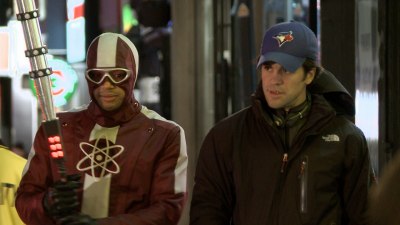 Buff Dave Lizewski
Kick-Ass will actually be able to really kick ass now, thanks to his extensive training with Hit-Girl. Aaron Taylor-Johnson's sporting a set of muscles we didn't see the first time around, giving this every-man hero an edge. This comes straight from the "Kick-Ass 2" comics, which featured the leading hero getting forced into shape by the retired Mindy Macready.
-- Source: MTV News. Click to
comment this article
.
» Send to friend
---
« Newer article
|
Overview
|
Older article »